Phantoms Six-Game Point Streak Snapped with 2nd Loss in Last 12 Games
March 24, 2018
Providence, R.I. – Goalie Anthony Stolarz returned to the Phantoms' crease for the first time in almost a year but the game did not go well for the Lehigh Valley Phantoms who fell at the Providence Bruins 6-1 on Saturday night to conclude a two-game weekend series. Recovering from two knee surgeries last year, Stolarz was on the ice in a Phantoms uniform for the first time since his initial knee injury on April 12, 2017.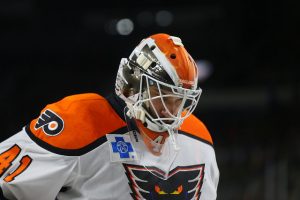 Phil Myers (5th) scored in the third period to break the Bruins' bid for a shutout as Lehigh Valley's six-game point streak came to a conclusion. The Phantoms also dropped a regulation decision for just the second time in the last 12 games (8-2-2) and for only the fourth time in the last two months with a record of 19-4-4 since January 13th. Lehigh Valley's 17 regulation losses through 68 games remains the best total in the American Hockey League.
Stolarz had played in three games in the ECHL during a rehab stint with the Reading Royals in efforts to find hs rhythm and timing. Most recently, he had appeared with Reading on Wednesday night on the road at nearby Manchester, New Hampshire. After that game, Stolarz met the Phantoms squad in Rhode Island to await his season debut with the Phantoms and his 108th game all-time in the American Hockey League. "Stolie the Goalie" played in seven games with the Philadelphia Flyers last season. His ability to work through his surgeries and rehab his knee to the point of returning to game-action THIS season is an accomplishment on its own.
But this night primarily belonged to the inspired Providence Bruins squad aiming for the top team in the Atlantic Division. Peter Cehlarik scored a pair for the hosts and Joona koppanen also tallied a couple, the first two goals of his professional career.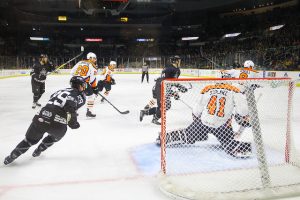 The Bruins evened the season series at two games apiece with both squads successfully defending their home ice a pair of times in a set that has yet to see the visiting team prevail.
Colby Cave opened the scoring just 61 seconds into the game on the rebound of a left-point drive by Kenny Agostino on the power play. Agostino's first of three helpers led to a quick 1-0 advantage.
Providence struck again at 3:21 with Peter Cehalrik this time finding himself open in the slot to deposit a rebound for a 2-0 lead. Phantoms head coach Scott Gordon did not like what he was seeing at that point and used his timeout to rally the troops.
After that, Stolarz made several fine stops in keeping the Phantoms within reach of the Bruins through a first period that saw Providence rack up a shots advantage of 17-5.
Zack Senyshyn's ninth of the season 5:29 into the second period extended the lead to 3-0 and then Joona Koppanen deflected in a centering pass by Colton Hargrove with a delayed penalty 6-on-5 marker for a 4-0 lead with 59 seconds left in the frame.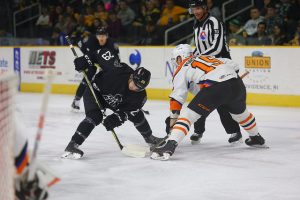 Shortly thereafter, head coach Scott Gordon opted to pull his goalie for an empty-net and extra attacker. The maneuver us typically reserved for late-game desperation situations with two minutes to go or less and rarely happens in the second period. But with nothing to lose at that point, Lehigh Valley hoped to spark its offense and build some momentum into the second break. Greg Carey had a couple of big shots in the unique 6-on-5 scenario but the Bruins held onto their 4-0 advantage to the end of the period.
Koppanen struck again just over three minutes into the third period for a 5-0 lead on Hargrove's second assist of the game.
Lehigh Valley broke through on a long stretch pass by T.J. Brennan connecting with an awaiting Myers at the Providence blue-line who sped to the top of the right circle and blasted towards the far post or a power-play marker and his fifth goal of the season. The Phantoms were on the board at 5-1.
But Cehlarik would score the game's last goal at 11:53 for his second of the game on a nice touch-drop by Kenny Agostino to complete some nifty and speedy passing on the rush.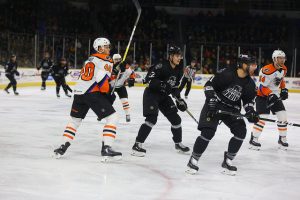 Lehigh Valley finished at 1-for-2 on the power play while Providence went 1-for-4. The P-Bruins out shot the Phantoms 35-19. The Phantoms and Bruins will rematch on Friday, March 30 at PPL Center. The Phantoms overall record stands at 42-17-9 with eight games remaining in the regular season.
Family 3-Packs are available for select games in March and April including three tickets, three hot dogs and three sodas. The package is available for $67.50 and fans can add extra tickets to their group for $22.50 each. The Family 3-Packs are valid for games on March 30th and April 13th. Secure your Family 3-Pack by calling the Lehigh Valley Phantoms at (610) 224-GOAL [4625].
Lehigh Valley Phantoms 1 at Providence Bruins 6 – Status: Final
Saturday, March 24, 2018 – Dunkin' Donuts Center
Lehigh Valley 0 0 1 – 1
Providence 2 2 2 – 6
1st Period-1, Providence, Cave 11 (Agostino, Cross), 1:01 (PP). 2, Providence, Cehlarik 10 (Agostino, Cross), 3:21. Penalties-Bardreau Lv (holding), 0:26; Zboril Pro (tripping), 9:23; Martel Lv (slashing), 14:10.
2nd Period-3, Providence, Senyshyn 9 (Blidh, Cave), 5:29. 4, Providence, Koppanen 1 (Hargrove, Lauzon), 19:01. Penalties-Myers Lv (tripping), 13:07.
3rd Period-5, Providence, Koppanen 2 (Hargrove, Zboril), 3:13. 6, Lehigh Valley, Myers 5 (Brennan, Stolarz), 6:56 (PP). 7, Providence, Cehlarik 11 (Agostino, Johansson), 11:53. Penalties-Czarnik Pro (roughing), 6:39; Goulbourne Lv (cross-checking), 13:53.
Shots on Goal-Lehigh Valley 5-7-7-19. Providence 17-7-11-35.
Power Play Opportunities-Lehigh Valley 1 / 2; Providence 1 / 4.
Goalies-Lehigh Valley, Stolarz 0-1-0 (35 shots-29 saves). Providence, Binnington 15-7-1 (19 shots-18 saves).
A-10,472
Referees-Peter MacDougall (45), Beaudry Halkidis (32).
Linesmen-Kenneth Gates (91), Todd Whittemore (70).