2-Mile Fitness Loop Connects Allentown's Downtown to Parks and Greenspaces
July 24, 2019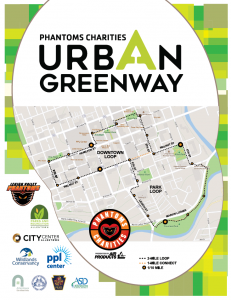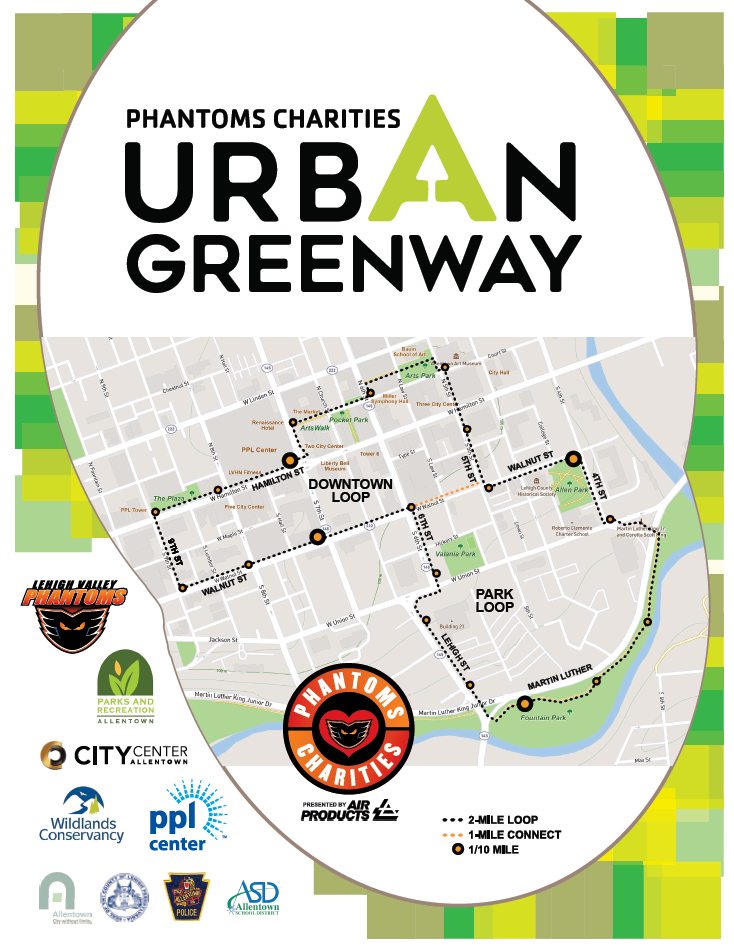 Lehigh Valley, Pa. — Phantoms Charities presented by Air Products, the charitable and community service arm formed by the Lehigh Valley Phantoms organization, held a dedication event for the nonprofit's Urban Greenway outside of PPL Center in Allentown, Pennsylvania.  The Phantoms Charities funded project is a contribution to further revitalize downtown Allentown.  In an effort to encourage and support a healthy and active lifestyle, Phantoms Charities created and installed the Urban Greenway, a 2-mile fitness loop that connects downtown Allentown with its parks and greenspaces.  The Urban Greenway also features several new park benches wrapped with artwork created by Allentown School District students.
Phantoms Charities President, Rob Brooks, and Executive Director, Jennifer Keeble, officially opened the Phantoms Charities Urban Greenway.  They spoke about the mission of the trail, recognized partners of the project, and unveiled a map monument sign that stands tall outside of the PPL Center.  Rob Brooks said, "The Urban Greenway is well aligned with the mission of Phantoms Charities.  The trail is a beautiful contribution to the city to encourage health and fitness, very much like many other Phantoms and Phantoms Charities community efforts.  The Phantoms Charities Board of Directors are proud to invite everyone who lives, works and is visiting downtown to practice good physical and mental health by using the trail anytime."
Click here to look at a map of the Phantoms Charities Urban Greenway
Local residents, families, community nonprofits, and business professionals enjoyed all of the beauty that Allentown has to offer while walking the Urban Greenway by "following" meLVin's footprints along city sidewalks.  meLVin is the mascot and #1 fan of the Lehigh Valley Phantoms.   meLVin enthusiastically greeted guests and distributed free giveaways to attendees.  In addition to the footprints, maps throughout the trail route guide walkers and runners in using either the 2-mile loop or a shorter 1-mile option.
Phantoms Charities invited Allentown School District students to create artwork on several newly installed benches that depict the health and fitness theme.  The benches are along the trail positioned in scenic locations to offer people a peaceful place for a restful break.
The Urban Greenway is one of Phantoms Charities many projects and programs that empower the community.  Phantoms Charities' mission is to strengthen our community by developing, instituting and operating charitable and educational programs and services aimed at improving the lives of children and adults in the Lehigh Valley and the surrounding communities, with a special emphasis on youth health, fitness, sports and education.
For more updates and information from Phantoms Charities, like the Phantoms Charities page on Facebook or follow Phantoms Charities on Twitter.