Laughton, Phantoms Penalty Kill Come Up Huge in Win
November 15, 2014
Lehigh Valley, PA – Scott Laughton notched a goal and an assist, Rob Zepp registered 28 saves and the Lehigh Valley Phantoms killed off a six-on-three Toronto Marlies power play in the final minute of regulation Saturday evening to earn a dramatic 3-2 win in front of a standing room-only crowd of 8,664 raucous fans at PPL Center.
"That was pretty exciting, huh?" said Phantoms head coach Terry Murray. "Big job though by the guys that were out there wasn't it? You have to have composure, you've got to just stay calm. It's a physical and a mental thing. They did a real good job."
With the win, the Phantoms improved to 3-1-1 at home and 6-6-1 overall as the team enjoyed its second sellout and third crowd of better than 8,000 spectators through the club's first five regular season outings in its new home. Lehigh Valley has now earned seven of a possible 10 standings points at home and has seen each of its first five tilts at PPL Center decided by two goals or less.
Nick Cousins also scored for Lehigh Valley while Brandon Manning launched in the eventual game-winner with less than four minutes left in regulation.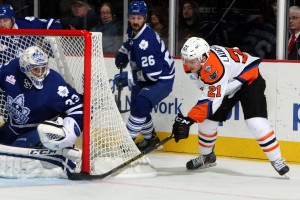 The sold-out contest began with a physical flair as the Phantoms shot out of the gates finishing each and every hit in the game's opening shifts before Lehigh Valley's Derek Mathers and Toronto's David Broll took the physicality to center ice when the two heavyweights decided to drop the gloves. For the 6'3″, 225-pound Mathers, it was already his fifth fight in just seven games this season.
Even though the Marlies opened the scoring a little over five minutes into the game when a sprawled Troy Bodie redirected in his second goal of the season, the resilient Phantoms responded with a fury netting a pair of goals less than a minute apart. First, Taylor Leier orchestrated a ridiculous, no-look, behind-the-back pass from behind the Toronto net to Laughton on the left wing who made no mistake in driving home his team-leading sixth goal of the season. The five-on-five conversion came 9:55 into the opening frame and moved the 20-year-old pivot into sole possession of second place among all AHL rookies in goals scored.
"He's strong, he's on the puck, he has the puck, he wants it," Murray said of Laughton. "He attacks with it and takes it to another level."
Then, Lehigh Valley grabbed its first lead of the night exactly 57 seconds later Steven Delisle poked a loose puck out to center ice kick-starting a two-on-one with Nick Cousins. After a subtle head fake, Delisle fed a perfect saucer pass to the streaking Cousins on the left wing who, despite some harassment on the back check, settled the puck and snapped in his fourth goal of the season and team-leading 11th point of the year.
Even though the second period didn't feature any scoring, it offered more than its fair share of excitement.
Just five minutes into the middle frame, Zepp orchestrated a dazzling denial when the Marlies' Patrick Watling broke free for a breakaway right down the Lehigh Valley slot. Then, it was Toronto goaltender Christopher Gibson's turn as he extended just far enough to his left to thwart a shorthanded break by Laughton. Finally, Zepp preserved the one-goal Phantoms advantage with just a handful minutes left in the period when he stonewalled Tyler Biggs' point-blank opportunity.
The Marlies finally were able to solve the Lehigh Valley netminder 8:25 into the final frame when a right wing wrist shot by Greg McKegg found daylight in the upper left hand corner of the Phantoms goal. The conversion was McKegg's fifth of the season and his third in as many games.
But Lehigh Valley wasn't to be denied.
Following a interference penalty to Broll followed just 18 seconds later by a tripping infraction against Biggs, the Phantoms found themselves on a five-on-three power play and took full advantage as Andrew Gordon fed a pass to the left point that was promptly blasted by Manning. The sizzling slap shot got a piece of Gibson but not nearly enough as the cannonating drive pummeled through the netminder and over the Toronto goal line. Laughton earned the secondary assist on Manning's third goal of the season and second in as many games. The conversion was also the defender's second game-winning strike this season.
Shortly thereafter, the Marlies were presented with a two-man advantage of their own, which quickly become an unprecedented six-on-three advantage when Gibson slipped to the bench for an extra attacker. But the Lehigh Valley penalty kill held firm as Darroll Powe, Robert Hagg, Manning and Zepp combined to keep Toronto out of the net sealing the dramatic victory for the Phantoms. The edge-of-your-seat sequence featured several key blocks from Powe and a game-saving denial by Hagg with an empty net behind him.
All told, Lehigh Valley's penalty kill was 4-for-5 on the evening while the Phantoms power play produced one goal in five opportunities.
Zepp earned the victory in goal for the Phantoms after turning aside 28 of Toronto's 30 total shots. The 33-year-old netminder is now 6-3-1 overall this season. Meanwhile, Gibson suffered the loss for the Marlies despite 28 total saves as well.
Check it out! Don't miss the action and fun of Lehigh Valley Phantoms hockey at PPL Center in downtown Allentown! Contact the Phantoms Front Office for information on season tickets and affordable partial-season plans by calling 610-224-GOAL (4625).
Toronto Marlies 2 at Lehigh Valley Phantoms 3 – Status: Final
Saturday, November 15, 2014 – PPL Center
Toronto 1 0 1 – 2
Lehigh Valley 2 0 1 – 3
1st Period-1, Toronto, Bodie 2 (Ross, Carrick), 5:09. 2, Lehigh Valley, Laughton 6 (Leier), 9:55. 3, Lehigh Valley, Cousins 4 (Delisle), 10:52. Penalties-MacWilliam Tor (high-sticking), 1:01; Broll Tor (unsportsmanlike conduct, fighting), 3:11; Mathers Lv (unsportsmanlike conduct, fighting), 3:11; Alderson Lv (tripping), 5:20; Ross Tor (misconduct – unsportsmanlike conduct), 20:00; Fyten Lv (misconduct – unsportsmanlike conduct), 20:00.
2nd Period- No Scoring.Penalties-MacWilliam Tor (slashing), 1:42; Cousins Lv (slashing), 11:43.
3rd Period-4, Toronto, McKegg 5 (Brown, Finn), 8:25 (PP). 5, Lehigh Valley, Manning 3 (Gordon, Laughton), 16:02 (PP). Penalties-Granberg Tor (slashing), 2:57; Hagg Lv (interference), 6:48; Broll Tor (interference), 14:57; Biggs Tor (tripping), 15:15; Lauridsen Lv (delay of game), 17:30; Laughton Lv (hooking), 18:27; Rosehill Lv (misconduct – unsportsmanlike conduct), 20:00.
Shots on Goal-Toronto 6-11-13-30. Lehigh Valley 9-9-13-31.
Power Play Opportunities-Toronto 1 / 5; Lehigh Valley 1 / 5.
Goalies-Toronto, Gibson 3-4-0 (31 shots-28 saves). Lehigh Valley, Zepp 6-3-0 (30 shots-28 saves).
A-8,664
Referees-Kendrick Nicholson (44), Evgeny Romasko (6).
Linesmen-Tom George (61), Jud Ritter (34).
Upcoming Home Games:
Wednesday, November 19, 2014, Hershey Bears vs. Lehigh Valley Phantoms, 7:05 PM
(The Phantoms renew their heated rivalry with the Bears!)
Friday, November 21, 2014, Worcester Sharks vs. Lehigh Valley Phantoms, 7:05 PM
(FREE Movember Shirt for All Fans in Attendance!)
Saturday, November 22, 2014, St. John's IceCaps vs. Lehigh Valley, 7:05 PM
(Movember Weekend continues with face painting from Phantoms wives & girlfriends!)