Includes Two Weekend Contests at PPL Center
August 6, 2015
Lehigh Valley, PA – The opening of the Lehigh Valley Phantoms' 2015-16 playing season is now officially only 58 days away with the announcement of the team's preseason schedule. The Phantoms will kick off their 20th Anniversary Season in the AHL with three preseason games, including two that will take place at PPL Center.
"This provides fans with a great opportunity to get the very first look at our players for the 2015-16 season," said Phantoms' co-owners Rob and Jim Brooks.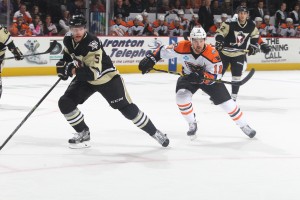 Lehigh Valley's preseason schedule begins on Wednesday, September 30th when the team travels to Wilkes-Barre/Scranton for a 7:00 PM meeting with the Penguins. Phantoms hockey then officially returns to PPL Center on Saturday, October 3rd when Lehigh Valley welcomes the Hartford Wolf Pack to downtown Allentown for a 7:05 PM showdown. The Phantoms then close their preseason schedule the next day when they play host to Wilkes-Barre/Scranton in a 5:05 PM clash.
"It won't be long now before the PPL Center is packed with Phantoms fans once again," Rob and Jim Brooks said. "We expect these two preseason games to be the perfect kick off to another successful campaign in downtown Allentown."
Tickets for the two preseason games at PPL Center will be available beginning Friday, August 21st. As a reminder, tickets to both home preseason games are included in all full season ticket packages. Meanwhile, tickets to one of the two preseason games at PPL Center are included in all 20-game packages. Once the full AHL regular season schedule is released, 20-game plan holders will have the opportunity to select which package they prefer for the 2015-16 season.
Stay tuned for future announcements concerning activities associated with this preseason weekend.
Please find below a complete breakdown of the Phantoms preseason schedule.
Wednesday, September 30, 2015, 7:00 PM @ Wilkes-Barre/Scranton Penguins
Saturday, October 3, 2015, 7:05 PM vs. Hartford Wolf Pack
Sunday, October 4, 2015, 5:05 PM vs. Wilkes-Barre/Scranton Penguins
Check it out! Reserve your season tickets now for the 2015-2016 season of Lehigh Valley Phantoms hockey. The Phantoms kick off the regular season to their second campaign at PPL Center on Saturday, October 10th! For more information on how to reserve your seat at PPL Center to the hottest ticket in town call the Phantoms front office today at 610-224-GOAL (4625)!
On the cusp of their 20th season of operation, the Phantoms recently completed their Inaugural Season as the Lehigh Valley Phantoms playing at the brand-new PPL Center. Established in 1996, the Phantoms spent their first 13 seasons at the Spectrum in Philadelphia before re-locating to Glens Falls, New York in 2009 where the team spent the next five seasons as the Adirondack Phantoms. A new era of Phantoms hockey began in the fall of 2014 when the Lehigh Valley Phantoms began play at the state-of-the-art PPL Center. Through 19 incredibly successful campaigns, the Phantoms have captured two Calder Cup Championships (1998, 2005), two Conference Championships (1998, 2005), two Regular Season Titles (1996-97, 1997-98) and four Division Championships (1996-97, 1997-98, 1998-99, 2003-04).