Will O'Neill Strikes For Two Late Goals in 5-4 Win Over Bridgeport
November 25, 2017
Lehigh Valley, PA – Will "The Thrill" O'Neill lived up to his nickname with a thrilling go-ahead goal late in the third period and then added an overtime winner as the Phantoms prevailed 5-4 in their first home game in three weeks. O'Neill's big night against the Bridgeport Sound Tigers capped another late Phantoms comeback in the opener of a six-game homestand.
Greg Carey (9th), Mark Alt (4th) and Nicolas Aube-Kubel (5th) also found the back of the net for Lehigh Valley while Alex Lyon turned in a strong 35-save performance in the win. Lyon's second-highest save total of the season came against the same team who he denied 42 times in a 4-2 win at Bridgeport on November 8. Radel Fazleev posted a career-best three-point night with a trio of helpers. T.J. Brennan registered a pair of assists on the key goals in the third-period comeback and moved into a tie for tenth all-time in AHL defensemen career points with 394.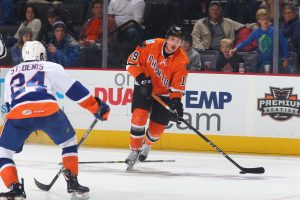 The Phantoms were playing catch-up hockey throughout most of the game and did not take the lead until there was just 4:50 remaining in the third period when O'Neill's blast from the left circle clanged perfectly off the right post past Bridgeport goalie Kristers Gudlevskis and into the cage.
Travis St. Denis of Bridgeport found a bouncing puck in the crease for a 6-on-5 tying goal with just 10 seconds remaining to force overtime thus allowing O'Neill the opportunity to take center-stage again. On a 2-on-1 rush the veteran defenseman had a decision to make but he determined that the best opportunity was to take the shot himself where he practically seemed to casually flip it home from the right circle past the glove of Gudlevskis who was likely expecting a pass as well.
"I saw Vorobyev coming down the weak side," O'Neill said. "I was trying to get it to him. He's hot. But their guy overplayed him so much that I just wanted to be a shooter."
It's been quite a month for Will O'Neill who began November with his first-ever recall to the NHL which was followed in short order by his NHL debut on November 2nd in a 2-0 Flyers win at the St. Louis Blues. That NHL debut as a 29-year-old came after 350 games in the American Hockey League. Now, coming back to PPL Center, O'Neill picked up his second career two-goal game as well as his second overtime winner. O'Neill had a pair of goals on October 17, 2015 for Wilkes-Barre/Scranton against Lehigh Valley. And O'Neill scored his only other overtime goal on March 20, 2016 for Wilkes-Barre/Scranton at Hershey.
The Phantoms rallied from a second-intermission deficit to post a victory for the third time this season which again leads the American Hockey League. Lehigh Valley found similar comeback magic in the third period on nine different occasions last year to top the AHL in that department.
The Lehigh Valley Phantoms had not been at PPL Center since November 5th. Finally returning to their Home Sweet Home after a six-game road-trip was an especially welcome site particularly following such a thrilling victory.
"I thought this was a great team win," O'Neill said. "Great crowd out here. It's really great to get the win at home. You know, we haven't been at home in awhile. It's really nice. We have a great arena here and the best fans in the league. It's always nice to play in front of them and to be in our own beds every night is not bad either."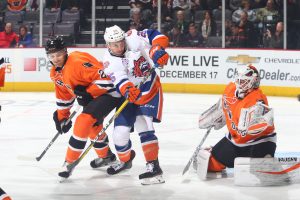 The Phantoms improved to 12-6-2 overall while stepping up their domination of the season-series to the tune of a 3-0 mark against the strong Sound Tigers squad. Bridgeport had their four-game win streak come to a close. The sound Tigers are 10-7-1 overall which including 0-2-1 vs. the Phantoms while boasting a 10-5-0 record against the rest of the American Hockey League.
Bridgeport struck in the opening moments to set an early tone with Tanner Fritz (4th) receiving a backhand flip across the slot from Ryan Bourque after Kane LaFranchise offered an entry shot that deflected around. The Sound Tigers took a 1-0 lead at 1:22 into the game that would hold up almost to the halfway mark.
Alex Lyon stole the show in the first period in keeping the deficit at just one goal. The Phantoms were hemmed in a few times and were out shot 12-5 in their sluggish start.
The Phantoms rebounded in the second period to tie the score a couple times. Greg Carey (9th) converted from the left slot after a nifty backhand flip across by Oskar Lindblom. Carey is the goal-scoring leader among active Phantoms players (which does not include Danick Martel who is up with Philadelphia) and has a three-game goal streak with four goals in the stretch. The power-play conversion at 9:24 tied the game at 1-1.
But the Sound Tigers responded quickly with Michael Dal Colle's second of the season at 11:11 on the rebound of a Sebastian Aho drive.
The Phantoms were ready to equalize again when Bridgeport failed to clear the zone and Mark Alt was in the right place to blast through a one-timer from the top of the right circle to the upper-left corner for his second such laser in as many nights and his fourth goal of the season. Radel Fazleev and Misha Vorobyev received assists on the play that again tied up the score, this time at 2-2.
The Phantoms appeared on the verge to take the lead but Bridgeport countered quickly and a pass from the right point to a wide open 34-year-old veteran Stephen Gionta on the backdoor in the closing minute of the period put Bridgeport back in front with a 3-2 advantage at the second intermission.
Lehigh Valley's penalty kill was forced into action on consecutive infractions in the third period affording Bridgeport a glorious opportunity to build on their lead. Lyon came through with some of his biggest stops of the night from 14:00 left in the third to 10:00 to go.
The Phantoms brought the big crowd of 8,022 delirious Phantoms Phans into a roar when they surged back to tie the score yet again with 6:39 remaining in the third period. Nic Aube-Kubel booked it up the left wing after an outlet pass from T.J. Brennan. The second-year pro from Sorel-Tracy, Quebec then cut for the middle of the ice before offering a wrister back towards the left post knocking the water-bottle with the top-shelf snipe. Tyrell Goulbourne stationed himself in the way of Gudlevskis providing a valuable screen. Fazleev earned his second assist of the night.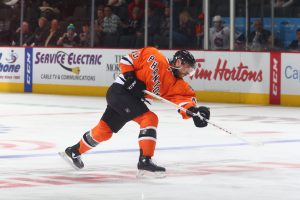 It was less than two minutes later for the Phantoms to take their first lead of the see-saw affair. Brennan's shot from the right point was kicked far away by the right-pad of Gudlevskis and then caromed back towards the circle from the left boards. O'Neill raced to the open area to rifle a one-time slap-shot off the far post for the tying tally with just 4:50 to go.
The Phantoms almost pushed their way through for an overtime victory with Alex Lyon turning aside one extra-attacked drive after another but finally the Sound Tigers made it through when a shot deflected up high in the air and landed on the right of the crease for St. Denis to put home the tying goal at 4-4 with just 10 ticks left.
Corban Knight worked the puck free back in the Phantoms zone and connected with O'Neill who walked up the right-wing for the short-side game-winner to close the crazy contest and bring the crowd roar to yet another deafening level.
The Phantoms are 2-2 in overtime games with Greg Carey having struck for the other extra-stanza winner on October 25th at PPL Center against Springfield.
Bridgeport out shot the Phantoms 39-24 and offered the second-highest shot total allowed by the Phantoms this year bested only by Bridgeport's 44-shot barrage on November 8th which the Phantoms won 4-2. Lehigh Valley finished 1-for-5 on the power play while holding Bridgeport to 0-for-4.
The Phantoms return to PPL Center to tangle with the Binghamton Devils on Wednesday night for Game 2 of their six-game homestand. Players are encouraged to bring their own skates for a post-game open skate with the Phantoms players presented by Big Woody's.
Lehigh Valley hosts Hershey on Friday, December 1 on SuperHero Night featuring Batman, Wonder Woman, Spiderman and many more. Then Saturday, December 2 is the annual Teddy Bear Toss presented by Dan's Camera City when the Phantoms take on the Laval Rocket. The Phantoms are aiming to break their record of 4,725 teddy bears and stuffed animals established last season to benefit the kids at Valley Youth House. Secure your tickets at PPLCenter.com or by calling (610) 347-TIXX (8499).
Bridgeport Sound Tigers 4 at Lehigh Valley Phantoms 5 (OT) – Status: Final OT
Saturday, November 25, 2017 – PPL Center
Bridgeport 1 2 1 0 – 4
Lehigh Valley 0 2 2 1 – 5
1st Period-1, Bridgeport, Fritz 4 (R. Bourque, Lafranchise), 1:22. Penalties-Knight Lv (tripping), 6:24; Lafranchise Bri (interference), 9:24; Dal Colle Bri (tripping), 11:19; O'Neill Lv (holding), 15:51.
2nd Period-2, Lehigh Valley, Carey 9 (Lindblom, Varone), 9:24 (PP). 3, Bridgeport, Dal Colle 2 (Aho, Helgeson), 11:11. 4, Lehigh Valley, Alt 4 (Vorobyev, Fazleev), 12:32. 5, Bridgeport, Gionta 1 (Burroughs, Stevens), 19:13. Penalties-Burroughs Bri (slashing), 4:59; Burroughs Bri (tripping), 8:23; Stevens Bri (high-sticking), 14:30.
3rd Period-6, Lehigh Valley, Aube-Kubel 5 (Brennan, Fazleev), 13:21. 7, Lehigh Valley, O'Neill 2 (Brennan, Fazleev), 15:10. 8, Bridgeport, St. Denis 6 (Toews, Fritz), 19:50. Penalties-Goulbourne Lv (tripping), 6:12; Varone Lv (hooking), 8:20; B. Holmstrom Bri (roughing), 20:00; Varone Lv (roughing), 20:00.
OT Period-9, Lehigh Valley, O'Neill 3 (Knight), 1:22. Penalties-No Penalties
Shots on Goal-Bridgeport 12-9-18-0-39. Lehigh Valley 5-10-7-2-24.
Power Play Opportunities-Bridgeport 0 / 4; Lehigh Valley 1 / 5.
Goalies-Bridgeport, Gudlevskis 4-3-1 (24 shots-19 saves). Lehigh Valley, Lyon 7-5-1 (39 shots-35 saves).
A-8,022
Referees-Corey Syvret (42), Troy Paterson (29).
Linesmen-Tom George (61), Matt McNulty (26).
Reserve your group outings for the 2017-2018 season of Phantoms hockey. For more information on how to reserve your seat at PPL Center to the hottest ticket in town, call the Phantoms front office today at 610-224-GOAL [4625]!