Phantoms radio broadcaster Bob Rotruck recently caught up with Darroll Powe for an interview. The 29-year-old Powe is in his eighth full season of professional hockey and has played in 329 NHL games with Philadelphia, Minnesota and the New York Rangers as well as over 200 AHL games with the Philadelphia Phantoms, Lehigh Valley Phantoms and Hartford Wolf Pack.
Bob: You just scored goals in back-to-back games. The goal in Sunday's game at Bridgeport, I would hazard to guess you haven't scored too any like that in your career.
Darroll: No, that was a pretty special one. (Smiling) That's a great individual effort and what can I say…
Bob: Haha. We're joking around. But to clarify, this is the one where THEIR defenseman backhanded it into his own net and you happened to be the last one to touch it. So you scored a goal without having really shot it in the first place.
Darroll: Yeah, like I said, great individual effort…by THEIR guys! It was kind of a weird play and no one really knew what was happening. But it went into the net and it gave our team a lead which was great so can't complain about that.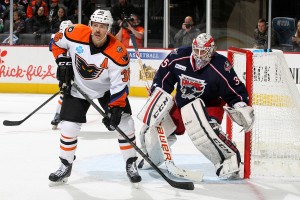 Bob: Here's the thing though, you were pressuring on him also. And you're trying to force maybe a hurried play. A lot of times it might not result in much. But every once in awhile you get the guy to panic a little bit or screw it up. And in a way I also thought this one makes up for the one here at home against St. John's where you had stolen it from the goalie and you just got robbed on that one. So I guess it balances out, right?
Darroll: Yeah, it does. It's one of those plays our team's really been stressing. Getting pucks into their end. Obviously plays like that where they shoot it into their own net are not going to happen very often. But anytime's the puck in their end anything can happen and we just have to keep doing that; getting pucks out of our own end, through the neutral zone and into their end and then go to work. And as you saw anything can happen.
Bob: For you on Saturday here at home, a more legitimate goal you might say. Andrew Gordon getting that right out to you in the slot and just bang it in.
Darroll: Yeah, the last couple of games I got to play with Gordo a little bit. And he's a good player. He finds you out there. You just have to get open. He did that on Saturday night and I'm looking forward to playing a bit more with him.
Bob: Talking about your career in general. In 2007 you're coming out of Princeton University and you're joining the Phantoms. And now here we are seven years later and you have over 300 NHL games under your belt It's probably amazing in your mind how quickly you go from being a rookie to being one of the most experienced guys on the team.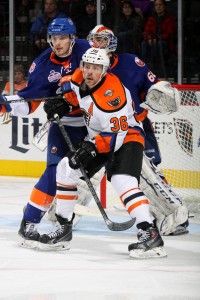 Darroll: It's been pretty crazy. Like you said, it seems you play one year, two years, and you're a rookie, and then the next year you come in and you're a veteran player. Fast-forward three or four more years and you feel that much older but it's been fun. It's great to be back in a Phantoms jersey. You know this organization is so good and they treat you so well that it's fun to be here and fun to be part of this team.
Bob: I was going to ask you how excited were you to have that opportunity, that offer, from the Flyers to come back to this organization where you started.
Darroll: Yeah, it's great. I have so many good memories in this organization. From the Cup Final run (in 2010 with the Flyers) to my first pro game to my first NHL game to my first goal. There'a a lot of good memories in a Flyers or Phantoms jersey. It was a pretty exciting day when I got a chance to be back in this organization and see a lot of faces that gave me my start. It's fun.
Bob: For you, I get the impression that this leadership role that you're in, you're one of the three tri-captains, it's something that you really enjoy as well.
Darroll: Yeah, it is….
Bob: And you were a captain in college too!
Darroll: Yeah, I was. And that was a long time ago obviously. Throughout growing up you're in different roles. You're an old guy and then you're a young guy, then an old guy, a young guy…So you get a chance to sit back and learn from some of the older guys and then the next year you are that older guy. It's fun and it's something that I enjoy. And it's something where you can pass a few experiences onto the young guys. It's been good so far.
Bob: Not just being back with the Flyers for you but also being here in this new home for the Phantoms. How are you liking playing here in Allentown?
Darroll: It's awesome. Just getting a chance to chat with some of the fans after the games at the autographs signings and things like that. There's a good buzz around the town and a lot of people excited. And we can feel that every time we play at home here and I think our record shows that. There's no doubt that this is a first-class facility and first-class organization and first-class fans. So it's fun to be a part of.
Bob: But now it's a little different than when you first joined the Phantoms out of college, now here as an older player you also have a family that you're bringing in here and you have a little one!
Darroll: Yeah, I do. Little Lucas is a joy. He's been to a few games and obviously he's pretty young still…he's only five months…so he doesn't really know what's going on. But it's fun to have him here and obviously that's a new part of my life that I've really been enjoying.
Bob: A new perspective really..
Darroll: Yeah, definitely. It's pretty crazy and hard to put in words but it's been fun.
Bob: Darroll Powe who scored that stellar goal on Sunday courtesy of the Bridgeport D-Man. Hey, keep it up…however you get 'em to go in ..just keep up the good work!!
Darroll: Absolutely. I'd take a handful more of those, that's for sure!