Flyers vs. Rangers at PPL Center This Weekend
@billmeltzer philadelphiaflyers.com
On-ice work at the Flyers 2023 rookie camp gets underway on September 14 at the Flyers Training Center in Voorhees. The next day, the scene shifts to PPL Center in Allentown for the first of two Rookie Games against the New York Rangers' prospects. A rematch will take place the next day (7:05 p.m. EDT on Sept. 15 and 5:05 p.m. EDT on Sept. 16).
When rookie camp opens, many eyes will be focused on players who've already made their NHL debuts with the Flyers such as Tyson Foerster, Bobby Brink, and Elliot Desnoyers. Among players attending their first NHL Rookie Camp (and/or are prospective North American pro rookies in 2023-24), here are 11 players to watch. Fans can expect many of these players to join the Lehigh Valley Phantoms for the 2023-24 season or a future season.
The Rookie Series games this weekend are presented by WarHorse/Ducati, Visit Valley Forge, and Bethlehem Landfill.
Emil Andrae (D): Andrae, the Flyers' second-round pick (54th overall) in the 2020 NHL Entry Draft, joined the Lehigh Valley Phantoms late last season for the final 10 games of the regular season and the best-of-three playoff series against the Charlotte Checkers. He'll attend his first NHL training camp this September after signing an entry-level NHL contract on March 27 of this year. The offensive minded blueliner impressed observers during his short AHL stint last season and Rookie Camp in July.
JR Avon (C/W): The speedy forward, whom the Flyers signed in 2021, will be a rookie with the Phantoms in 2023-24. He is coming off a strong OHL playoffs and Memorial Cup run for the Peterborough Petes. With the Phantoms, he'll likely have to adapt to more of a bottom-six/ Swiss Army knife type of role than the top-six role he came to play in the Ontario Hockey League. He had some strong moments in Development Camp in July, especially when he had the opportunity to display his fleet feet. Avon is the stepson of retired NHL star Steve Larmer.
Denver Barkey (C/W): Due to injury, Barkey was unable to participate on the ice during Development Camp in July. A perpetual bundle of energy with good speed, an agitating style of play and underrated hands, Barkey will attend his first NHL Rookie Camp this September. The Flyers drafted him in the third round (95th overall) of the 2023 Entry Draft. Along with 2023 first-round pick Oliver Bonk — a teammate with the OHL's London Knights — Barkey gained the trust of London head coach Dale Hunter last season. He'll return to the Knights at some point during NHL camp. The Flyers have two seasons to get him under NHL Entry Level Contract (ELC) before losing his rights.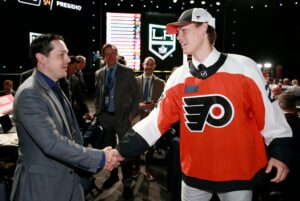 Carson Bjarnason (G): One of the top-rated goaltender prospects (No. 1 on some lists) from the 2023 NHL Entry Draft, Bjarnason will attend his first NHL Rookie Camp this September. The Flyers traded up in the 2023 Draft to be able to take Bjarnson in the second round (51st overall). With fellow goalie prospect Alexei Kolosov on loan in 2023-24 to KHL team Dinamo Minsk and 2023 third -round pick Yegor Zavragin playing at the Russian junior level (MHL), Bjarnason will have a chance to sign in Rookie Camp among the goalies with no previous NHL camp experience. For the 2023-24 season, he's likely to return to the Western Hockey League's Brandon Wheat Kings. The Flyers have a two-season window to sign Bjarnason to an ELC.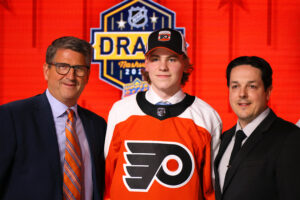 Oliver Bonk (D): Drafted by the Flyers with the latter (22nd overall) of their two first-round picks in the 2023 NHL Entry Draft, Bonk signed an entry-level NHL contract on August 21. He'll attend his first NHL Rookie Camp this September and stay on for the start of the full NHL camp. Bonk is likely to return to the Ontario Hockey League's London Knights for the 2023-24 season.
Alex Ciernik (LW/RW): The Flyers selected the Slovakian-born forward in the fourth round (120th overall) in 2023 Entry Draft. Although he is committed to Swedish minor league (Allsvenskan) club Västervik for the 2023-24 season, Ciernik will attend the Flyers Rookie Camp. A 5-foot-10, 180-pound speedster, Ciernik is also a very slick puckhandler with good hands. Last season, the teenager played a combined 25 games in Allsvenskan. Although he played for the Slovakian national junior team, the second-generation pro has played in Sweden since he was 16. He also lived in Germany, where his father, former Ottawa Senators and Washington Capitals winger Ivan Ciernik, played professionally after his NHL days.
Alexis Gendron (RW): The Flyers' seventh-round pick (220th overall) in the 2022 Entry Draft flew under the radar at the start of last year's Rookie Camp, apart from the human interest story of him being the son of former NHL player and current Flyers Quebec-based amateur scout. After coming off a monster offensive season in the Q during the 2022-23 campaign and signing an entry-level contract with the Flyers on July 25, Gendron is sure to receive wider attention this year. The 19-year-old is still not age-eligible for the American Hockey league in 2023-24, and is likely to return to the QMJHL's Gatineau Olympiques and some point during the Flyers' NHL camp.
Matteo Mann (D): Mann, the Flyers' 2023 seventh round pick (199th overall), will be hard to miss as training camp. The 18-year-old defenseman is a behemoth at 6-foot-5 and 222 pounds. He's a long-term project as a physical shutdown defenseman. After attending his first NHL Rookie Camp this September, Mann will eventually return to the QMJHL's Chicoutimi Sagueneens for the 2023-24 season. Matteo is the son of former Ottawa Senators assistant general manager Trent Mann.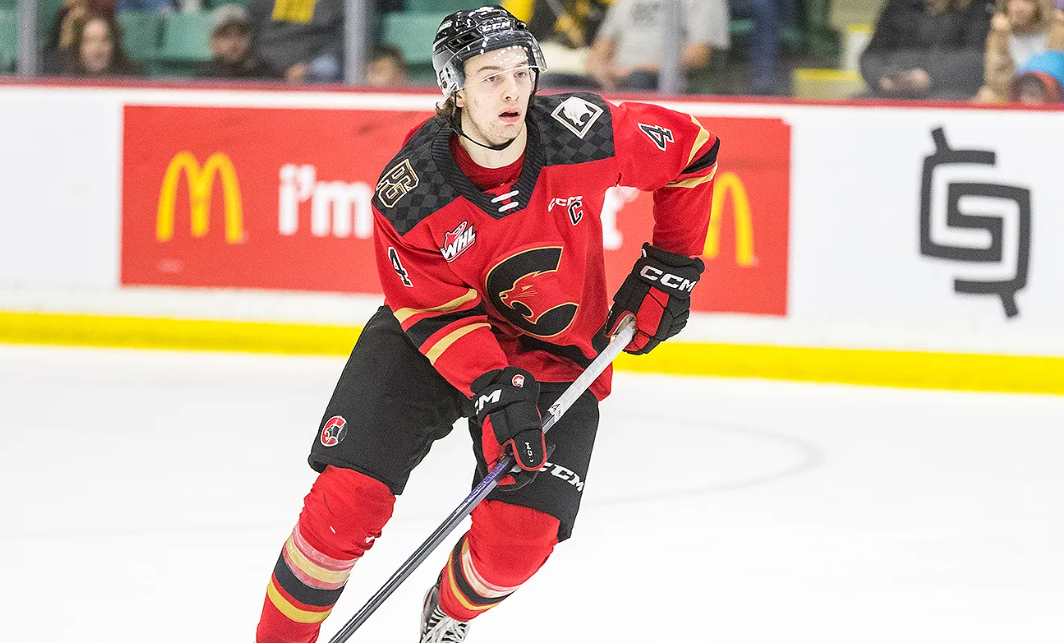 Ethan Samson (D): Samson, the Flyers' sixth-round pick (174th overall) in the 2021 Entry Draft, signed an ELC with Philadelphia on Jan. 26, 2023. He'll vie for AHL ice time as a rookie in 2023-24. A right-handed shooter, Samson was one of the top offensive defensemen in the Western Hockey League the last two seasons. He's worked hard on accelerating his two-way game. Samson, who turned 20 on August 23, will work to build his case in Rookie Camp and NHL/AHL training camp to stake down a spot in Ian Laperriere's lineup. If further development and added ice time are needed amid a potentially crowded Phantoms blueline, a stint for Samson with the ECHL's Reading Royals is also a possibility.
Carter Sotheran (D): The Flyers are high on the long-term upside of their 2023 fifth-round pick (135th overall), who has puck-moving, two-way potential and a combination of good feet and a big frame. He'll attend his first NHL Rookie Camp this September. He's worth watching as the first segment of a year-by-year comparison to the level of development he'll display between Sept. 2023 and camps in future years. For the 2023-24 season, he'll return to the WHL's Portland Winterhawks. The Flyers have a two-season window to sign him to an ELC.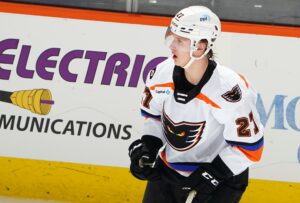 Samu Tuomaala (RW): Still just 20 years old, Tuomaala has had a bumpy road the last two seasons since attempting to jump directly to the American Hockey League in 2021 after being selected by the Flyers in the second round (46th overall) in the 2021 Entry Draft. He thrived in Rookie Camp and the AHL preseason but was in over his head when the AHL regular season began. He subsequently struggled for ice time and production in Finland's top league (Liiga). However, taking a step backward to Finland's top minor league (Mestis) helped restore lost confidence. He's also added significant physical strength and become a better two-way player. His best assets, though, are still his speed and his raw shooting ability. He's returning to North America for the 2023-24 season and is an X-factor for the Phantoms as a rookie in the upcoming season.
Not attending: Players with NCAA or European hockey commitments.
As a reminder, NCAA players are prohibited by rule from attending either Rookie Camps or NHL main camps with the NHL clubs that hold their rights. Although collegiate hockey seasons have not gotten underway, NCAA rules prohibit any student-athlete from participating in a camp that overlaps with classwork. With fall semesters underway nationwide, no active collegiate players can attend NHL camps even if they are not yet under professional contracts.
For the Flyers, this includes players such as 2022 first-round pick Cutter Gauthier (Boston College sophomore), 2022 third-round pick Devin Kaplan (Boston University sophomore), 2022 fifth-round pick Alex Bump (Western Michigan freshman), 2022 sixth-round pick Hunter McDonald (Northeastern University sophomore), and 2023 fourth-round selection Cole Knuble (Notre Dame freshman). Likewise, 2021 fifth-round pick Ty Murchison (junior at Arizona State), 2021 seventh-rounder Owen McLaughlin (sophomore at the University of North Dakota) and 2019 seventh-round pick Bryce Brodzinski (fifth-year senior at the University of Minnesota by way of dispensation for the Covid pandemic) also still fall under NCAA eligibility rules.
For a different reason, draftees playing professional hockey in Europe during the 2023-24 season are unavailable for Rookie Camp and NHL Camp. This is because the regular season gets in September in leagues overseas. In the case of the KHL (2023 first-rounder Matvei Michkov and goaltenders Kolosov and Zavragin), the regular season openers were played in Sept. 1 or 2.
Other affected Flyers prospects: defenseman Brian Zanetti (playing in Switzerland),and 2022 seventh-round pick Santeri Sulku (who missed the entire 2022-23 season due to injury).