He didn't get to do it nearly as many years or for as many games as he hoped, but Samuel Morin is grateful that he fulfilled his lifelong dream of playing in the National Hockey League.
By Bill Meltzer – philadelphiaflyers.com
He didn't get to do it nearly as many years or for as many games as he hoped, but Samuel Morin is grateful that he fulfilled his lifelong dream of playing in the National Hockey League. It took a little time to process the grief of realizing that his active playing career was over at age 26 due to a series of serious knee injuries that included two right ACL tears and a torn meniscus.
Before long, however, the perpetually positive-minded and hard-working Morin set his sights on a new goal: remaining in the sport in some capacity. He has retired with the peace of mind of knowing that he did everything he possibly could to resume his career; literally, a combined couple of years spent diligently rehabbing (including during the height of the COVID-19 pandemic) and trying to work his way back up to playing.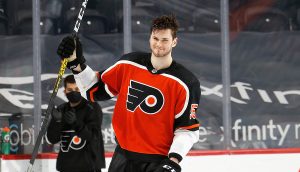 That goal paid off with 20 NHL games in 2020-21 and his first and only NHL goal; a third-period game-winner against the archrival New York Rangers on the afternoon of March 27, 2021. Unfortunately, Morin's right knee never really got back to 100 percent. Prior to training camp, his knee was bothering him again and he needed another procedure. He gave it his all to attempt a last-ditch rehab but found out he would not be able to play again.
"I was telling myself it was going to be fine, but around Christmas, I saw a doctor in New York and he told me to shut it down, I should shut it down," Morin said on Thursday.
"My knee was really in bad condition. That's what it is. You just need to look yourself in the mirror and I gave it my all. I'm not ashamed of myself at all, I have no regrets. I'm all good with that."
Morin admits there was a period of grieving the untimely end of his career. He said that his mom and dad in Quebec were — and remain — his most steadfast support system, along with his younger sister.
"Both of them are a big part of why I came back every time," Morin said.
Morin recounted how, when former Flyers head coach Alain Vigneault talked to him about switching from defense to become a physical fourth-line left winger, his family encouraged him to at least give it a try. He did, although he soon ended up going back to the blue line.
"My family, I remember a couple of times, when they told me I was going to be a forward – I accepted it obviously because I needed to get an opportunity to play – but I was like, 'Oh my God, what am I going to do?' I remember sometimes I just wanted to quit everything, I was like, 'Man, this is not me, I want to be a D-man.' But my family was like, 'Just stay right with it and keep doing what you're doing'," Morin recalled.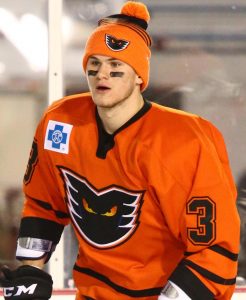 Morin said this Flyers teammates — both players who are still with the team and friends he made who've since moved on to other clubs — have also been in his corner every step of the way, along with the team staff who worked with him daily during his rehabs. He's proud that he spent nine years in the Philadelphia organization after the team selected him in the first round (13th overall) of the 2013 NHL Draft at the Prudential Center in New Jersey.
"Same thing goes with teammates. They're around and they know what I went through and I talk to them a lot. My teammates, every single one of them, from junior hockey to my little bit of NHL experience, they've been what I love. I love that brotherhood of going on the road trips, all that stuff, in the locker room, joking around. This is something I'm going to miss a lot; my teammates. I've been so lucky to be here with the Flyers because I have some really, really good guys. I'm really grateful for it," Morin said.
For now, Morin is spending some extended time at home in Quebec to be near his family. The province was virtually shut down during the pandemic. For extensive periods of time, he was only able to communicate with his loved ones via video chats or telephone. He greatly appreciates that they are now able to be together in person again. It's something he realizes is too easy to take for granted.
In the bigger picture, Morin wants to find a path to stay in hockey. He will meet over the summer with Flyers General Manager and President of Hockey Operations Chuck Fletcher to see if there's a potential role that would be of mutual interest. He's also talked with at least one former NHL player who had his career end abruptly and found a new path within the sport. Morin draws inspiration from similar success stories.
One such figure is Flyers alum defenseman Marc-Andre Bourdon, who was forced to retire at age 25 due to a series of concussions. Bourdon went back to school, took up coaching and eventually became the general manager of the QMJHL's Rouyn-Noranda Huskies. Another inspirational figure is former Flyers alum winger Eric Wellwood. A severed Achilles tendon suffered from a gruesome skate cut accident in an AHL game for the Phantoms ended the once swift-skating Wellwood's career at age 22. He became a coach and, today, is a head coach in the ECHL.
"I know Marc-Andre pretty well — he's another French guy — and I've talked to him," Morin said. "I look at what those guys have done and I am happy for them."
Right now, Morin isn't sure if his next steps will be in the realm of pursuing coaching (behind the bench or as a one-on-one development coach), scouting or some other aspect of the sport. He only knows that he wants to stay involved.
"The same thing's going to go for what's next: I'm going to give it my all, I'm going to give it all my heart, I'm going to have the same attitude. The only reason why I stayed around those years was because of my attitude. I think it can show a lot of the young players a little bit of what you need. …Hockey is my life, it's going to stay my life. … I want the same thing that I did when I was a little kid, I wanted to play in the NHL. I want to graduate the ranks and someday be higher up in those ranks. Hockey's always going to be a part of me," Morin said.
Whatever path he chooses, Morin will do it wholeheartedly, with a smile on his face whenever he comes to the rink. He'll have the same joy for life, the same work ethic and the same can-do attitude.