Binghamton Hangs On 3-2 in Fight-Filled Affair
February 13, 2015
Lehigh Valley, PA – Perhaps it shouldn't come as a surprise that East Division rivals Lehigh Valley and Binghamton were in no mood to share any Valentine's Weekend goodwill in their seventh clash of the season. The top two teams in the league in time spent in the sin-bin racked up 103 combined penalty minutes on Friday night while visiting Binghamton escaped with a 3-2 win at PPL Center.
The ball-cap wearing Phantoms crowd was the 12th standing-room only sellout and fourth-largest turnout of the year at 8,782. The large contingent enjoyed the action as well as all the fisticuffs during an entertaining Friday evening of rough and tumble hockey action in downtown Allentown. All fans in attendance received Phantoms ball-caps courtesy of Service Electric but unfortunately the home team was not able to provide a hat trick to coincide with the promotional night in which such an accomplishment would have certainly been most fitting.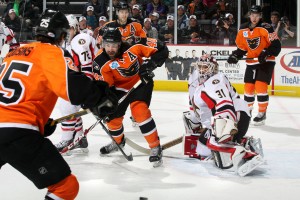 Nick Cousins (16th) and Brandon Manning (9th) scored for the Phantoms while Jason Akeson tallied a pair of assists to run his career total to 199 with the franchise placing him on the cusp of joining an elite group of only four others in the Phantoms 200-Point Club (Peter White, Mark Greig, John Slaney, Kirby Law).Rob Zepp played well but was eventually tagged with the loss in his first return to game-action since taking a late-game injury in a collision at Binghamton last Saturday.
Guillaume Lepine (1st), Matt Puempel (12th) and Shane Prince (18th) all tallied for the Senators who secured their first-ever win at PPL Center in three efforts.
The fans rose to their feet for three official fights while several other dust-ups dotted the night as well. Lehigh Valley was tagged with 15 infractions for 55 penalty minutes while Binghamton took a total of 14 penalties for 48 minutes.
The sparring between the two organizations actually started in a weird way BEFORE the game had even started. But it wasn't the players squaring off yet. Instead it was Lehigh Valley mascot meLVin on a blind-date strategically arranged at center-ice who discovered his new lady-friend to be wearing a Binghamton Senators uniform. meLVin promptly shoved his Valentine's cake square in the face of the offending female and ran off with the server who proudly showcased her Phantoms uniform. As it turned out, the pregame skit of hostilities would accurately foretell the action to come!
Binghamton opened the scoring just over two minutes into the rivalry showdown when a seeing-eye snap shot from the left point by Guillaume Lepine found an opening in the upper right-hand corner of the Phantoms goal. Brad Mills and Colin Greening assisted on the even strength strike, which was the first career AHL conversion for Lepine.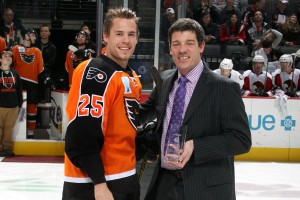 The Senators doubled their advantage with just over three minutes left in the opening frame when Matt Puempel converted down low on the rebound of his own shot off the pads of Zepp.
The Senators led 2-0 and that's when the punches would start to fly. Steven Delisle took on Buddy Robinson who had already challenged Lehigh Valley's Taylor Leier earlier in the game. Delisle landed a few solid lefts and Robinson left the game with a bloodied nose as well as a game-misconduct from a five-minute elbowing major.
Lehigh Valley converted in the closing seconds of the period on their power-play with Nick Cousins jumping on the rebound of a Brandon Manning shot in the right circle. Just 1.2 seconds remained on the clock when the 21-year-old blasted home his team-leading 16th of the year. Less than an hour earlier, Cousins had been honored at center-ice by Phantoms executive vice president Chris Porreca with his crystalized trophy for his CCM/AHL Player of the Month accolades in January.
Cousins goal gave the Phantoms the momentum heading to the locker-room for the first break. Of his 16 goals this season, seven have come against Binghamton including a hat trick on January 17 during the Senators' last visit.
Penalties would become an issue for the Phantoms in the second period with a string of infractions that provided one of the league's top power plays with several opportunities to stretch their 2-1 advantage. Jay Rosehill was tagged for a double-minor and partway through Robert Hagg would join him allowing Binghamton two full minutes of 5-on-3 opportunities. The Phantoms scrambled their way through that situation with some big clears and blocks as well as sliding saves by Rob Zepp and then did more of the same when Akeson took a penalty as well allowing Binghamton almost six consecutive minutes on the man advantage which included a full 2:10 in total on the two-man.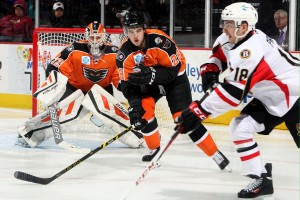 But one more penalty on top of that was enough to prove too much to overcome for the Phantoms' overworked penalty kill and Binghamton's Shane Prince notched his team-leading 18th on the backdoor with his blast from the right circle in the closing seconds of the second period that prove to be the difference-maker.
In the meantime, Delisle had dropped the gloves again, this time with Darren Kramer, to receive a game misconduct which is mandatory in the AHL for a second fighting major. And Jay Rosehill went at it Guillaume Lepine as well as temper continued to boil.
The Phantoms took control in the third period in their efforts to overcome the deficit. Brandon
Manning cranked up his ninth of the season on a big one-timer from the top of the right circle just as a 5-on-3 had changed to a 5-on-4. Lehigh Valley had other strong challenges at Binghamton goalie Peter Mannino as part of a 15-shot barrage in the final frame including a Brandon Alderson flash up the left-wing which just missed going in and Austin Fyten's blast from the right side that glanced off the glove of Mannino but bounced away.
It certainly felt as though the Phantoms were on the verge of a dramatic comeback with their continued pressure but the Senators were able to grind down the clock to triple-zero and claw their way to the end for the one-goal decision.
Phantoms executive vice president Chris Porreca presents Nick Cousins with the CCM/AHL Player of the Month Award for January in a pregame ceremony.
The Phantoms continue their busy weekend Saturday night heading to Wilkes-Barre/Scranton for a clash with the Penguins. Be sure to catch all the action on Fox 1470 AM, online at fox1470.com or via the iHeartRadio app beginning at 6:20 PM with the Nazareth Pallet Countdown to Faceoff. Lehigh Valley wraps up their busy three-in-three weekend on Sunday at 5:00 at the Springfield Falcons.
Lehigh Valley then returns to PPL Center on Wednesday, February 18 for a rematch showdown with the Senators in the opener of a three-game homestand in four days. The Phantoms also host the Providence Bruins next Friday and the Hartford Wolf Pack on Saturday, Feburary 21 on Frank "The Animal" Bialowas Legends Night. Wednesday's contest with Binghamton is another $2 Beer Night with $2 Coors Light drafts from the time doors open until the start of the 2nd period. Tickets for upcoming games are available in-person at the Mealey's Furniture Box Office at PPL Center (701 Hamilton), by calling 610-347-TIXX (8499) or online at pplcenter.com.
Binghamton Senators 3 at Lehigh Valley Phantoms 2 – Status: Final
Friday, February 13, 2015 – PPL Center
Binghamton 2 1 0 – 3
Lehigh Valley 1 0 1 – 2
1st Period-1, Binghamton, Lepine 1 (Mills, Greening), 2:12. 2, Binghamton, Puempel 12 (Schneider, Camper), 16:42. 3, Lehigh Valley, Cousins 16 (Manning, Akeson), 19:58 (PP). Penalties-Robinson Bng (roughing), 11:34; Leier Lv (charging, roughing), 11:34; Puempel Bng (interference), 13:08; Robinson Bng (fighting, major – elbowing, game misconduct – elbowing), 17:01; Delisle Lv (unsportsmanlike conduct, fighting), 17:01; Puempel Bng (roughing), 18:30; Hagg Lv (elbowing), 18:30.
2nd Period-4, Binghamton, Prince 18 (Puempel, A. Grant), 19:24 (PP). Penalties-served by Puempel Bng (bench minor – unsportsmanlike conduct), 2:44; Rosehill Lv (elbowing, holding), 5:48; Hagg Lv (delay of game), 6:50; Akeson Lv (hooking), 9:38; Kramer Bng (roughing, fighting), 11:44; Delisle Lv (fighting, game misconduct – third major/second fight), 11:44; Lepine Bng (fighting), 15:22; Rosehill Lv (fighting, misconduct – unsportsmanlike conduct), 15:22; Mills Bng (interference), 16:20; Leier Lv (slashing), 18:47.
3rd Period-5, Lehigh Valley, Manning 9 (Cousins, Akeson), 7:08 (PP). Penalties-Mills Bng (roughing), 2:02; Flemming Lv (roughing), 2:02; Johnson Bng (hooking), 5:05; Mills Bng (high-sticking), 6:26.
Shots on Goal-Binghamton 10-12-10-32. Lehigh Valley 9-6-15-30.
Power Play Opportunities-Binghamton 1 / 6; Lehigh Valley 2 / 8.
Goalies-Binghamton, Mannino 3-5-0 (30 shots-28 saves). Lehigh Valley, Zepp 12-9-1 (32 shots-29 saves).
A-8,782
Referees-Pierre Lambert (39).
Linesmen-Scott Pomento (25), Jud Ritter (34).
Upcoming Home Games:
Wednesday, February 18, 2015 Binghamton Senators vs. Lehigh Valley Phantoms, 7:05 PM
($2 Beer Night! $2 beers from the time doors open until the start of the 2nd period. Please drink responsibly.)
Friday, February 20, 2015 Providence Bruins vs. Lehigh Valley Phantoms, 7:05 PM
Saturday, February 21, 2015 Hartford Wolf Pack vs. Lehigh Valley Phantoms, 7:05 PM
(Legends Night! Frank "The Animal" Bialowas, one of the most feared players in Phantoms history, will be at the game. FREE Collector's Edition Poster for all fans.)
Saturday, February 28, 2015 Binghamton Senators vs. Lehigh Valley Phantoms, 7:05 PM
(Little League Night!)
In their 19th season of operation, the Phantoms are currently in the midst of their Inaugural Season as the Lehigh Valley Phantoms playing at the brand-new PPL Center. Established in 1996, the Phantoms spent their first 13 seasons at the Spectrum before re-locating to Glens Falls, New York in 2009 where the team spent the next five seasons as the Adirondack Phantoms. A new era of Phantoms hockey began in the fall of 2014 when the Lehigh Valley Phantoms began play at the state-of-the-art PPL Center. Through 18 incredibly successful campaigns, the Phantoms have captured two Calder Cup Championships (1998, 2005), two Conference Championships (1998, 2005), two Regular Season Titles (1996-97, 1997-98) and four Division Championships (1996-97, 1997-98, 1998-99, 2003-04).