Aube-Kubel Notches First Multi-Goal Game. Martel Scores AHL Leading 15th
December 12, 2017
Charlotte, NC – Former Charlotte standout goalie John Muse came off the bench in relief and backstopped shutout hockey the rest of the way allowing the visiting Lehigh Valley Phantoms to push through with a 6-3 comeback win at the Charlotte Checkers on Tuesday night.
Muse is the all-time winningest goaltender in Charlotte Checkers AHL history and also has the franchise season record of 27 wins in 2013-14. This was his first appearance in Charlotte as a member of the opposing team. Entering in relief fairly cold in a 3-2 deficit in the first period, Muse was challenged early and often and came through with 25 consecutive saves in yet another win in Charlotte, but this time as a member of the Phantoms for whom he was making his debut.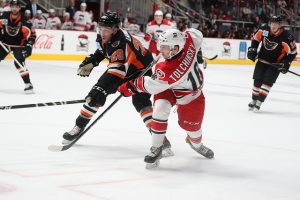 Danick Martel scored his league-leading 15th of the season and Nic Aube-Kubel posted his first career two-goal game in the triumph to bust past his point total of a season ago well before the midway mark of the 2017-18 campaign. Aube-Kubel's eight goals and 11 assists for 19 points is one more than his 18-point production of his rookie season.
Phil Varone notched another goal (9th) and added a spectacular assist to increase his team-leading point total to 30. Greg Carey blasted home his 14th goal of the season to move all alone into second in the AHL just one behind teammate Martel.
The evening's proceedings were off to a flying start with five combined goals in the first nine minutes as the top two offenses in the Eastern Conference showed their firepower. The contest was the first of eight meetings between the new Atlantic Division rivals Phantoms and Checkers and tonight may have served as a signal that an entertaining season series is forthcoming.
Lehigh Valley struck first with a pair of goals to open a 2-0 advantage. Nic Aube-Kubel struck on his own rebound off the end-boards just 21 seconds into the game playing a bank off the Charlotte goalie Alex Nedeljkovic for a 1-0 lead. Corban Knight's shot off the pads also provided him with an assist on the fastest strike of the season for the Phantoms.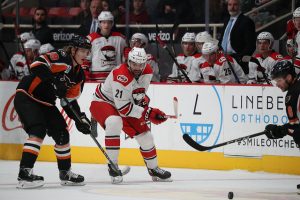 The Phantoms continued their momentum with a high-glove snipe for the Birthday Boy, Danick Martel, who scored for the first time in over a month. Martel's 15th of the season came on his 23rd birthday and put the visitors ahead 2-0.
But the Checkers were not ready to surrender their four-game win streak or six-game point streak. Charlotte stunned the Phantoms for three straight in under four minutes against starting netminder Dustin Tokarski. Julian Gauthier blocked a shot and raced away for breakaway backhand beauty at 5:08.
Then Trevor Carrick's seeing-eye shot at the point on the power play evened the score at 2-2 at 7:47. And just 59 seconds later it was Andrew Poturalski deflecting a Carrick point-shot, also on the power play, for a 3-2 lead. That spelled the end of the nigh for Tokarski as John Muse came on to face his former team for the first time.
Lehigh Valley rallied in the middle frame to turn the tables on the Checkers beginning with a big shorthanded save by Muse against the league's top shorthanded goal scorer, Warren Foegele. The right-pad denial by the 29-year-old Muse sparked a rush back the other way where Chris Conner connected in the crease for the Phil Varone tap-in on the power play for a 3-3 tie just before the midway mark of the contest.
The Phantoms broke the tie just two minutes later with some spectacular puckhandling work by Varone at center-point to dodge around three different Checkers players. Oskar Lindblom was wide open at the base of the left circle to blast home the one-timer after Varone's wizardry for a 4-3 advantage. Lindblom's seventh of the season was also his third in the last four games for the suddenly streaking Swede.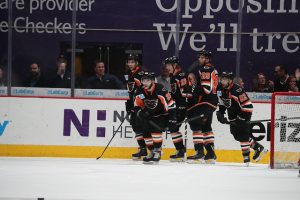 The Phantoms sealed the deal in the third with two more goals. Greg Carey blasted through a power-play drive from the right circle at 1:27 set up by T.J. Brennan and Matt Read for a 5-3 lead. And Aube-Kubel's second goal of the night and eighth of the season was an empty-netter with 3:47 remaining assisted by Samuel Morin.
Lehigh Valley is 6-2-1 in its last nine games and improves overall to 16-8-3 to close in on second-place Wilkes-Barre/Scranton in the ever-competitive Atlantic Division standings. Charlotte falls to 16-9-1 via their first regulation loss in seven games and slips from second to fourth in the Atlantic in a single night.
The Phantoms out shot Charlotte 38-32. Both teams were 2-for-4 on the power play. Lehigh Valley wraps up the two-game series at the Charlotte checks on Wednesday night at 7:00 p.m.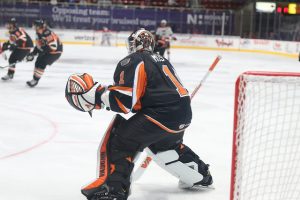 Lehigh Valley is then back at PPL Center next Saturday, December 16 when it welcomes the Syracuse Crunch, AHL affiliate of the Tampa Bay Lightning, to downtown Allentown for the first and only time this season. A limited number of tickets remain for next Saturday's game and can be purchased online HERE.
Lehigh Valley Phantoms 6 at Charlotte Checkers 3 – Status: Final
Tuesday, December 12, 2017 – Bojangles' Coliseum
Lehigh Valley 2 2 2 – 6
Charlotte 3 0 0 – 3
1st Period-1, Lehigh Valley, Aube-Kubel 7 (Knight), 0:21. 2, Lehigh Valley, Martel 15 (Knight, Brennan), 3:00. 3, Charlotte, Gauthier 6 5:08. 4, Charlotte, Carrick 2 (Miller, Poturalski), 7:47 (PP). 5, Charlotte, Poturalski 8 (Carrick, Tolchinsky), 8:46 (PP). Penalties-Carey Lv (hooking), 6:57; Fazleev Lv (tripping), 8:19.
2nd Period-6, Lehigh Valley, Varone 9 (Conner), 9:39 (PP). 7, Lehigh Valley, Lindblom 7 (Varone, Lamarche), 11:43. Penalties-Didier Cha (tripping), 7:50; Gauthier Cha (slashing), 14:59.
3rd Period-8, Lehigh Valley, Carey 14 (Brennan, Read), 1:27 (PP). 9, Lehigh Valley, Aube-Kubel 8 (Morin), 16:13 (EN). Penalties-McKeown Cha (hooking), 0:21; Zykov Cha (tripping), 5:54; Morin Lv (slashing), 10:52; Willcox Lv (interference), 13:18; Foegele Cha (diving/embellishment), 13:18; Aube-Kubel Lv (hooking), 18:12.
Shots on Goal-Lehigh Valley 17-13-8-38. Charlotte 11-11-10-32.
Power Play Opportunities-Lehigh Valley 2 / 4; Charlotte 2 / 4.
Goalies-Lehigh Valley, Tokarski 7-2-2 (7 shots-4 saves); Muse 1-0-0 (25 shots-25 saves). Charlotte, Nedeljkovic 12-3-0 (37 shots-32 saves).
A-4,109
Referees-Chris Schlenker (48), Mitch Dunning (3).
Linesmen-Travis Gawryletz (67), Paul Carnathan (93).
Reserve your group outings for the 2017-2018 season of Phantoms hockey. For more information on how to reserve your seat at PPL Center to the hottest ticket in town, call the Phantoms front office today at 610-224-GOAL [4625]!