Phantoms Trim First-Place Penguins' Lead to Four Points
March 8, 2017
Wilkes-Barre, PA – Rookie Alex Lyon became only the seventh goalie in Phantoms franchise history to record four shutouts in a season following a 31-save performance at the first-place Wilkes-Barre/Scranton Penguins on Wednesday night. Chris McCarthy (1st), Colin McDonald (21st) and Mark Zengerle (12th) all scored in the 3-0 win as the Phantoms closed the deficit on Wilkes-Barre/Scranton to just four points still with one game-in-hand. Lehigh Valley and Wilkes-Barre/Scranton still have six head-to-head encounters in the culminating six weeks of the regular season as they continue to duke it out for the Atlantic Division crown.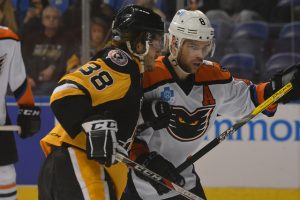 Lehigh Valley is 3-2-1 vs. Wilkes-Barre/Scranton this season and the Phantoms improved to 37-18-3 overall as they upped their season point total to 77. The Phantoms finished their imminently successful stretch of four straight away games with a mark of 3-1-0. The Penguins fell to 39-17-3 with 81 points. Wilkes-Barre/Scranton has just 17 games remaining in the regular season to Lehigh Valley's 18.
Lyon becomes the first goalie since Michael Leighton in 2010-11 to record at least four shutouts in a single season for the Phantoms franchise. Alex Lyon also established a new mark for most career shutouts with the Lehigh Valley incarnation of the team; Lyon and Anthony Stolarz were previously tied at three career shutouts apiece. This goose-egg comes exactly one month since his most recent blanking on February 8 at PPL Center in a 5-0 verdict over Binghamton.
"It was great to rebound like that especially against Wilkes-Barre," Lyon said. "I thought that was maybe one of the most complete games we played this year. just really solid defensively, stuck to the game-plan and it paid off for us."
Chris McCarthy opened the scoring just 3:39 into the game with some quick reacting. The Collegeville, Pa. native picked off a slightly errant pass at the blue-line and rapidly fired a shot at the Penguins cage that would sneak past the right skate of Tristan Jarry and ding off the inside of the left post and in. McCarthy's first of the season came in his 10th game with the Phantoms. The life-long Flyers fan out of the University of Vermont had scored 19 goals in the ECHL with the Reading Royals prior to receiving his opportunity with Scott Gordon's contingent in Allentown.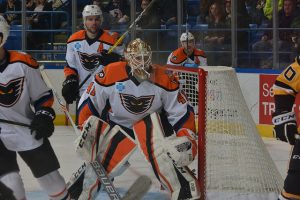 "It took a little longer than I hoped," McCarthy said. "It's nice to get that first one out of the way. I thought our line played well tonight. It was good to be on the plus side."
From there the Phantoms would cling to their 1-0 lead for almost the duration of the contest. Wilkes-Barre/Scranton's best opportunity to score came on a turnover in the neutral zone early in the second period that sent veteran Chris Porter in clean on a breakaway. But his mistake came when he attempted to test the snappy glove-hand of Lyon who flashed the trapper for the perfect denial of the shot.
The Penguins had some other quality chances in there as well but mostly they were limited and potentially frustrated by a fine defensive effort from the skaters in front of Lyon. That tightening of the defense is exactly what head coach Scott Gordon said he was looking for when he talked about his team in an interview earlier in the week.
"There's still plenty of offense," Gordon had said. "That's the strength of our team. We lose some guys to injuries. But when you look at the amount of goals that we scored since the injuries started to happen, we're still scoring at the same pace. Right now it's about sharpening up the defensive aspect of it."
The Wednesday result indicates that the Phantoms very much appear to have taken their coach's directive to heart.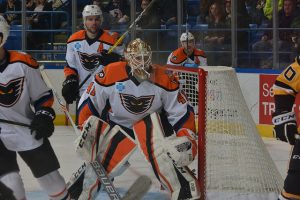 Lehigh Valley continued with the 1-0 advantage past the midway point of the third period when Colin McDonald offer a toss toward the net from the blue-line that eluded a screened Tristan Jarry. The drive off the inside of the right post appeared to dip under the glove of the Penguins goalie was assisted by linemates Scott Laughton and Cole Bardreau. McDonald's 21st of the season is also his third in the last four games. All three of his recent strikes have come in the third period. The critical tally with just under 8:00 remaining finally afforded the Phantoms some breathing room at 2-0.
The Penguins maybe lost their discipline a little bit when they took consecutive penalties with under 5:00 remaining. On the other side of a 5-on-3, Lehigh Valley would seal the victory with just 3:34 to go. Scott Laughton slid a puck back to McDonald in the slot whose drive off the knee of Jarry was available for a hard-charging Mark Zengerle onrushing from the left. The quick stab behind the left leg of Jarry nudged the puck barely across the goal-line for a 3-0 lead. Zengerle has scored power-play goals off of rebounds in consecutive games.
Lehigh Valley improved to 23-0-0 when they lead at the second intermission. The Phantoms are the only team in the AHL to sport a perfectly unblemished mark in such contests.
Lehigh Valley out shot the Penguins 34-31 including 15-10 in the third period. The Phantoms finished at 1-for-7 on the power play while the disciplined crew allowed only one power play chance for the Wilkes-Barre/Scranton Penguins who were 0-for-1.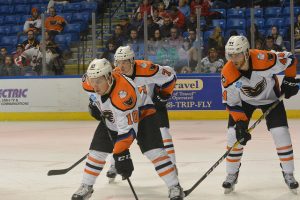 The Phantoms open a four-game homestand at PPL Center on Friday night against the Hershey Bears. Saturday will see the Phantoms tangle with the Utica Comets on a night that features a post-game skate with the players presented by Big Woody's. Fans must bring their own skates in order to be allowed on the ice after the game to participate in this terrific fan interaction event with the Phantoms players. Tickets are available at PPLCenter.com
The Phantoms and Penguins have their next upcoming showdowns in a home-and-home weekend series on Friday, March 17 (at PPL Center) and Saturday, March 18 (at Mohegan Sun Arena in Wilkes-Barre)
Phantoms Most Shutouts in One Season:
7 – Antero Niittymaki (2003-04)
6 – Neil Little (2003-04)
6 – Antero Niittymaki (2004-05)
5 – Michael Leighton (2010-11)
4 – Alex Lyon (2016-17)
4 – Cal Heeter (2013-14)
4 – Scott Munroe (2008-09)
4 – Scott Munroe (2007-08)
4 – Brian Boucher (2007-08)
4 – Neil Little (2002-03)
Most Career Shutouts for LEHIGH VALLEY:
4 – Alex Lyon
3 – Anthony Stolarz
2 – Martin Ouellette
1 – Jason MaBarbera
Alex Lyon Shutouts in 2016-17:
November 23, 2016 – Lehigh Valley at Binghamton (1-0, 28 saves)
January 7, 2017 – Lehigh Valley vs. Albany (2-0, 31 saves)
February 8, 2017 – Lehigh Valley vs. Binghamton (5-0, 27 saves)
March 8, 2017 – Lehigh Valley at Wilkes-Barre/Scranton (3-0, 31 saves)
Lehigh Valley Phantoms 3 at Wilkes-Barre/Scranton Penguins 0 – Status: Final
Wednesday, March 8, 2017 – Mohegan Sun Arena at Casey Plaza
Lehigh Valley 1 0 2 – 3
W-B/Scranton 0 0 0 – 0
1st Period-1, Lehigh Valley, McCarthy 1 3:39. Penalties-Prow Wbs (high-sticking), 10:17; Sundqvist Wbs (hooking), 17:50.
2nd Period- No Scoring.Penalties-Erixon Wbs (holding), 6:17; Laughton Lv (hooking), 8:05; Dea Wbs (slashing), 8:13; Goulbourne Lv (tripping), 11:26.
3rd Period-2, Lehigh Valley, McDonald 21 (Laughton, Bardreau), 12:02. 3, Lehigh Valley, Zengerle 12 (McDonald, Laughton), 16:26 (PP). Penalties-Archibald Wbs (interference), 1:36; Archibald Wbs (delay of game), 14:22; Kostopoulos Wbs (slashing), 15:02.
Shots on Goal-Lehigh Valley 8-11-15-34. W-B/Scranton 11-10-10-31.
Power Play Opportunities-Lehigh Valley 1 / 7; W-B/Scranton 0 / 1.
Goalies-Lehigh Valley, Lyon 23-11-3 (31 shots-31 saves). W-B/Scranton, Jarry 23-13-1 (34 shots-31 saves).
A-4,172
Referees-Peter MacDougall (45), Pierre Lambert (47).
Linesmen-Francois Dussureault (60), J.P. Waleski (14).
For the latest Phantoms news, visit www.phantomshockey.com or follow the team on Facebook (www.facebook.com/lehighvalleyphantoms), Twitter (@lvphantoms), Instagram (@lehighvalleyphantoms) and Snapchat (lvphantoms).
The Phantoms are coming off their 20th Anniversary Season and are in the midst of their third campaign in the Lehigh Valley playing at the state-of-the-art PPL Center. Established in 1996, the Phantoms spent their first 13 seasons at the Spectrum in Philadelphia before re-locating to Glens Falls, New York in 2009 where the team spent the next five seasons as the Adirondack Phantoms. A new era of Phantoms hockey began in the fall of 2014 when the Lehigh Valley Phantoms began play at the state-of-the-art PPL Center. Through 20 incredibly successful campaigns, the Phantoms have captured two Calder Cup Championships (1998, 2005), two Conference Championships (1998, 2005), two Regular Season Titles (1996-97, 1997-98) and four Division Championships (1996-97, 1997-98, 1998-99, 2003-04).