Michal Neuvirth Shines in Rehab Appearance
October 24, 2018
Hartford, CT – The Lehigh Valley Phantoms notched three quick goals in the first five minutes against former teammate Dustin Tokarski and cruised from there in a 7-3 victory at the Hartford Wolf Pack on Wednesday night.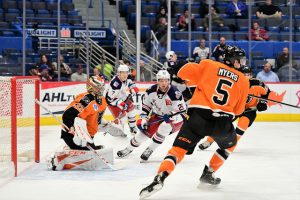 Goalie Michal Neuvirth arrived on a conditioning loan from Philadelphia and looked particularly sharp in net with 30 saves on 33 shots including 13 consecutive saves in the first period. The 30-year-old veteran netminder was on top of his game in his first appearance of the season. It was Neuvirth's first AHL appearance since 2013 and just his second game in the league since 2010 when he won his second consecutive Calder Cup title with Hershey.
In the meantime, former Phantoms backstop Tokarski looked very much unlike the player who recorded a Lehigh Valley record five shutouts in the second half of the season last year. Greg Carey (5th), Chris Conner and German Rubtsov (3rd) all struck for a trio of goals on the team's first four shots of the game as Tokarski was pulled just 4:36 in with a 3-0 deficit.
The Phantoms extended their lead to 5-0 by the opening seconds of the middle period after tallies by Conner (3rd) again and Mike Vecchione (2nd). Chris Conner's second goal of the night, in the closing seconds of the first period, was particularly impressive as he rushed up ice and then cut over from the top of the left circle on a nifty drag move after a Wolf Pack player went down to defend. Then Conner picked the upper-left corner over the right shoulder of relief goalie Marek Mazanec for the strongest tally of the 10 total goals of the evening.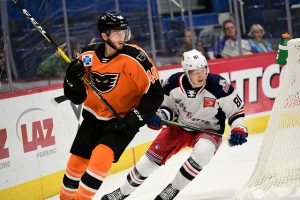 Hartford responded a couple of times to trim the Phantoms' lead to three but could get no closer. Shawn O'Donnell notched a pair of goals for the Wolf Pack to pace their offense.
Cole Bardreau (2nd) scored from the corner in the third period on the rebound of his own shot. And Philip Samuelsson (1st) scored for the first time as a member of the Phantoms on a long empty-netter to cap the offensive explosion.
Greg Carey landed his second three-point game of the season with one goal and two assists while the talented Russian rookie Rubtsov again was strong with one goal and one assist.
Chris Conner played in his 199th game for Lehigh Valley to tie Danick Martel for the most all-time since the team arrived to Allentown in 2014. Conner can become the first Lehigh Valley player to reach the 200 game milestone on Saturday night when the Phantoms next play.
Scott Gordon recorded his 354th career win in the American Hockey League to move past Robbie Ftorek into 10th all-time.
Lehigh Valley's seven goals are the most they have scored this season. The last time the Phantoms scored seven goals in a game was on March 2, 2018 when Lehigh Valley overcame a 5-1 deficit to knock off the Hershey Bears 7-6. It is the most goals for the Phantoms on the road since February 16, 2018 in an 8-2 win at Springfield and it is also just one of three times in which Lehigh Valley has scored seven or more goals in an away game.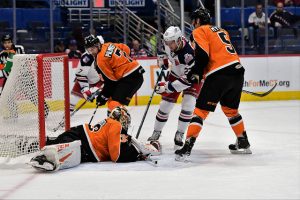 The Phantoms are 2-0-1 at the midway mark of the team's season-long six-game road-trip. Lehigh Valley's overall record improved to 4-2-1 while Hartford fell to 4-4-1.
Hartford somehow had the Phantoms' number a season ago as the Wolf Pack posted a 6-0 record versus the Atlantic Division Champs but Lehigh Valley seemed to quickly solve the hex just a few minutes into their first of six meetings on the 2018-19 season.
The Phantoms road-trip continues at the Binghamton Devils on Saturday night and then the team heads over to Hershey on Sunday for a 5:00 p.m. engagement. Lehigh Valley's next home game is Saturday, November 3rd at PPL Center against the Binghamton Devils featuring a Go Birds Tailgate including the Philadelphia Eagles cheerleaders. Tickets are available at PPLCenter.com
Lehigh Valley Phantoms 7 at Hartford Wolf Pack 3 – Status: Final
Wednesday, October 24, 2018 – XL Center
Lehigh Valley 4 1 2 – 7
Hartford 0 2 1 – 3
1st Period-1, Lehigh Valley, Carey 5 (Varone), 1:05. 2, Lehigh Valley, Conner 2 (Rubtsov, Brennan), 3:40 (PP). 3, Lehigh Valley, Rubtsov 4 (McDonald, Friedman), 4:36. 4, Lehigh Valley, Conner 3 (Carey), 19:21. Penalties-Holland Hfd (interference), 3:16; McDonald Lv (slashing), 13:51.
2nd Period-5, Lehigh Valley, Vecchione 2 (Palmquist, Leier), 0:30. 6, Hartford, Fogarty 4 (Gilmour, Holland), 1:26 (PP). 7, Hartford, O'Donnell 1 (Fontaine, Schneider), 12:03. Penalties-Samuelsson Lv (slashing), 1:16; Hajek Hfd (holding), 4:38; Lindgren Hfd (cross-checking), 5:32; Carey Lv (hooking), 7:44; Friedman Lv (elbowing), 9:41; Lindgren Hfd (interference), 12:51; Bardreau Lv (charging), 19:36; Goulbourne Lv (roughing), 19:36; Lindgren Hfd (roughing), 19:36.
3rd Period-8, Lehigh Valley, Bardreau 2 (Goulbourne), 8:04. 9, Hartford, O'Donnell 2 (Hajek, Fontaine), 9:13. 10, Lehigh Valley, Samuelsson 1 (Carey), 18:47 (EN). Penalties-Myers Lv (interference), 2:53; Bardreau Lv (slashing), 12:23; Willcox Lv (cross-checking), 19:24.
Shots on Goal-Lehigh Valley 10-10-13-33. Hartford 13-13-8-34.
Power Play Opportunities-Lehigh Valley 1 / 4; Hartford 1 / 8.
Goalies-Lehigh Valley, Neuvirth 1-0-0 (34 shots-31 saves). Hartford, Tokarski 1-0-1 (4 shots-1 saves); Mazanec 2-3-0 (28 shots-25 saves).
A-1,367
Referees-Brandon Blandina (39), Jordan Deckard (14).
Linesmen-Robert St. Lawrence (10), Derek Wahl (46).
Ticket Information
Tickets for each and every Phantoms home game throughout the 2018-19 season are available online at pplcenter.com, by calling 610-347-TIXX [8499] or in-person at the QNB Box Office [7th & Hamilton].
Season tickets offering a wide range of benefits as well as 20-Game and 12-Game plans and 10-game Flex-Voucher Packs are available by calling the Phantoms at 610-224-GOAL (4625).