Martel Scores Twice in 7-1 Blow-Out Victory
November 13, 2015 –
Lehigh Valley, PA – The Lehigh Valley Phantoms began the scoring early and didn't let up until the very end in a 7-1 annihilation of the visiting Rochester Americans on Friday night at PPL Center. The Phantoms reached their highest offensive output since moving to the Lehigh Valley.
Similar to Wednesday's 6-3 win at the Binghamton Senators, Friday night featured a balanced attack with six different goal scorers. Danick Martel (4, 5) found his form again with a pair of strikes while Chris Conner (5), Kevin Sundher (1), Taylor Leier (4), Nick Cousins (5) and Petr Straka (8) all found the back of the net as well.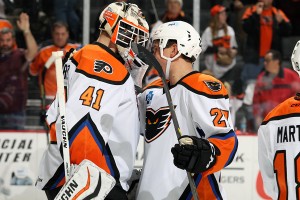 Not to be out-done, Anthony Stolarz was stellar between the pipes with 33 saves on 34 shots in earning #2 Star of the Game honors behind only the rookie Martel. Phantoms head coach Scott Gordon has been especially pleased with the young talent's abilities.
"Yea he's a guy that plays with a lot of energy and speed," Gordon said. "He competes
every shift. He had that injury earlier in the year and it took him two or three games to get to where he is now. The last few games he has picked up his game to where we thought it would be after training camp."
For Nick Cousins, the recent goals are especially satisfying after spending the last 12 days on the sideline following an injury on October 30 against St. John's. Cousins scored in his return to the lineup at Binghamton on Wednesday and then made it a two-game goal streak with his quick blast on Friday while trying a surprisingly unique method of attempting to score which apparently is effective for the third-year pro.
"I was coming out of the corner and (Chris) Conner made a nice play," Cousins said. "I saw that I had a little room so I closed my eyes, shot it and I was fortunate enough to have it go in.
Cousins finished with one goal and two assists for the game.
The offensive output actually could have been even higher believe it or not. Kevin Goumas almost scored on a breakaway in the second period as he was hauled down. He was offered the first-ever penalty shot at PPL Center but was denied on the goaltender's blocker-side. Nick Cousins still has the lone penalty-shot goal in Lehigh Valley history with his hat-trick clinching strike on the road at the Toronto Marlies last March.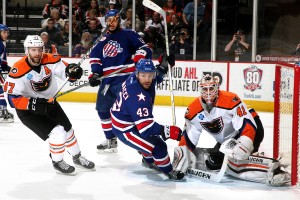 Tim Brent assisted on the team's second goal to extend his point-streak to six consecutive games.
Rookie defenseman Christian Marti handcuffed Rochester goalie Nathan Lieuwen with a right-wing shot that was deposited easily on the backdoor by Martel for the 2-0 lead. That assist officially marked the young Swiss blueliner's first career point.
Lieuwen had a tough night for the Americans and went the distance in the game surrendering all seven goals.
The game also marked the return of Jason Akeson. One of the franchise's all-time leading scorers with 225 career points placing him fourth, Akeson was not as noticeable throughout the blowout contest. He had a couple quality opportunities at net by Stolarz was able to repel his former teammate on both occasions.
The last time the Phantoms franchise scored six or more in consecutive games came at the very beginning of the 2011-12 season when the Adirondack Phantoms defeated the Connecticut Whale (now the Hartford Wolf Pack) and Bridgeport Sound Tigers by identical 6-3 scores on October 8 and October 14.
The last time the Phantoms franchise scored seven (or more) goals in a game was April 1, 2011 when the Adirondack Phantoms defeated the Albany Devils by a 9-5 count which also equaled the most goals in a game in the history of the team originally established by the Philadelphia Phantoms in their inaugural season 1996-97.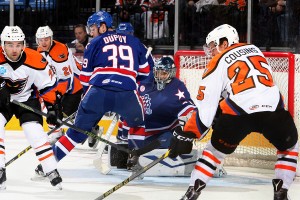 The game marked the lone Allentown appearance for the Buffalo Sabres affiliation this season. Lehigh Valley will travel to Rochester for a rematch encounter much later in the season with their March visitation.
The Phantoms conclude their weekend homestand on Saturday evening against the Albany Devilsfor their lone sojourn to PPL Center of the 2015-16 campaign.
Limited seats are remaining for the team's last home game in two weeks are available at PPLCenter.com or by calling 610-347-TIXX (8499).
Rochester Americans 1 at Lehigh Valley Phantoms 7 – Status: Final
Friday, November 13, 2015 – PPL Center
Rochester 0 1 0 – 1
Lehigh Valley 2 3 2 – 7
1st Period-1, Lehigh Valley, Conner 5 (Gostisbehere, Cousins), 3:47. 2, Lehigh Valley, Martel 4 (Marti, Brent), 13:56. Penalties-Hagg Lv (tripping), 6:34; Robak Rch (cross-checking), 11:51.
2nd Period-3, Lehigh Valley, Sundher 1 (Goulbourne, Rankin), 1:44. 4, Rochester, Robak 2 (Donovan, Baptiste), 3:13 (PP). 5, Lehigh Valley, Leier 4 (Cousins, Gostisbehere), 7:40 (PP). 6, Lehigh Valley, Cousins 5 (Conner, Straka), 13:50. Penalties-Rankin Lv (tripping), 4:45; Leduc Rch (delay of game), 6:36; Alt Lv (hooking), 8:17.
3rd Period-7, Lehigh Valley, Martel 5 (Padakin, Alt), 6:32. 8, Lehigh Valley, Straka 8 (Martel, Cousins), 17:55 (PP). Penalties-Cousins Lv (closing hand on puck), 7:58; Varone Rch (tripping), 12:52; Dupuy Rch (delay of game), 17:40; Carrier Rch (high-sticking), 18:24.
Shots on Goal-Rochester 6-16-12-34. Lehigh Valley 11-13-11-35.
Power Play Opportunities-Rochester 1 / 4; Lehigh Valley 2 / 5.
Goalies-Rochester, Lieuwen 4-2-0 (35 shots-28 saves). Lehigh Valley, Stolarz 5-3-0 (34 shots-33 saves).
A-8,011
Referees-Terry Koharski (10), Furman South (55).
Linesmen-Devin Berg (34), Jud Ritter (34).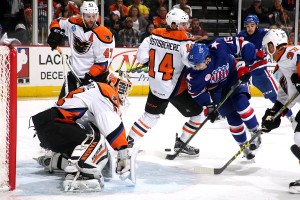 Upcoming Events:
Saturday, November 14 (7:05) – Albany Devils at Lehigh Valley Phantoms (Boy Scout Night!)
RISE UP! Reserve your season tickets and groups now for the 2015-2016 season of Lehigh Valley Phantoms hockey. For more information on how to reserve your seat at PPL Center to the hottest ticket in town call the Phantoms front office today at 610-224-GOAL (4625)!
In the midst of their 20th season of operation, the Phantoms are coming off their Inaugural Season as the Lehigh Valley Phantoms playing at the brand-new PPL Center. Established in 1996, the Phantoms spent their first 13 seasons at the Spectrum in Philadelphia before re-locating to Glens Falls, New York in 2009 where the team spent the next five seasons as the Adirondack Phantoms. A new era of Phantoms hockey began in the fall of 2014 when the Lehigh Valley Phantoms began play at the state-of-the-art PPL Center. Through 19 incredibly successful campaigns, the Phantoms have captured two Calder Cup Championships (1998, 2005), two Conference Championships (1998, 2005), two Regular Season Titles (1996-97, 1997-98) and four Division Championships (1996-97, 1997-98, 1998-99, 2003-04).