Phantoms Prevail 4-1 at St. John's IceCaps
April 1, 2016
St. John's, NL, Canada – It's a long trek to the North Atlantic but a hard-earned victory is a nice reward. The Lehigh Valley Phantoms pushed aside the host St. John's IceCaps 4-1 on Friday night at Mile One Centre on goals by Taylor Leier (19th), Adam Comrie (6th), Robert Hagg (3rd) and Steven Swavely (1st). Goaltender Martin Ouellette came through with a stellar 27-save effort.
Swavely's empty-netter with 1:32 remaining in the third-period was the first in the pro career of the Reading, PA native who attended several Philadelphia Phantoms games when he was a kid while also holding season tickets for the Reading Royals. The former captain of the University of Maine launched a backhander all the way down the ice from the faceoff dot in the Lehigh Valley zone for the special moment.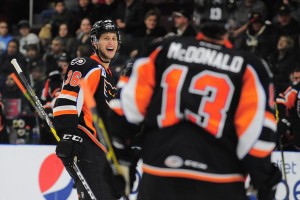 The game also marked the North American pro debuts of newcomers Oskar Lindblom and Reece Willcox. The 19-year-old Lindblom, playing on a line with steady veterans Tim Brent and Chris Conner, narrowly missed scoring in his first game for the Phantoms on a couple of nice set ups. The fifth-round selection of the Flyers in 2014 did not look out of place in the beginning of his AHL career. Similarly, the rookie defenseman from Cornell University, Willcox made several fine plays in his own end and also came perilously close to scoring on a couple of occasions while he was usually paired with veteran defenseman Davis Drewiske for most of the competition.
Both Lehigh Valley's Martin Ouellette and young Montreal Canadiens goaltender prospect Zach Fucale were tested early and often in a herky-jerky first period that featured a high number of whistles to go along with the bevy of scoring chances. The Phantoms were tested the most late in the opening frame in an extended 5-on-3 penalty kill but Lehigh Valley was able to scramble and block their way through the disadvantage turning aside the first two of six man-advantages afforded the IceCaps.
The Phantoms opened the scoring in the opening ticks of the second period when Colin McDonald connected with Mark Alt racing into the St. John's zone. The normally stay-at-home minded defenseman found himself past the defense and on the breakaway. Alt almost converted but Fucale rotating to his left was able to knock down the drive. Taylor Leier trailing on the play and racing for the free puck in the crease was tackled by defenseman Tom Parisi on what would have been a delayed penalty but the second-year winger from Saskatoon showed a determined will to battle through and was still able to barely get his stick on the disc and nudge home his 19th goal of the season.
Adam Comrie doubled the lead just moments into Lehigh Valley's first power play of the night. Tim Brent's faceoff win in the left circle was tipped by McDonald over to Comrie who slapped through his sixth of the season to the left-skate side of Fucale. The whole sequence took just five seconds into the power play and suddenly the Phantoms were up by a 2-0 margin at 12:30 into the second period.
Comrie would also blast one off the iron in a bid for a multi-goal game. Lehigh Valley also almost connected on a shorthanded 2-on-1 rush when Taylor Leier's perfect give to the middle for Tyrell Goulbourne was somehow denied on the quick left leg stretched across by Fucale.
St. John's responded for their lone goal of the night just over two minutes later. Similarly, their conversion would come directly off a faceoff win. Cory Ward was quicker with the stick in the left wing circle and connected with Tim Bozon just a few feet over in the left spot who found the back of the net past the blocker of Ouellette.
The Phantoms again took a two-goal advantage directly off a face-off win. This time it was Cole Bardreau's nudge back to Robert Hagg whose snapper from the right point eluded Fucale at 6:58 into the third period.
Lehigh Valley was down two men once again in the closing minutes of the game with a penalty and a St. John's extra attacker. But Steven Swavely found a loose puck after a Mark Alt block of a pass and a Samuel Morin deflection. Swavely's long-range backhander into the open net with 1:32 to go would seal the victory and also is registered as the team's seventh shorthanded tally of the season.
Lehigh Valley out shot the Ice Caps 32-28. The Phantoms were a perfect 1-for-1 on the power play in a game in which they saw the man advantage for only five seconds. The Phantoms' penalty kill was vital to the victory and went a perfect 6-for-6.
Thivery! Zach Fucale denies Tim Brent point-blank. The Phantoms and IceCaps rematch at Mile One Center on Saturday night at 6:05. Broadcast coverage begins at 5:20 on 1470-AM, FOX1470.com and the iHeartRadio app.
Just three home games remain in the regular season. The Lehigh Valley Phantoms hope for their 12th consecutive sellout when they host the Bridgeport Sound Tigers on Saturday, April 9 at PPL Center. A limited number of tickets remain for Saturday's game and can be secured online at pplcenter.com, by calling 610-347-TIXX [8499] or in-person at the Mealey's Furniture Box Office at PPL Center [701 Hamilton Street].
RISE UP! Reserve your season tickets for the 2016-2017 season of Lehigh Valley Phantoms hockey. For more information on how to reserve your seat at PPL Center to the hottest ticket in town, call the Phantoms front office today at 610-224-GOAL (4625)!
Lehigh Valley Phantoms 4 at St. John's IceCaps 1 – Status: Final
Friday, April 1, 2016 – Mile One Centre
Lehigh Valley 0 2 2 – 4
St. John's 0 1 0 – 1
1st Period- No Scoring.Penalties-Hagg Lv (interference), 16:21; Alt Lv (hooking), 17:09.
2nd Period-1, Lehigh Valley, Leier 19 (McDonald, Alt), 0:37. 2, Lehigh Valley, Comrie 6 (Brent, McDonald), 12:30 (PP). 3, St. John's, Bozon 3 (Ward), 14:50. Penalties-Ouellette Lv (delay of game), 3:08; Parisi Stj (tripping), 12:25; Palushaj Lv (delay of game), 16:25.
3rd Period-4, Lehigh Valley, Hagg 3 (Bardreau), 6:58. 5, Lehigh Valley, Swavely 1 18:28 (SH EN). Penalties-Brent Lv (unsportsmanlike conduct), 5:27; Holloway Stj (roughing), 5:27; Swavely Lv (slashing), 7:21; Drewiske Lv (holding), 18:04.
Shots on Goal-Lehigh Valley 11-12-9-32. St. John's 13-12-3-28.
Power Play Opportunities-Lehigh Valley 1 / 1; St. John's 0 / 6.
Goalies-Lehigh Valley, Ouellette 3-3-0 (28 shots-27 saves). St. John's, Fucale 15-18-1 (31 shots-28 saves).
A-5,665
Referees-Alex Garon (64), Ben Moser (3).
Linesmen-Brian Lambert (47), Jim Vail (75).
Upcoming Home Games:
Saturday, April 9, 2016, Bridgeport Sound Tigers vs. Lehigh Valley Phantoms, 7:05 p.m.
(Faith Night. Canned Food Drive presented by Giant Foods.)
Friday, April 15, 2016, Wilkes-Barre/Scranton Penguins vs. Lehigh Valley Phantoms, 7:05 p.m.
Sunday, April 17, 2016, Syracuse Crunch vs. Lehigh Valley Phantoms, 5:05 p.m.
In the midst of their 20th season of operation, the Phantoms are coming off their Inaugural Season as the Lehigh Valley Phantoms playing at the brand-new PPL Center. Established in 1996, the Phantoms spent their first 13 seasons at the Spectrum in Philadelphia before re-locating to Glens Falls, New York in 2009 where the team spent the next five seasons as the Adirondack Phantoms. A new era of Phantoms hockey began in the fall of 2014 when the Lehigh Valley Phantoms began play at the state-of-the-art PPL Center. Through 19 incredibly successful campaigns, the Phantoms have captured two Calder Cup Championships (1998, 2005), two Conference Championships (1998, 2005), two Regular Season Titles (1996-97, 1997-98) and four Division Championships (1996-97, 1997-98, 1998-99, 2003-04).