Phantoms Unveil Special Logo "10 Years in Lehigh Valley"
May 25, 2023
Lehigh Valley, PA – The Lehigh Valley Phantoms have announced that the 2023-24 campaign will be a celebration of the team's tenth season in the region. A new logo has been unveiled which will be prominently featured and highly visible throughout the entire season, including at center ice for all Phantoms games. Our friends at Service Electric are the proud presenting sponsors of the anniversary season and specialty logo.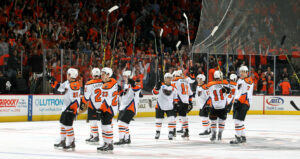 The Phantoms arrived to the Lehigh Valley for the region's first professional hockey game on October 17, 2014 before a jam-packed sellout crowd welcoming its new team. Scott Laughton scored the first official goal at the brand-new PPL Center as the Lehigh Valley Phantoms won its inaugural Opening Night contest in a 4-3 overtime thriller against the Adirondack Flames in an incredible and memorable debut.
The arrival of the team was a perfect fit for the Lehigh Valley as the Phantoms quickly became part of the fabric of the community.
"Ten years seems so quick, yet we have accomplished so much in our community," said Phantoms Owner Jim Brooks. "In the nine years since Rob and I brought the Phantoms and PPL Center to downtown, we have seen the arena be the catalyst to over $1 billion of revitalization to downtown Allentown, built two downtown school playgrounds, educated over 85,000 local students with our healthy living and anti-bullying assembly programs, completed four home renovations to help local families facing difficult health situations, grown the youth and scholastic hockey programs including our very own adaptive sled hockey program, sent 42 Phantoms players to the NHL, and provided the highest level of family-friendly entertainment for all of the Lehigh Valley to enjoy."
"We love being part of this community and look forward to celebrating our first ten seasons in downtown Allentown with all our fans and fellow neighbors," added Phantoms Owner Rob Brooks.
"This is a very exciting year for us, as we will be celebrating two anniversaries: The Phantoms 10th Anniversary as well as Service Electric's 75th Anniversary," said Service Electric President, John Walson. "We value our partnership with the Phantoms and are proud to share a family-owned, family-focused company approach".
Fans will get to enjoy the opportunity to reminisce about the beginning days of the Phantoms and some of the biggest moments of the team's 10 years in the Lehigh Valley throughout the team's celebration all season long. The team will make announcements as the season approaches regarding its plans to celebrate the players, teams, coaches, fans, community supporters, accomplishments, and more as we recount the stories of the Lehigh Valley Phantoms becoming an established attraction and destination.