"Everyone here is like a family."
May 11, 2023
Lehigh Valley, PA – He's Back! The Lehigh Valley Phantoms are thrilled to announce that forward Garrett Wilson has re-signed on an AHL contract for the next two seasons to run through the 2023-24 and 2024-25 seasons.
Wilson, 32, is coming off a career year in which he racked up a personal-best 43 points on 18 goals and 25 assists. The 2022-23 campaign represented the second-most goals he has scored in an AHL season while also equaling his highest total for assists.
Wilson also became the second Lehigh Valley player to record two hat tricks in the same season (Nick Cousins, 2014-15) and also the first player to notch two hatties at PPL Center in the same season. While embracing his leadership role as an alternate captain, he also showcased his physicality via several altercations, monstrous checks, and an AHL-leading 195 penalty minutes thus resulting in his already booming popularity among Phantoms fans to reach even loftier heights.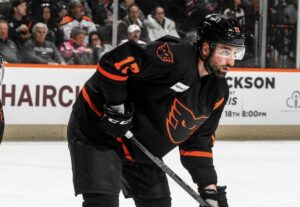 The bruising and durable Barrie, Ontario native became the Lehigh Valley record-holder for career penalty minutes with 338 PIM through his three seasons in a Phantoms jersey. Wilson has played in 165 games for the Phantoms scoring 36 goals with 49 assists for 87 points. But last season was particularly special for Wilson as he also became a father during Flyers training camp in September. The best scoring campaign of his career came with his newborn son frequently in attendance at PPL Center.
"I'm pumped to be coming back to this first-class organization," Wilson said. "They do it the right way here. I'm excited to get back and keep building."
"It's huge. My first child was born in Allentown so it's got a little spot in my heart there. So it's nice that we'll be coming back for a couple more years."
Wilson thrilled the fans at PPL Center with his hat trick on February 19 against Hartford. That began a torrid stretch for the big winger in which he scored 10 goals over 11 games. Less than a month after his first Phantoms trifecta, Wilson did it again with another three-fer to bring forth the flying hats on March 15 against Hershey.
In his time with the Phantoms, he has also embraced a role not only as a leader on the team but as an ambassador for the organization in the community via various public appearances to schools, hospitals as well as a local soup kitchen where he joined one of the young prospects he is guiding at the beginning of his pro career, Zayde Wisdom.
"It was nice to get out there. The soup kitchen had a great set-up there," Wilson said. "It was in the winter when we went there so people we coming in for the warmth and for the meal. It's definitely huge to have those around because they help a lot. It's nice anytime we get out and see the people from around the city of Allentown and the surrounding areas. They support us so well. It's nice to give back."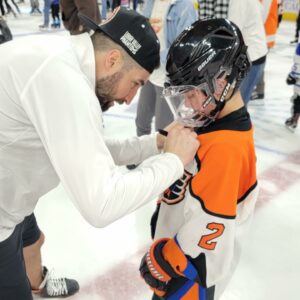 The established and well-respected leader has suited up in 578 career games in the American Hockey League scoring 130 goals with 160 assists for 290 total points encompassing stints with San Antonio, Portland, Wilkes-Barre/Scranton, Toronto and Lehigh Valley. He has also played in 84 career NHL games with Florida and Pittsburgh, plus 10 Stanley Cup Playoff games, while scoring 2-6-8 in his NHL career.
Wilson's impressive pro career began with the ECHL Cincinnati Cyclones in 2011-12 where he played in 101 games across two seasons scoring 36-28-64. Across the NHL, AHL and ECHL combined, Wilson has suited up for 763 total professional games scoring 168 goals with 194 assists for 362 points while amassing 1,072 penalty minutes.
Garrett Wilson can now look forward to generating more raucous cheering at PPL Center for via his goals and checks and fisticuffs as he plays his fourth and fifth seasons in a Phantoms jersey.
"It's a familiar spot and I'm comfortable here," Wilson said. "Our rink is first class. Dressing room is unbelievable. The staff, coaching staff, owners, front office…everyone here is kind of like a family and it just feels right at home for me and I feel like I fit in well."

Phantoms Premier Memberships provide a true year-long membership that includes tickets to all Phantoms home games as well as year-round benefits and experiences that are exclusive to Premier Members only. Receive early entrance, presale ticket access for PPL Center events, 20% team store discount, enhanced insider access and experiences, and so much more!
Phantoms Premier Membership Benefits