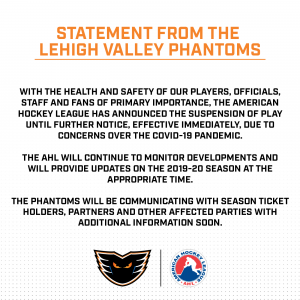 Due to the concerns over COVID-19, the American Hockey League announced the suspension of play on March 12, 2020.  On Monday, March 16, the AHL also announced that the indefinite suspension will not be lifted before the month of May.
With that in mind, find the below FAQs in regards to the AHL's announcement of suspension of play, and how that will affect tickets already purchased for Lehigh Valley Phantoms games.
I have tickets for a Lehigh Valley Phantoms home game that is postponed. What should I do?
We encourage fans who purchased tickets directly through the Phantoms, PPL Center/Paciolan (online or box office) or other online outlets to hold on to their tickets for potential future use.
If games are rescheduled, will the original tickets still be valid?
Tickets purchased directly through the Lehigh Valley Phantoms ticket sales department, PPL Center/Paciolan (online or box office) and other online outlets will be valid for use on the rescheduled date.
What is the Phantoms ticket refund policy?
For season ticket holders and fans that purchased directly through the Phantoms ticket sales department, payments already made for a postponed game will remain on account and will be applied to the rescheduled games.  Single-game tickets purchased directly through other online outlets will be subject to the online outlets postponement policies.
Will the Phantoms Carnival still take place on March 22 for renewed season ticket holders?
In order to ensure all of our loyal season ticket holders and fans, as well as the players, stay safe and healthy during this time, the annual Phantoms Carnival has been postponed.
What will happen if the games are NOT rescheduled? 
Should a game not be rescheduled at a later date, or if the game is played with no fans, season ticket holders and fans will receive a credit to their account for the following season, or can discuss other options at that time.  Additional information regarding this will be communicated at a later date.
As more information becomes available, we will communicate it to both season ticket holders and other ticket holders.  Thank you for your patience and understanding in these uncharted times as we navigate the coming weeks.  As always, the players, coaches and staff of the Lehigh Valley Phantoms thanks the community and fan base for their continued support.
Stay safe and take care.  We will be cheering along together again soon.