April 24, 2015
Lehigh Valley, PA – It's a decision that comes awfully easily to Oliver Lauridsen.
"It's something I do every time I'm asked," Lauridsen said. "And it's something I'll continue to do every time I'm asked in the future."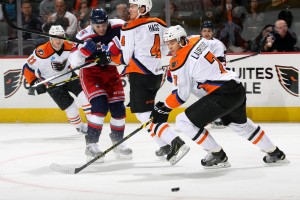 What the 6'6″, 220-pound native of Gentofte, Denmark is referring to is the opportunity to represent his country playing the sport he loves. And it's something Lauridsen will have the opportunity to do for the third consecutive year when he joins Team Denmark at the 2015 Hockey World Championship.
"It's obviously a huge thrill any time you put on the jersey of your country," Lauridsen said. "It's a tremendous honor to represent my country while playing the sport of hockey."
After suiting up for Denmark at the 2013 Hockey World Championship in Sweden and Finland and again in last year's edition in Belarus, Lauridsen will once again wear the jersey of his native country at this year's tournament, which will take place in Prague and Ostrava, Czech Republic from May 1-17. Through 14 prior games at the Hockey World Championship, the rugged blueliner has yet to register a point but has compiled 20 penalty minutes.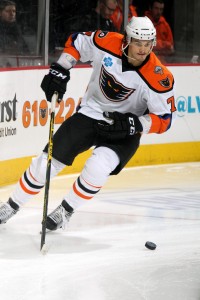 "The experience I've gained over the last two years is incredibly beneficial as I go in this time around already knowing some of the players along with the team's systems," Lauridsen said. "I also haven't played a lot of European hockey throughout my professional career so being able to fall back on that experience is a big help."
Lauridsen recently completed his fourth professional season in which he compiled a career-high four goals to go along with six assists and 152 penalty minutes across 75 games with the Lehigh Valley Phantoms. All told, he's amassed nine goals, 25 assists, 34 points and 511 penalty minutes in 264 career games with the Phantoms.
Lauridsen is set to fly out today with an exhibition game already lined up on Saturday. Denmark will play its first game of the 2015 Hockey World Championship on Saturday, May 2 against Slovakia.
Check it out! Reserve your season tickets now for the 2015-2016 season of Lehigh Valley Phantoms hockey. For more information on how to reserve your seat at PPL Center to the hottest ticket in town call the Phantoms front office today at 610-224-GOAL (4625)!
In their 19th season of operation, the Phantoms recently completed their Inaugural Season as the Lehigh Valley Phantoms playing at the brand-new PPL Center. Established in 1996, the Phantoms spent their first 13 seasons at the Spectrum before re-locating to Glens Falls, New York in 2009 where the team spent the next five seasons as the Adirondack Phantoms. A new era of Phantoms hockey began in the fall of 2014 when the Lehigh Valley Phantoms began play at the state-of-the-art PPL Center. Through 18 incredibly successful campaigns, the Phantoms have captured two Calder Cup Championships (1998, 2005), two Conference Championships (1998, 2005), two Regular Season Titles (1996-97, 1997-98) and four Division Championships (1996-97, 1997-98, 1998-99, 2003-04).