After eight years as an NHL assistant coach following a year-plus as the Philadelphia Flyers director of player development, Ian Laperriere has received the first head coaching opportunity of his career
by Bill Meltzer @BillMeltzer / philadelphiaflyers.com
After eight years as an NHL assistant coach following a year-plus as the Philadelphia Flyers director of player development, Ian Laperriere has received the first head coaching opportunity of his career. The 47-year-old, who played 1,083 regular season games in the National Hockey League and won the Masterton Trophy in 2011, was named head coach of the American Hockey League's Lehigh Valley Phantoms on June 7.
As a first-time head coach, Laperriere will face some adjustments. Compared to an assistant coach, there's less one-on-one personal interaction with players (although there's more of it at the AHL level than the NHL) and more of a macro-focus on systems, strategic preparation and personnel. Laperriere also has homework to do in learning the American Hockey League teams, coaches and players along with getting a handle on his own team's personnel.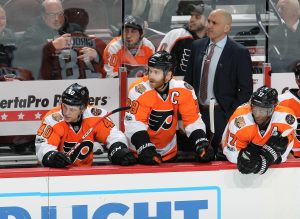 Additionally, coaching in the AHL is a two-fold challenge: Develop prospects and prepare them for the NHL while, at the same time, creating a winning culture with AHL veterans taking leadership roles.
"It's one thing I'm going to learn. I won't lie to you. I don't know much about the American League. I know by watching it and being around people that coach there and play there," Laperriere said.
"There is a fine line for sure. At the end of the day, it's going to go back to the way I want the team to play and back into the structure. I want to have those kids buy into that structure. And if they do get better, it won't be a free ride. If they don't play in your structure, they won't play. I go back to the only thing I control is the ice time. One big thing I control, it's the ice time. It's part of being a pro. If you do the right thing, if the coach is asking you to do this and you don't, well there's consequences. It comes along that if we have more guys doing it, we will win more games than lose games."
Laperriere has always been very well-liked and well-respected by the players with whom he's worked. As an assistant coach, he pushed and challenged players in a good-cop type of manner, as players also knew they could confide in him. He worked very hard and didn't take himself too seriously. He knew when to keep things light and when it was time to buckle down.
His duties have expanded as head coach. He's now the one who will be the ultimate decision-maker about starting lineups, situational usage and ice time. It's impossible for any coach to keep everyone happy all the time. There will always be some unhappy players (the ones who aren't playing much) and the key to getting those players in line is to be consistent in your expectations — and for the team to win regularly.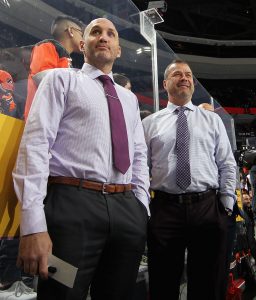 On a personnel management level, Laperriere believes the key to maintaining strong relationships with players is for the head coach to be true to himself. In Laperriere's case, that means focusing more on what players are doing right and to view correcting mistakes as opportunities for improvement rather than dwelling on the negative.
"At the end of the day, I'll be myself. It's taken me this far in life. I'm not planning on changing. There's one thing I do have control of the ice time and that's the thing I've never controlled before. The players have to know that. And I want to bring the way we're going to play and the style of play. I'm going to bring the structure that me and AV are talking about. There's a lot of stuff that won't be negotiable in the system," Laperriere said.
"Players will make mistakes. Coaches will make mistakes. That I can live with, but you have to stick with the system, with the structure that we talk about and hard work."
Both as a player and as a coach, Laperriere has been a big believer in the power of leading by example through his own work ethic, enthusiasm and commitment to team above individual goals. He believes that it's just as important to love winning as it is to hate losing. Focusing solely on the latter leads to burnout.
"I'm a big believer of staying positive. Coming to the rink should be fun. I've been in the game for 27 years in the NHL level. I love coming to the rink and it's contagious. I know that and I'm going to make sure players feel the same," Laperriere said.
In terms of the new head coaches' expectations for players, it mostly boils down to being in top physical condition, embracing structure, and day-to-day professionalism.
"I'm a big believer in fitness. Players that are going to play for me are going have to be in shape or I'll get them in shape. They know that. Guys that know me, guys that I coached for the Flyers that will play for me next year here, they know that. I'm sure the words going to spread around. For me, to be a pro, you have got to be a pro 24 hours a day, inside the rink and away from the rink. It goes from nutrition to the way you act around town. You represent the logo. I'm a big believer in that. That's my job to make sure everybody is on the same page," Laperriere said.
It has yet to be determined whom the Flyers will hire as Laperriere's assistant coaches. It is Laperriere's goal to add experience, potentially including someone with previous AHL/NHL head coaching experience as a bench assistant, among his staff members. Final decisions may not come until the end of June or early July.
"I'm in the process right now [of looking for assistants]. We feel like if I went into July, there would be more candidates, like top notch candidates out there. I do have names in my head. For me, what a perfect staff would be a D coach who played the position before and does have AHL experience and a forward, more like a skill player, who does have AHL experience. I'm in a tough position to hire a guy who never coached. I want guys that are better than me in certain areas just to make everybody better," he said.
"I'm not afraid of hiring strong people and people with more knowledge than me. I believe that's what makes a good staff, when you have people with different opinions around you. That's my goal."
Ian Laperriere discusses his passion for coaching and his philosophies for the upcoming season. pic.twitter.com/an3jUlUmfr

— LehighValleyPhantoms (@LVPhantoms) June 7, 2021
It remains to be seen how Laperriere fares in terms of implementing systems, running practices and making in-game adjustments because he will be a first-time head coach. Some longtime assistants, such as Craig Berube, make the transition quite well. Others struggle with it. If Laperriere fails, it won't be for lack of dedication or effort.
In terms of learning his personnel, especially in terms of prospects in the system, Laperriere said that the process is already underway. He also said working with young players was one of his favorite parts of his past roles in player development and being an assistant coach.
"I started watching games last week, just to get to know those guys. I see them in training camp with the Flyers, but we see them for a week or so. Usually we focus on our main guys and maybe if the guys are on the bubble, like [Morgan Frost] was last year. You kind of look at him and you're like, "Okay, I'll keep an eye on him." There's so many guys in camp that I'll talk to them, I'll see them on the ice and everything, but I don't really focus on them. Now, I do have all summer to focus on them, look at their game and what kind of players I think they should be," Laperriere said.
"I have started working around with our Development crew there (Kjell Samuelsson, Nick Schultz, Chris Stewart, Brett Hextall, Brady Robinson). We do have five, six guys and ask them what they feel about all the players we have down there. I will make my own opinion this summer. Maybe there'll be one or two guys that will make the Flyers team next year. For me, when I'm going to come down here full time, it's going to make sure those guys can become the best version of themselves and to give themselves a chance to make it to the next level."