Game Preview
Lehigh Valley Phantoms (2-0-1) vs. Binghamton Devils (2-1-1)
Saturday, February 20, 2021 at 7:05 p.m. – PPL Center, Allentown, PA
Today's Game – For the first time in 346 days, it is officially a Game Day at PPL Center! The Lehigh Valley Phantoms host the Binghamton Devils in the seventh home opener for the Phantoms. Tonight is Game 4 of the 2021 season and Game 2 out of 14 of the rivalry series. It is also the first home game for the Phantoms since March 11, 2020.
Lehigh Valley is 4-2-0 in home openers all-time since the team arrived in Allentown. The Phantoms franchise boasts a record of 17-6-1 in 24 previous home openers beginning with the team's first-ever home game on October 6, 1996 at Spectrum in Philadelphia defeating the Rochester Americans 3-1.
Last Time Out – David Kase scored the overtime winner at Hershey and the Phantoms emerged with an exciting 5-4 win against the Bears. Kase finished with 1 goal and 2 assists for 3 points and rookie Zayde Wisdom scored his first two professional goals and added an assist on the winning marker to post his own three-point night. Defenseman Logan Day had a goal and an assist while Matt Strome scored his first goal of the season.
What a Comeback – The Lehigh Valley Phantoms rallied from behind in the third period for a second straight Hershey visit. All three of the Phantoms games this year have seen a team blow a third-period lead to lose in overtime.
Words to the Wisdom – The youngest player in Phantoms franchise history is showing tremendous ability and wisdom beyond his years in his first-ever professional games. Zayde Wisdom scored his first two professional goals on Sunday at Hershey including a game-tying tally with just over five minutes left in the third. He had a chance for the hat trick in overtime but then ended up assisting on the game-winning goal that was scored by David Kase to finish with a three-point performance. The fourth-round selection of the Flyers from the Kingston Frontenacs on the OHL became the youngest player in franchise history when he debuted on February 6 at 18 years, 6 months and 30 days old beating the record by just 20 days previously held by Derek Mathers of the Adirondack Phantoms. Wisdom would normally be playing in the Ontario Hockey League currently but while that circuit remains on hiatus the contracted players are allowed to gain experience…and wisdom…with games in the professional ranks.
Moving Up – Forwards David Kase and Maksim Sushko were recalled by the Philadelphia Flyers and played in Thursday's game against the New York Rangers. For Sushko, his NHL debut represented the 14th Belarusian to play in the NHL and the 27th Lehigh Valley player to develop into an NHL player with the Flyers. Kase was making his season debut with the Flyers after playing six NHL games last year with one goal.
Additionally, forward Matt Strome was recalled to the Philadelphia Flyers taxi squad.
Hot Start – The Phantoms three-game point streak to begin the season is the longest since the 2007-08 season when the Philadelphia Phantoms began at 5-0-0. It is the first time ever for Lehigh Valley to record points in its first three games.
Opening Night History – The Lehigh Valley Phantoms are 4-2-0 in home openers since the team arrived in Center City Allentown in 2014.
10/17/2014 vs. Adirondack 4-3 Win (OT)
10/10/2015 vs. Syracuse 3-4 Loss
10/15/2016 vs. Springfield 4-2 Win
10/7/2017 vs. Hershey 7-2 Win
10/6/2018 vs. Bridgeport 6-3 Win
10/5/2019 vs. Providence 0-3 Loss
First Goal – Who will join this select group of players as the season's first goal scorer at PPL Center?
10/17/2014 Scott Laughton 11:59 of 1st (vs. Adirondack Flames) (First Goal at PPL Center)
10/10/2015 Aaron Palushaj 11:39 of 1st (vs. Syracuse Crunch)
10/15/2016 Mark Zengerle 0:50 of 1st (vs. Springfield Thunderbirds)
10/7/2017 Danick Martel 2:19 of 1st (vs. Hershey Bears)
10/6/2018 Greg Carey 5:52 of 1st (vs. Bridgeport Sound Tigers)
10/11/2019 Kurtis Gabriel 15:35 of 1st (vs. WBS Penguins)
Extra Hockey – This is the first time in the 25 years of the Phantoms franchise for the team to play overtime contests in each of its first three games. The only other time the Phantoms had played two straight overtimes to begin the season was in 2013-14 when the Adirondack Phantoms started the year 1-0-1.
– This is the first time the Phantoms have played three consecutive overtime contests since January 18-23, 2019 when Lehigh Valley played four consecutive games that were tied at the end of regulation. It is just the third time ever for Lehigh Valley to play three or more consecutive overtime games (also three straight February 2015).
– The franchise record for consecutive overtime games is six which happened in November, 2001 by the Philadelphia Phantoms. The team had two wins, one overtime loss and three ties during this streak in the pre-shootout era.
– This is only the second time in Phantoms franchise history that there have been overtime goals in three consecutive games (meaning not a shootout or a tie). The 1997-98 Philadelphia Phantoms recorded three consecutive overtime wins in December in just the second season of the team.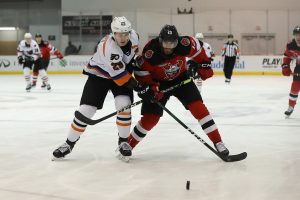 Scouting the Devils – The Phantoms had some eerie similarities to the Devils so far this season. Both teams opened the season with three consecutive overtime games and have identical 2-0-1 records. Additionally, both of Binghamton's victories involved rallying from a third-period deficit.
Binghamton lost on Wednesday night against Hershey 2-1 despite 41 saves from Devils goalie Gilles Senn.
Veteran center Ben Street leads the Devils with two goals and two assists for points. Street has played in over 500 AHL games since breaking in with the Wilkes-Barre/Scranton Penguins a decade ago. Lightning first-rounder Nolan Foote also has four points on one goal and three assists. He is the brother of Tampa Bay first-rounder Cal Foote and the son of former Colorado Avalanche great Adam Foote. He came from the Lightning organization to the Devils in a deal involving Blake Coleman.
Danick Martel is one of the most popular players in Lehigh Valley Phantoms history and is now wearing #62 for the Devils. Martel has one goal and one assist this season. The two-time Phantoms "Man of the Year" for his work in the community played 199 games in a Lehigh Valley sweater and rates third in team-history with 68 goals.
Dinged Up – Tyson Foerster and Tanner Laczynski have been on the shelf with injuries from the Saturday, February 6 game at Hershey. Linus Sandin and Chris Bigras have missed time recently as well. Forwards Isaac Ratcliffe and Wade Allison had surgeries and continue to rehab at the Flyers training facility in Voorhees. Goalie Kirill Ustimenko required hip surgery while playing in Belarus last fall and is out for the season.
Here Come the New Guys – The Phantoms roster features nine rookie prospects including 2020 first-round draft selection Tyson Foerster, 19, who scored 36 goals last year as a right wing with the Barrie Colts of the Ontario Hockey League. Foerster is currently out of action with a fractured shin sustained in the season opener on February 6 at Hershey.
The Phantoms have three teenagers on the roster including forwards Zayde Wisdom, 18, and defenseman Mason Millman who is 19. Wisdom was a fourth-round pick in 2020 from the Kingston Frontenacs of the Ontario Hockey League and Millman was a fourth-round selection in 2019 from the Saginaw Spirit also of the OHL.
Other rookies to watch are defensemen Linus Hogberg, Egor Zamula and Wyatte Wylie and forwards Tanner Laczynski from Ohio State and Linus Sandin who signed as a free agent from Sweden and debuts in North America at 24 years old. Linus is the older brother of Toronto Maple Leafs first-rounder Rasmus Sandin.
Upcoming – The Phantoms play this Wednesday at 6:00 p.m. at the Binghamton Devils in Newark, NJ in a game originally scheduled for Friday, February 19. The game was moved due to Lehigh Valley's roster constraints following several recalls to the Flyers and taxi squad.
The Phantoms then play a home-and-home series against the Wilkes-Barre/Scranton Penguins next weekend beginning with a clash in Wilkes-Barre on Friday, February 26 at 5:00 p.m. and then a rematch at PPL Center on Saturday, February 27 at 7:05 p.m.
Provident Bank Pennsylvania Cup: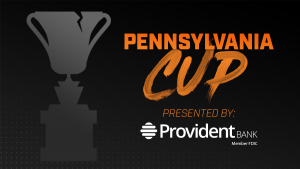 Phantoms 2-0-0 = 4
Bears 1-0-2 = 4
Penguins 0-1-0 = 0
Pennsylvania Cup Results and Upcoming:
Feb 14: Phantoms 5 – Bears 4 (OT)
Feb 20: Penguins at Bears
Feb 24: Bears at Penguins