Phantoms Pepper Clay Stevenson but Can't Break Through
October 28, 2023
Hershey, PA – The Lehigh Valley Phantoms couldn't find a bounce or buy a break as they served up a barrage of shots at Hershey goaltender Clay Stevenson, mostly in the second and third periods. Despite the heavy onslaught and eight power-play chances, the Phantoms sustained their first regular-season shutout in two seasons in a 4-0 setback at the Hershey Bears in the first of 12 games in the season series.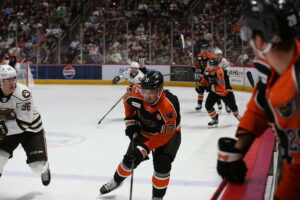 Stevenson's 32 saves was good for his first career AHL shutout. Lehigh Valley (3-3-0) had a 14-1 shots advantage early in the third period with three consecutive power plays in efforts to close a 2-0 deficit. But a Bears intercept led to a rush down ice and a rebound slam for trailer Pierrick Dube who led the Hershey attack with two goals. Former Phantoms Mike Vecchione (3rd) and Logan Day (1st) added goals as well with Day's late empty-netter sealing the contest.
It's the first time the Phantoms have been shut out in the regular season in 80 games going back to two seasons ago when the Phantoms were last blanked on April 26, 2022 by the Springfield Thunderbirds 5-0.
Hershey jumped out to a 1-0 lead on its first powerplay of the game as Pierrick Dubé delivered a rocket past the blocker of Petersen off a pass from Joe Snively in the closing seconds of the man-advantage.
Despite maintaining pressure in the offensive zone for much of the first period, Lehigh Valley was held to a season-low of three shots at the end of the opening frame.
Hershey left winger Mike Vecchione would add to the Bears' lead at 6:53 of the second period on a chip-in from the backdoor for his third goal of the season to go up 2-0 against his former team on a rush with Mike Sgarbossa and Aaron Ness.
Perhaps, the Phantoms' best scoring chance of the contest came during their third powerplay when Garrett Wilson fired a shot on the doorstep that Stevenson prevented from crossing the goal line on a decision that was upheld upon video review. Aside from the two-goal deficit, Cal Petersen continued to hold his ground throughout the second period, denying Vecchione on a 2-on-1 rush, former Phantom Nicolas Aubé-Kubel on a short-handed chance, and Mike Sgarbossa on a breakaway.
While Lehigh Valley possessed the puck for most of the third period in the offensive end, a quick turn up the ice from Hershey's Ivan Miroshnichenko left a wide-open net for Pierrick Dubé, who buried the rebound for a 3-0 score for the Bears. Logan Day would later add a length-of-the-ice empty-net goal to seal the Hershey victory.
UP NEXT –
The Phantoms return to PPL Center on Sunday, October 29 at 5:05 p.m. to take on the Hartford Wolf Pack, AHL affiliate of the New York Rangers. Sunday's game includes a postgame state with the Phantoms players presented by NJM. Come early to enjoy the Haunted on Hamilton fun on the concourse including Trick-or-Treat, pumpkin painting and face painting.
SCORING SUMMARY
1st 18:25 – HER, P. Dubé (2) (J. Snively, I. Miroshnichenko) (PP) (0-1)
2nd 6:53 – HER, M. Vecchione (3) (A. Ness, M. Sgarbossa) (0-2)
3rd 10:02 – HER, P. Dubé (3) (I. Miroshnichenko, R. Hofer) (0-3)
3rd 15:46 – HER, L. Day (1) (J. Snively) (EN) (0-4)
Shots:
LV 32 – HER 29
PP:
LV 0/8, HER 1/3
Goaltenders:
LV – C. Petersen (25/28) (L) (1-3-0)
HER – C. Stevenson (32/32) (W) (2-2-0)
Records:
Lehigh Valley (3-3-0)
Hershey (5-2-0)
UPCOMING
Sunday, October 29 (5:05) – Hartford Wolf Pack at Lehigh Valley Phantoms – Postgame Skate with Players Presented by NJM
Wednesday, November 1 (7:00) – Lehigh Valley Phantoms at Hershey Bears
Friday, November 3 (7:05) – Hartford Wolf Pack at Lehigh Valley Phantoms – SWIFTIE Takeover Night!

Saturday, November 4 (7:05) – Lehigh Valley Phantoms at Springfield Thunderbirds