Saturday, October 28 at 7:00 p.m – GIANT Center, Hershey, PA
Lehigh Valley (3-2-0) vs. Hershey (4-2-0)
TONIGHT
The Lehigh Valley Phantoms travel to Hershey to renew rivalry acquaintances with the defending Calder Cup Champion Hershey Bears. This is the first of 12 meetings in the season series and the first of four encounters in just the next 15 days. The Phantoms are coming off a 2-for-3 weekend that featured a pair of wins against Springfield. The Bears are looking to bounce back after they had their four-game win streak snapped on Wednesday in a 5-1 loss at the Wilkes-Barre/Scranton Penguins.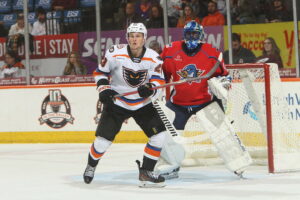 LAST TIME
Yet another goal for Olle Lycksell, this time on PPL Center ice, helped the Phantoms to a second victory against Springfield in a 3-2 final on Sunday afternoon. That put the finishing touches on a strong 2-for-3 weekend for Lehigh Valley. Elliot Desnoyers and Ronnie Attard also struck for Lehigh Valley with each notching his first goal of the season. Leading scorer Tanner Laczynski (1-6-7) increased his point streak to four games with an assist. Parker Gahagen improved to 2-0-0 with Lehigh Valley in his first AHL wins since the 2020-21 season.
TRANSACTIONS
Oct 26 – Emil Andrae (D) – Loaned to Lehigh Valley by Philadelphia
Oct 26 – Louie Belpedio (D) – Recalled to Philadelphia
Oct 26 – Victor Mete (D) – Recalled to Philadelphia
Oct 26 – Mason Millman (D) – Reassigned by Philadelphia to Lehigh Valley from Reading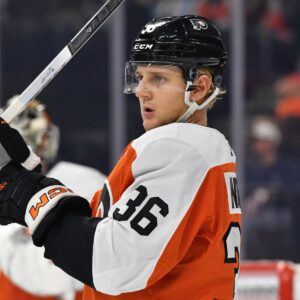 ANDRAE RETURNS
Emil Andrae returns to the Phantoms from the Philadelphia Flyers and is expected to make his season debut with Lehigh Valley this weekend. He played in four games with Philadelphia after making the Opening Night roster becoming the 43rd Lehigh Valley Phantoms to receive a recall for his NHL debut with Philadelphia.
Last season, Andrae joined the Phantoms in March and played in 10 games scoring two goals with four assists for six points. Andrae was the Flyers second-round selection (#54 overall) in the 2020 NHL Entry Draft
BELPEDIO GETS HIS CHANCE
Defenseman Louie Belpedio was recalled and made his Flyers debut on Thursday against Minnesota. That was a fitting way for Belpedio to return to the NHL. The 27-year-old defenseman from Skokie, IL was a third-round draft selection of the Minnesota Wild and spent the bulk of his career with the Iowa Wild before joining the Phantoms last season. Thursday represented just his fifth career NHL game and his first game in 2.5 years since February, 2021. The Phantoms alternate captain has played in 309 career AHL games including 75 with Lehigh Valley.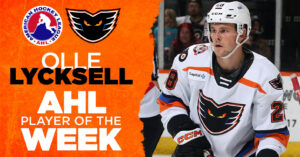 PLAYER OF THE WEEK
Olle Lycksell's big weekend also brought home AHL Howie's Hockey Tape/Player of the Week honors as announced on Monday. Lycksell scored five goals on the weekend including three on Friday and one each on Saturday and Sunday. Lycksell now rates tied for third in the AHL with five goals after briefly moving into first before the Phantoms had some days off. His three power-play goals rates second behind only Adam Gaudette of Springfield who has four. Lycksell's two game-winning goals is also tied for the AHL lead.
The second-year pro becomes the sixth Lehigh Valley player all-time to win AHL Player of the Week honors and is the 21st Phantoms player in franchise history to receive the award going back to the beginning of the Philadelphia Phantoms in 1996.
PHANTASTIC!

Olle Lycksell recorded the 18th hat trick in Lehigh Valley history last Friday at Springfield. It was the first away hattie since Tanner Laczynski against the Binghamton Devils in Newark on March 26, 2021
Lehigh Valley has a power-play goal in each of its five games this season
Lehigh Valley leads the AHL with three shorthanded goals. All three came on October 16 vs. Belleville
The Phantoms have 31 or more shots on goal in all five games this season
The Phantoms are outscoring their opponents in the 2nd period 7-3. That is the largest second-period margin in the Eastern Conference and trails only the Calgary Wranglers (8-2) in the AHL.
The Phantoms are also out-shooting their opponents in the 2nd period by a combined 71-46 which is the most second-period shots on goal for any AHL team
Alexis Gendron became the second Lehigh Valley player to score a goal in each of his first two pro games joining Elliot Desnoyers who scored in three straight games to open the 2022-23 season
Olle Lycksell (5-0-5) has a three-game goal streak
Tanner Laczynski (1-6-7) has a four-game point streak and leads the team in scoring
The Phantoms are 2-0-0 on Sundays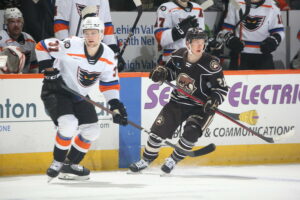 BRING ON THE BEARS
Hershey (4-2-0) got drilled 5-1 at Wilkes-Barre/Scranton on Wednesday ending the Bears four-game win streak. Mike Sgarbossa (3-3-6) scored the overtime winner in a Sunday 3-2 triumph over Bridgeport. Ethen Frank (3-3-6) is picking up where he left off following his sensational 30-goal rookie campaign. The Western Michigan product scored nine goals against the Phantoms last season including a hat trick the last time the two teams met in the 2022-23 season finale. Former Phantom Mike Vecchione (2-3-5) scored the Calder Cup-clinching goal in overtime of Game 7 against Coachella Valley last June. Goaltender Hunter Shepard won for Washington in his NHL debut on Thursday following a terrific 2022-23 season (20-8-5, 2.19, .916). This is the first of four matchups between Lehigh Valley and Hershey over a two-week stretch from October 30 through November 12.
Phantoms Scoring Leaders
Tanner Laczynski 1-6-7
Olle Lycksell 5-0-5
Cooper Marody 2-3-5
Samu Tuomaala 1-3-4
Hershey Scoring Leaders
Ethen Frank 3-3-6
Mike Sgarbossa 3-3-6
Mike Vecchione 2-3-5
Alex Limoges 1-4-5
SPECIAL TEAMS
Lehigh Valley PP, 18.5% (13th)
Lehigh Valley PK 84.0% (11th)
Hershey PP 23.8% (7th)
Hershey PK 84.6% (9th)
UP NEXT
The Phantoms return to PPL Center on Sunday, October 29 at 5:05 p.m. to take on the Hartford Wolf Pack, AHL affiliate of the New York Rangers. Next Sunday's game includes a postgame state with the Phantoms players. Fans must be wearing skates to be allowed onto the ice.
UPCOMING
Saturday, October 28 (7:00) – Lehigh Valley Phantoms at Hershey Bears
Sunday, October 29 (5:05) – Hartford Wolf Pack at Lehigh Valley Phantoms – Postgame Skate with Players
Wednesday, November 1 (7:00) – Lehigh Valley Phantoms at Hershey Bears
Friday, November 3 (7:05) – Hartford Wolf Pack at Lehigh Valley Phantoms – SWIFTIE Takeover Night!