Wolf Pack Pull Away Late in 5-1 Decision
October 21, 2023
Hartford, CT – The Lehigh Valley Phantoms almost had the comeback feeling again but this time ran into Hartford goaltender Dylan Garand. The Wolf Pack backstop steered away multiple quality chances that could have tied the score allowing the hosts to pull away with three late goals in a 5-1 final on Saturday night at XL Center.
Olle Lycksell (4th) scored the lone goal for the Phantoms on the power play.
Hartford (4-0-0) took control early in the game while Lehigh Valley relied on Cal Petersen's spectacular goaltending efforts to stay close. A tremendous left pad save on an Alex Belzile breakaway was one of multiple jaw-dropping stops for the 28-year-old netminder. But Brett Berard (2nd) converted six minutes in and Belzile struck on the power play with 3:15 left for Hartford to enjoy a 2-0 advantage after 20 minutes. The Wolf Pack outshot the Phantoms 16-6 in the opening frame.
Lehigh Valley (2-2-0) pushed through some adversity in the second period with parts of five penalty kills in that period alone. Even though the Phantoms played a huge chunk of the period a man down, they managed to outshoot Hartford 10-9 in the middle stanza and keep the Pack out of the net. The Phantoms just kept grinding through a physical and feisty period and eventually would break through.
Lycksell finished a nifty rush up ice on the power play with his blast from the left circle after a pass up ice from Louie Belpedio connected with Garrett Wilson up the right boards who found Tanner Laczynski to set up Lycksell's fourth goal of the weekend.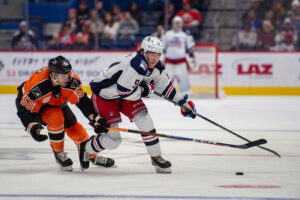 Garand steered some glorious chances for the Phantoms early in the third period including Cooper Marody at the net front. Nikolas Brouillard's first of the season with 13:07 remaining put Hartford back in front by two. His drive on the backdoor from the left circle was just past the reach of the glove of Petersen diving across the crease barely missing yet another spectacular denial.
Speedy Bobby Trevigno zipped behind the Phantoms defense and knocked in a breakaway goal with 9:27 left with Petersen again almost making a remarkable save. But even getting a piece of the puck with the pad wasn't enough to keep it out and Hartford advanced its advantage to 4-1.
Jonny Brodzinski finished the scoring on the rush with a snipe from the top of the circle off the underside of the crossbar with 4:07 left in the game.
The Phantoms outshot the Wolf Pack 17-11 in the third period but were unable to break through again on Garand.
Lehigh Valley is back at home on Sunday at 3:05 p.m. against the Springfield Thunderbirds. The Phantoms will rematch with first-place Hartford at PPL Center on Sunday, October 29 at 5:05 p.m.
SCORING SUMMARY
1st 5;59 – HFD, B. Berard (2) (N. Brouillard) (0-1)
1st 16:45 – HFD, A. Belzile (2) (R. Nash, J. Brodzinski) (PP) (0-2)
2nd 18:58 – LV, O. Lycksell (4) (T. Laczynski, G. Wilson) (PP)(1-2)
3rd 6:53 – HFD, N. Brouillard (1) (J. Leschyshyn, B. Scanlin (1-3)
3rd 10:33 – HFD, B. Trivigno (1) (R. Korczak, B. Harpur) (1-4)
3rd 15:53 – HFD, J. Brodzinski (4) (A. Belzile) (1-5)
Shots:
LV 33 – HFD 36
PP:
LV 1/4, HFD 1/7
Goaltenders:
LV – C. Petersen (31/36) (L) (1-2-0)
HFD – D. Garand (32/33) (W) (2-0-0)
Records:
Lehigh Valley (2-2-0)
Hartford (4-0-0)
UPCOMING –
Sunday, October 22 (5:05) – Springfield Thunderbirds at Lehigh Valley Phantoms
Saturday, October 28 (7:00) – Lehigh Valley Phantoms at Hershey Bears
Sunday, October 29 (5:05) – Hartford Wolf Pack at Lehigh Valley Phantoms