Phantoms Kick Off 4-Game Home Stand with First Win at PPL Center This Season
October 24, 2015
Lehigh Valley, PA – Tyrell Goulbourne brought the fans to their feet first with his shot and then with his fists Saturday evening as the Lehigh Valley Phantoms captured a 3-1 triumph over the Providence Bruins in front of 8,220 fans at PPL Center. With the win, the Phantoms improved to 2-3 on the young season and claimed their first home victory of the new campaign.
"He's a tough kid," said Phantoms head coach Scott Gordon of Goulbourne. "He's got a lot of pace in his game. I think he's going to be an important piece for us."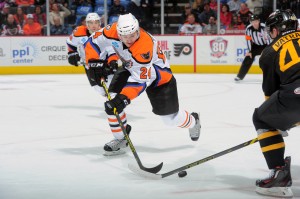 The successful evening was the perfect start to the team's four-game home stand, which will see Lehigh Valley skate in front of its home fans four times over a seven-day period. The home stand continues Sunday against the Toronto Marlies before the St. John's IceCaps invade downtown Allentown for games this Wednesday, October 28 and Friday, October 30.
Petr Straka and Aaron Palushaj also found the back of the net for the Phantoms as Lehigh Valley earned a split in its home-and-home series with the Bruins. Straka's conversion extended his goal-scoring streak to an impressive four straight games while Palushaj netted his second conversion in as many games inside PPL Center.
Meanwhile, goaltender Anthony Stolarz provided plenty of support between the pipes. The 21-year-old netminder improved to 2-0 on the season after turning aside 23 of Providence's 24 offerings, including all eight of the Bruins' third period attempts. Stolarz has now surrendered just two goals against in two games this season while stopping 42 of 44 total shots.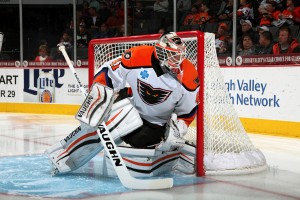 "He did probably one of the better jobs I've seen a goalie do as far as handling the puck and his decision making," Gordon said. "He caught the puck well tonight. I thought he got out and stopped it and set it up for our D. Played it when he had to play it."
Another huge aspect of the victory was Lehigh Valley's special teams. Not only did the power play conversion the Phantoms landed prove to be the eventual game winner but Lehigh Valley's penalty kill also kept Providence off the board despite four man-advantage opportunities.
The Phantoms opened the scoring less than six minutes into the rivalry rematch when a right wing blast from Pavel Padakin kicked off the end boards directly to a streaking Goulbourne on the left side who made no mistake in slamming home his second goal of the season. Jesper Pettersson grabbed the secondary assist on the even strength strike for his first point of the new season.
The goal was Goulbourne's second conversion in just his first five professional outings. He netted his first career professional tally in Lehigh Valley's 4-1 victory over the Springfield Falcons last Friday (October 16).
The Bruins evened the contest just over two minutes into the second stanza when Seth Griffith executed a brilliant toe-drag to elude a sliding Andrew MacDonald before snapping in his first goal of the season. Alexander Khokhlachev garnered the only assist on the five-on-five conversion netted 2:03 into the middle frame.
The Phantoms regained the lead just past the midway point of the contest when, while on the power play, a beautiful touch pass at the blue line by Padakin found a streaking Straka driving down the slot who promptly snapped in his fourth goal of the season. Shayne Gostisbehere grabbed the second assist on the man-advantage marker tallied 10:37 into the second period.
The goal was Lehigh Valley's fourth power play conversion of the year and second in as many games inside PPL Center. The marker also extended Straka's goal-scoring streak to four consecutive games as the 23-year-old winger recorded his team-leading fourth goal of the season.
Those weren't the only fireworks the second period had to offer though.
Less than three minutes after rising from their seats to applaud Straka's go-ahead conversion, Phantoms fans were on their feet again when Goulbourne dropped the gloves with Anthony Camara and needed just one swift right hand to drop his opponent.
Lehigh Valley landed the game's final marker in the final minute when, while with the Bruins net empty in favor of the extra attacker, Palushaj intercepted a centering pass into the slot, which he promptly launched into the vacated goal for his second tally of the season.
The Phantoms continue their four-game home stand on Sunday, October 25 when they welcome the Toronto Marlies for the first and only time this season for a 5:05 p.m. showdown at PPL Center. Sunday's game features a youth jersey giveaway where the first 2,500 kids 14 and under will receive a FREE Phantoms youth hockey jersey courtesy of Capital BlueCross, Dick's Sporting Goods and Velaspan.
Tickets for Sunday's contest, along with each of the Phantoms' 36 remaining home games, are available at pplcenter.com, by calling (610) 347-TIXX (8499) or in person at the Mealey's Furniture Box Office at PPL Center (701 Hamilton).
Providence Bruins 1 at Lehigh Valley Phantoms 3 – Status: Final
Saturday, October 24, 2015 – PPL Center
Providence 0 1 0 – 1
Lehigh Valley 1 1 1 – 3
1st Period-1, Lehigh Valley, Goulbourne 2 (Padakin, Pettersson), 5:45. Penalties-Cousins Lv (high-sticking), 11:24; Hickman Pro (kneeing), 16:09.
2nd Period-2, Providence, Griffith 1 (Khokhlachev), 2:03. 3, Lehigh Valley, Straka 4 (Padakin, Gostisbehere), 10:37 (PP). Penalties-Conner Lv (hooking), 3:29; Hargrove Pro (slashing), 8:39; Camara Pro (fighting), 13:07; Goulbourne Lv (fighting), 13:07; Irwin Pro (cross-checking), 13:39; Vatrano Pro (boarding), 13:39; Palushaj Lv (cross-checking), 13:39; Morin Lv (tripping), 18:38.
3rd Period-4, Lehigh Valley, Palushaj 2 19:32 (EN). Penalties-Straka Lv (high-sticking), 9:51; Cross Pro (cross-checking), 17:09.
Shots on Goal-Providence 9-7-8-24. Lehigh Valley 10-8-7-25.
Power Play Opportunities-Providence 0 / 4; Lehigh Valley 1 / 4.
Goalies-Providence, McIntyre 2-2-0 (24 shots-22 saves). Lehigh Valley, Stolarz 2-0-0 (24 shots-23 saves).
A-8,220
Referees-Tom Chmielewski (43), David Banfield (77).
Linesmen-Tim Lyons (33), Luke Murray (92).
Upcoming Events: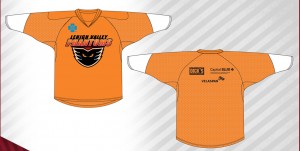 Sunday, October 25 (5:05) – Toronto Marlies at Lehigh Valley Phantoms
(Youth Jersey Giveaway presented by Capital BlueCross, Dick's Sporting Goods and Velaspan. FREE Phantoms youth hockey jersey for the first 2,500 kids age 14 and younger.)
Wednesday, October 28 (7:05) – St. John's IceCaps at Lehigh Valley Phantoms
(Pink in the Rink presented by Lehigh Valley Health Network.)
Friday, October 30 (7:05) – St. John's IceCaps at Lehigh Valley Phantoms
(Phantoms Ball Cap Giveaway & John Walson, Jr. Night presented by Service Electric Cable TV & Communications. FREE Phantoms ball caps to first 8,500 fans in attendance.)
RISE UP! Reserve your season tickets and groups now for the 2015-2016 season of Lehigh Valley Phantoms hockey. For more information on how to reserve your seat at PPL Center to the hottest ticket in town call the Phantoms front office today at 610-224-GOAL (4625)!
In the midst of their 20th season of operation, the Phantoms are coming off their Inaugural Season as the Lehigh Valley Phantoms playing at the brand-new PPL Center. Established in 1996, the Phantoms spent their first 13 seasons at the Spectrum in Philadelphia before re-locating to Glens Falls, New York in 2009 where the team spent the next five seasons as the Adirondack Phantoms. A new era of Phantoms hockey began in the fall of 2014 when the Lehigh Valley Phantoms began play at the state-of-the-art PPL Center. Through 19 incredibly successful campaigns, the Phantoms have captured two Calder Cup Championships (1998, 2005), two Conference Championships (1998, 2005), two Regular Season Titles (1996-97, 1997-98) and four Division Championships (1996-97, 1997-98, 1998-99, 2003-04).