Tokarski's 37 Saves Backstop Thrilling 3-2 Triumph Over Sound Tigers
December 17, 2017
Bridgeport, CT – Corban Knight blasted through the game winning goal in overtime as the Phantoms pushed through for a 3-2 win at the Bridgeport Sound Tigers on Sunday afternoon. The 18th victory of the season for Lehigh Valley was also the team's third in overtime and second occasion in which they have prevailed against the Sound Tigers in the extra period. The Phantoms are 4-0-0 against Bridgeport.
Knight received a long outlet pass perfectly on his tape from T.J. Brennan in the opposite corner after a drop from Matt Read. Knight then offered a laser practically through the glove of Chris Gibson to finish an invigorating road victory against a feisty and hard Bridgeport squad.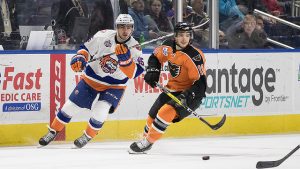 Danick Martel (17th) and Steven Swavely (1st) also lit the lamp for the Phantoms. For Martel, he moved back into a tie for the league lead in goals. He had briefly fallen into second in the league when Charlotte's Valentin Zykov scored a pair of goals earlier in the afternoon to leapfrog ahead. That marked the first time since the very beginning of the season that Martel was not the AHL leader in goals but it only lasted for a few minutes before he would put his name back at the top.
Dustin Tokarski was the foundation for the comeback effort. His 37-save effort included several impressive denials in the third period in which the Phantoms were out shot 17-2 and found themselves trying to hang on for much of the frame. The Phantoms made due with less in this hard-fought contest finding a way to win despite a shot disparity against of 18-39.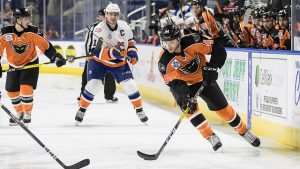 This was a test of perseverance for the Phantoms. Despite a season-low 18 shots on goal while also having zero power plays for the first time this season, the Phantoms found a way.
Bridgeport struck first on a goal by 2014 first-rounder Michael Dal Colle (3rd) on a point-blank chip-in following Casey Bailey's centering effort from behind the net. The tally at 9:02 into the game gave the Islanders' farm club a 1-0 lead into the first intermission.
Lehigh Valley again used a second-period scoring surge to turn the tables on an early deficit. This time it was Steven Swavely's first of the season with Lehigh Valley capping a 2-on-1 with Radel Fazleev who nicely held the puck up the right wing while awaiting the perfect moment to offer his feed across to the recent Reading call-up. Adam Comrie's outlet pass to Swavely was good for the secondary assist at 2:45 as the Phantom forged a 1-1 deadlock.
Dustin Tokarski bailed out the Phantoms and kept the game tied at 1-1 when the Sound Tigers emerged with a 2-on-0. Michael Dal Colle and Stephen Gionta passed the puck back and forth and potentially worked their way out of their best opportunity while allowing Tokarski to rotate left to make the big denial on Gionta. The loose puck in the blue paint was swept away by T.J. Brennan before the Sound Tigers could take advantage.
Just over three minutes after Swavely's goal was a successful dig behind the Bridgeport net by Danick Martel and Corban Knight. When the puck was squeezed off a couple sticks and popped into the air Martel was right there to swat it past the right shoulder of Chris Gibson for a 2-1 lead at 5:54. The puck was very close to crossbar height when Martel notched his 17th of the season but it was deemed to not be over the crossbar when the contact was made thus the goal stood and Martel avoiding a possible high-sticking negation of the tally.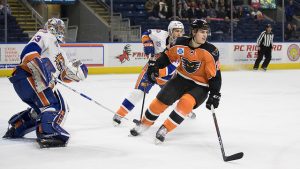 The Sound Tigers began their comeback push in the latter moments of the second period and kicked it into high gear in the third out-shooting the Phantoms 17-2 in the final frame. Tokarski made one stop after another denying drives from the outside and close-range chips while dealing with a number of hacks and whacks from the increasingly urgent push of the Bridgeport skaters.
Tokarski made a fine stop on an open right-wing slapshot from Ben Holmstrom among other key denials. At another point in the third, Tokarski's stick was knocked out of his hands and he was unable to retrieve the paddle while the Sound Tigers were still buzzing. He made a pad-save with the left leg on a long drive while his stick lay just a couple feet to his side. Eventually the Phantoms cleared the zone and the Phantoms hung on to their one-goal lead.
Bridgeport finally broke through when they took advantage of a too many men penalty that was the result of a critical call on a sluggish line change late in the third period. Sebastian Aho's slapper from the left point was deflected down low by Casey Bailey whose seventh of the season was good for the equalizer at 2-2 with just 4:00 remaining.
Tokarski made another key stop with under 3:00 left on a point-blank chip in front by Travis St. Denis and somehow the game remained tied to the end of regulation.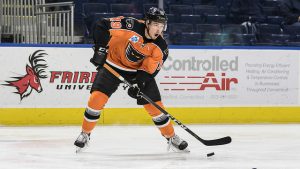 Only one shot on goal came in the overtime and it resulted from some defensive end hustle by Matt Read in one end going to win the puck and then finding T.J. Brennan who offered his length-of-the-ice pass to an open Corban Knight on the opposite end. Instead of waiting for the rest of the change, Knight cranked up the shot himself from the top of the right circle and said, "Good Knight, Bridgeport!" via his second overtime winner as a member of the Phantoms. Knight also scored an extra-stanza strike in the final home game last season on April 14 against the Providence Bruins that capped one of the Phantoms epic comebacks that year.
Knight joins Will O'Neill and Greg Carey with overtime winning goals this season. Two of Lehigh Valley's three extra-period triumphs have come at the hands of the hard-luck Sound Tigers.
The Phantoms improved to 18-9-3 with the win while Bridgeport dropped to 13-11-3. Lehigh Valley is 4-0 against Bridgeport this season at the midway point in the divisional rivalry series. The two teams will not meet again until February when the Phantoms return to Webster Bank Arena. The Sound Tigers next appearance in Allentown isn't until March.
Bridgeport out shot the Phantoms 39-18. The Sound Tigers were 0-for-2 on the power play while Lehigh Valley had no power-play opportunities for the first time this season and were 0-for-0.
Lehigh Valley is then back at PPL Center this Wednesday, December 20 when the Phantoms play their final home game before the holiday break as they welcome the Hartford Wolf Pack, AHL affiliate of the New York Rangers, to downtown Allentown. A limited number of tickets remain for Wednesday's game and can be purchased online HERE.
Lehigh Valley Phantoms 3 (OT) at Bridgeport Sound Tigers 2 – Status: Final
Sunday, December 17, 2017 – Webster Bank Arena
Lehigh Valley 0 2 0 1 – 3
Bridgeport 1 0 1 0 – 2
1st Period-1, Bridgeport, Dal Colle 3 (Bailey, Lafranchise), 9:02. Penalties-No Penalties
2nd Period-2, Lehigh Valley, Swavely 1 (Fazleev, Comrie), 2:45. 3, Lehigh Valley, Martel 17 (Knight, de Haas), 5:54. Penalties-No Penalties
3rd Period-4, Bridgeport, Bailey 7 (Aho, Fritz), 16:00 (PP). Penalties-de Haas Lv (slashing), 4:42; served by Martel Lv (bench minor – too many men), 15:02.
OT Period-5, Lehigh Valley, Knight 7 (Read), 0:42. Penalties-No Penalties
Shots on Goal-Lehigh Valley 5-10-2-1-18. Bridgeport 13-9-17-0-39.
Power Play Opportunities-Lehigh Valley 0 / 0; Bridgeport 1 / 2.
Goalies-Lehigh Valley, Tokarski 8-2-2 (39 shots-37 saves). Bridgeport, Gibson 9-6-1 (18 shots-15 saves).
A-3,122
Referees-Reid Anderson (49), Corey Syvret (42).
Linesmen-Luke Galvin (2), Paul Simeon (66).
Syracuse 1 0 1 – 2
Lehigh Valley 0 3 1 – 4
1st Period-1, Syracuse, Peca 4 (Joseph, Cernak), 17:53. Penalties-Lindblom Lv (tripping), 4:31; Volkov Syr (hooking), 6:11; McNeill Syr (slashing), 15:20; served by Martel Lv (bench minor – too many men), 19:46.
2nd Period-2, Lehigh Valley, Conner 5 (Varone, Martel), 11:44. 3, Lehigh Valley, Knight 6 (O'Neill, Aube-Kubel), 14:48. 4, Lehigh Valley, Carey 15 (Lindblom, Conner), 16:32 (PP). Penalties-Gallant Syr (interference), 5:30; Aube-Kubel Lv (kneeing), 8:45; Gallant Syr (slashing), 15:57.
3rd Period-5, Syracuse, Lynch 7 (Verhaeghe, Volkov), 12:55. 6, Lehigh Valley, Martel 16 (Knight, Aube-Kubel), 14:17. Penalties-Peca Syr (holding), 5:01; Carey Lv (high-sticking), 10:38.
Shots on Goal-Syracuse 8-4-12-24. Lehigh Valley 10-15-8-33.
Power Play Opportunities-Syracuse 0 / 4; Lehigh Valley 1 / 5.
Goalies-Syracuse, Ingram 4-5-1 (33 shots-29 saves). Lehigh Valley, Muse 2-1-0 (24 shots-22 saves).
A-7,113
Referees-Reid Anderson (49), Brandon Blandina (20).
Linesmen-Ryan Knapp (73), Luke Murray (92).
Reserve your group outings for the 2017-2018 season of Phantoms hockey. For more information on how to reserve your seat at PPL Center to the hottest ticket in town, call the Phantoms front office today at 610-224-GOAL [4625]!