Lehigh Valley Phantoms (15-4-4) vs. Binghamton Devils (5-15-7)
Saturday, May 1, 2021 at 7:05 p.m. – PPL Center, Allentown, PA
Tonight's Game – The Lehigh Valley Phantoms return to PPL Center on a four-game point streak (3-0-1) looking to continue their success and dominance against the Binghamton Devils this season. The Phantoms are 7-0-2 against the Devils. Lehigh Valley has points in 9 of its last 10 games (7-1-2). The Devils have dropped seven straight (0-6-1) including three straight against the Phantoms last week and are in the cellar of the North Division. There are just eight games remaining in the regular season and only five games left including tonight's contest.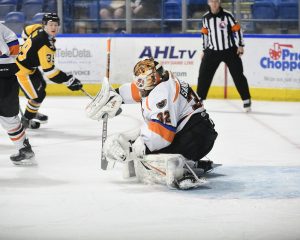 Last Time Out – Felix Sandstrom and Alex D'Orio put on an impressive goaltending display on Wednesday night in Wilkes-Barre with the Penguins eventually prevailing in overtime 2-1 on Tim Schaller's game-winner. D'Orio stole the game for the Penguins with a 41-save performance on his 22nd birthday. Sandstrom was very good as well with a 32-save outing. Linus Sandin scored in the first period and that held up until a 5-on-3 goal by Anthony Angello for the Penguins in the third period following consecutive questionable penalty calls against Lehigh Valley. The Phantoms racked up a season-high 42 shots in the game including a season-high 18 shots in the third period but could do no further damage.
Sandin Sizzles – 24-year-old forward Linus Sanin is finding his stride even moreso and has scored the last three consecutive goals for the Phantoms including Monday night's fifth and sixth goals in a 6-5 win at the Devils which was followed by the lone goal for Lehigh Valley in a 2-1 overtime loss at the Penguins. The Uppsala, Sweden product signed with the Flyers organization as a free agent last year and is in his first season of pro hockey in North America. Linus is the older brother of Rasmus Sandin of the Toronto Maple Leafs.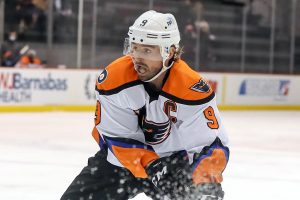 Cal Reaches 500! – Veteran center Cal O'Reilly racked up three assists on Monday night at the Binghamton Devils to become just the 10th in AHL history to record 500 helpers. The 15th year pro has appeared in the AHL All-Star Classic five times and is a captain with his fourth different team (also Iowa, Utica, Rochester). O'Reilly's 628 career points rates 35th all-time in AHL history. O'Reilly is on a four-game point streak with 6 assists in the stretch.
AHL All-Time Assists Leaders:
1. Willie Marshall (1952-72) 852
2. Fred Glover (1948-68) 814
3. Mik Nykoluk (1956-72) 686
4. Tim Tookey (1980-95) 621
5. Keith Aucoin (2001-14) 613
6. Art Stratton (1955-75) 555
7. Jody Gage (1979-96) 544
8. Peter White (1992-2005) 533
9. Bill Sweeney (1957-69) 510
10. Cal O'Reilly (2005-21) 500
Lightning Fast Laberge – Pascal Laberge scored just 10 seconds into the game on Monday at the Binghamton Devils marking the fastest goal in Lehigh Valley history and the second-fastest in franchise history. Petr Straka had the previous Lehigh Valley record when he scored 15 seconds into the game on December 14, 2014 when the Phantoms quickly and famously raced out to a 3-0 lead just 21 seconds later against the Binghamton Senators.
Tye McGinn has the franchise record with a goal just nine seconds into the game for the Adirondack Phantoms vs. Portland Pirates on March 24, 2013 in Glens Falls, NY.
Fastest goal to start a game in Phantoms franchise history:
:09 Tye McGinn – ADK vs. Portland Pirates, Mar. 24, 2013
:10 Pascal Laberge – LV at Binghamton Devils, Apr. 26, 2021
:13 Todd Fedoruk – PHI at WBS Penguins, Dec. 26, 2004
:13 Niko Dimitrakos – PHI at Norfolk Admirals, Nov 25, 2006
:15 Petr Straka – LV vs. Binghamton Senators, Dec 14, 2014
High Five! – The Lehigh Valley Phantoms racked up five goals in the first period on Monday night marking just the second time in Lehigh Valley history that the team has put up a quintet of markers in a single frame (also November 9, 2018 vs. Springfield). The franchise record in six goals which has happened twice. This was the 15th time for the Phantoms' franchise to score five goals in a period and just the third time it has happened in the FIRST period of a game.
It is only the second time in the last ten years for the Phantoms franchise to score five goals in a period and just the fifth time in the last 19 years. It happened nine times in the first five years of the franchise for the Philadelphia Phantoms from 1996-2001.
Phantoms Franchise Most Goals in a Period:
6 – Philadelphia at Wilkes-Barre/Scranton, 2nd, Jan 8 2000
6 – Adirondack vs. Albany Devils, 2nd, Apr 1, 2011
Lehigh Valley Record Most Goals in a Period:
5 – Lehigh Valley vs. Springfield Thunderbirds, 2nd, Nov 9, 2018
5 – Lehigh Valley at Binghamton Devils (Newark), 1st, Apr 26, 2021
Yowza York! – Flyers 2019 first-rounder Cam York had a big night in just his fourth pro game on Monday at the Binghamton Devils with his first pro goal on a big slapshot from the top of the left circle. He followed that up with a pair of assists for a three-point game while also receiving the first penalty of his pro career as well. The Big Ten Defenseman of the Year with the University of Michigan and captain of the Gold Medal-winning USA team at the World Juniors missed the Phantoms' most recent game on Wednesday with an injury.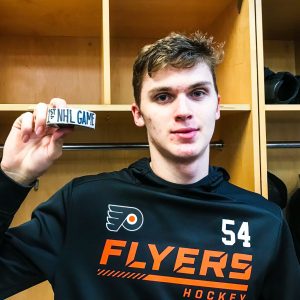 Zamula Gets the Call – Defenseman Egor Zamula has steadily improved through his rookie campaign. The 21-year-old Russian made his NHL debut with the Flyers on Tuesday night at the New Jersey Devils becoming the fourth Lehigh Valley Phantom to make his NHL debut this season and the 30th all-time to receive a recall from Lehigh Valley for an NHL debut with the Flyers.
Phantoms to Make NHL Debuts in 2021 Season:
Maksim Sushko Feb 18, 2021 (PHI vs. NYR)
Tanner Laczynski Apr 3, 2021 (PHI at NYI)
Wade Allison Apr 15, 2021 (PHI at PIT)
Egor Zamula Apr 27, 2021 (PHI at NJ)
The Series – The Phantoms are 7-0-2 against the Devils this season.
Wed Feb 10 @ BNG L 1-2 (OT) Brett Seney for Devils scores in OT
Sat Feb 20 @ LV W 3-0 Zane McIntyre 25-save shutout. 2 goals for Zayde Wisdom
Wed Feb 24 @ BNG W 5-4 (OT) Max Willman 2 goals including OT winner
Wed Mar 10 @ BNG 1-1 Game suspended after one period. Cal O'Reilly goal
Fri Mar 26 @ BNG W 3-2 Tanner Laczynski Hat Trick. Game-winning goal shorthanded breakaway in 3rd
Sat Mar 27 @ LV W 6-3 Ryan Fitzgerald 2 goals, Wade Allison and Tanner Laczynski each 1-2-3
Mon Apr 5 @ BNG L 1-2 (SO) Linus Hogberg first pro goal. Zane McIntyre 27 saves on 28 shots
Fri Apr 23 @ BNG W 4-2 Tyson Foerster 2 goals, Andy Andreoff 2 goals. Phantoms season-high 40 shots
Sat Apr 24 @ LV W 3-2 Felix Sandstrom 37 saves. Foerster 9th goal. Ratcliffe and Cuddemi both 1st goals
Mon Apr 26 @ BNG W 6-5 5 goals in 1st. Cal O'Reilly 3 assists to reach 500. Cam York 1st pro goal
Upcoming –
Saturday, May 1, 7:05 – Devils at Phantoms (PPL Center)
Sunday, May 2, 3:00 – Phantoms at Bears
Wednesday, May 5, 7:05 – Bears at Phantoms (PPL Center)
Saturday, May 8, 4:00 – Phantoms at Hershey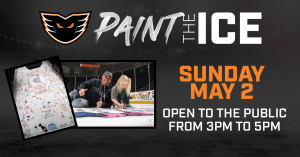 Paint The Ice! – Come down to PPL Center this Sunday, May 2 to "Paint the Ice!" Here is your chance to be down on the ice to paint a picture or message, as well as get a picture with our very own meLVin! Plus enjoy the Phantoms game at Hershey LIVE on the video-board.
Our sales staff will be on hand to discuss getting season tickets for next season as well. This event is free and open to the public from 3:00 to 5:00 p.m.
Provident Bank Pennsylvania Cup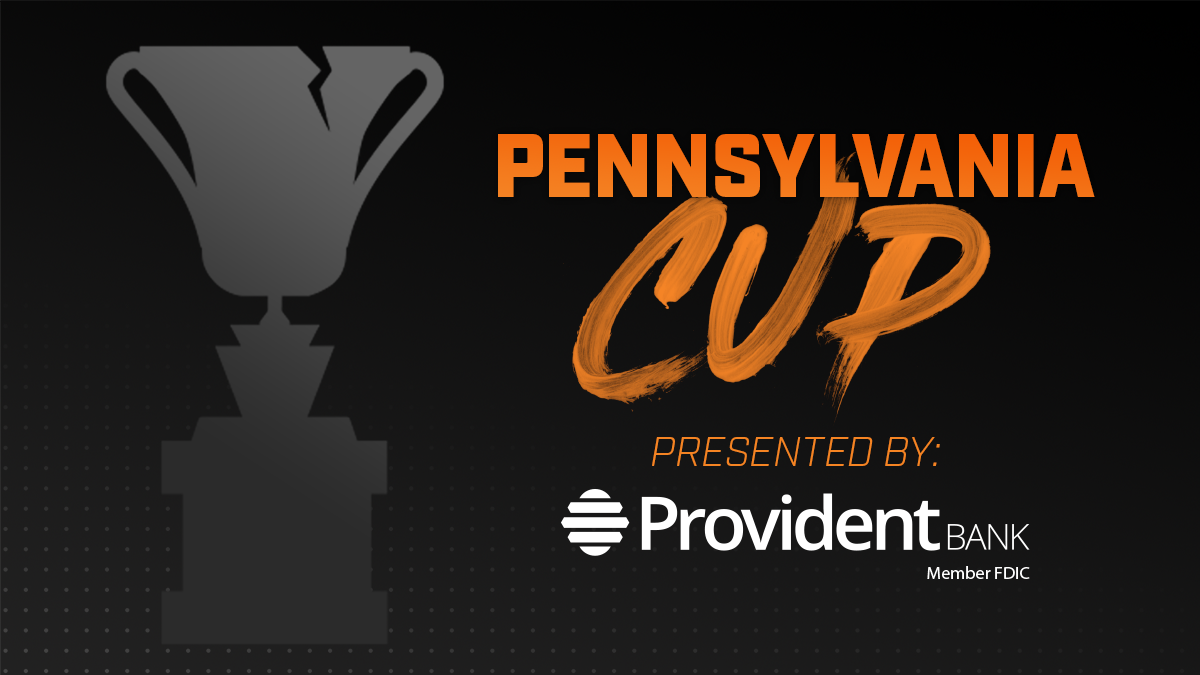 Phantoms 8-4-2 = .643
Bears 9-5-2 = .625
Penguins 5-6-3 = .464
Penn Cup Results and Upcoming:
Apr 28: Penguins 2 – Phantoms 1 (OT)
May 1: Bears at Penguins
May 2: Phantoms at Bears
May 5: Bears at Phantoms
May 8: Phantoms at Bears