Lehigh Valley Phantoms (13-4-3) vs. Binghamton Devils (5-12-6)
Saturday, April 24, 2021 at 7:05 p.m. – PPL Center, Allentown, PA
Tonight's Game – The Lehigh Valley Phantoms return to PPL Center for a Saturday night clash against the Binghamton Devils in the middle game of a three-game stretch between the two teams. This is the 21st game of the season for the Phantoms and their eighth against the Devils. Lehigh Valley is 5-0-2 against Binghamton.
Last Time Out – Tyson Foerster and Andy Andreoff each had a pair of goals and the Phantoms racked up a season-high 40 shots in a 4-2 win at the Binghamton Devils in Newark on Friday night. Foerster scored both of his goals in the first period including a power-play marker to get the Phantoms on the board first. Andreoff broke a 2-2 tie in the second period with his redirection of a Wyatte Wylie shot at the same time that Devils' defenseman Michael Vukojevic was attempting to engage him in a fight. Andreoff scored the goal and then proceeded to inflict some robust punishment upon the unwise rookie teenager! It was also Andreoff's first game with the Phantoms this season having spent the entire season with the Flyers.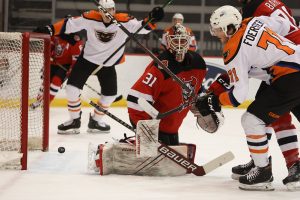 It's a Foerster Fire! – Tyson Foerster recorded another two-goal game on Friday night marking his third multi-goal night in just the last five games. The 19-year-old rookie first-rounder also had two-goal games on March 31 against Hershey and on April 3 against Wilkes-Barre/Scranton in consecutive games. In Foerster's last 10 games he has scored 8 goals with 4 assists for 12 points. He also has two shootout goals on March 31 and April 3. He is the only rookie in the AHL to have scored twice in the shootout this season.
Back in Action – The Leigh Valley Phantoms were away from the ice for nine days due to COVID protocols and game postponements. The team did not practice nor were players able to skate during that time. The Phantoms resumed practices this past Monday in preparation for their first game in 16 days on Wednesday, April 21 after having not played a game since Monday, April 5 at Newark.
Lehigh Valley had five total games postponed during their layoff including three home games on April 10, April 11 and April 18.
Change of Plans – When the Phantoms return to Newark on Monday evening at 6:00 p.m. they will now play a full game against the Devils. Previously, the two teams were only going to play two periods and were planning to resume a suspended game from March 10. That game will not be continued but all stats from the game will count.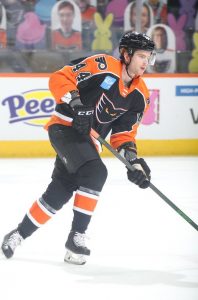 York is Here! – Big Ten Defenseman of the Year Cam York made his professional debut on Wednesday, April 21 against the Hershey Bears and shook off the rust as he played his first game in five weeks since the Big Ten tournament with the University of Michigan. York signed an NHL Entry-Level Contract with the Philadelphia Flyers and was officially added to the Phantoms roster on April 1. The southern California native from Anaheim Hills was captain of the USA team that won the Gold Medal at the 2021 World Juniors in Edmonton. York just completed his sophomore season at the University of Michigan and was a first-round selection of the Philadelphia Flyers at the 2019 NHL Entry Draft.
Transactions –
Apr 23 – F Pascal Laberge – Loaned to Phantoms
Apr 23 – D Mason Millman – Recalled to Taxi Squad
Apr 22 – F Andy Andreoff – Loaned to Phantoms
Apr 22 – G Felix Sandstrom – Recalled to Taxi Squad
Get Your Tickets, Here!! – The Phantoms and PPL Center are pleased to announce we are "Back to Live." The Phantoms are now permitted to allow 2,500 fans per game. Limited tickets for all upcoming Phantoms home games are available at phantomshockey.com. The Phantoms have six home games remaining on the schedule including Saturday, April 24 and Saturday, May 1.
McIntyre Thrives in The Valley – 28-year-old goalie Zane McIntyre is not only a new Daddy, he is also having a tremendously successful debut campaign with the Phantoms. McIntyre is 9-1-2 with a 2.18 goals-against avg. that rates 6th in the AHL and 2nd among currently active AHL goaltenders trailing only Zach Fucale of Hershey. His .926 save percentage is 4th best in the AHL. The former Mike Richter Award winner at the University of North Dakota has played in 196 career AHL games over six seasons. He spent his first four years with Providence in a stretch that also included an AHL All-Star Classic appearance at PPL Center in 2017.
Cal Closes In – Cal O'Reilly is knocking on the door to become only the 10th player in AHL history to record 500 assists. The AHL active's scoring leader currently has 496 helpers including 11 this season. O'Reilly's 624 career points rates 36th all-time in AHL history. He currently stands 19th in assists tied with former Milwaukee Admirals and Chicago Wolves great Darren Haydar and having passed Hershey Bears legend Chris Bourque (495)
The Series – The Phantoms are 4-0-2 against the Devils this season.
Wed Feb 10 @ BNG                   L 1-2 (OT)               Brett Seney for Devils scores in OT
Sat Feb 20 @ LV                         W 3-0                      Zane McIntyre 25-save shutout. 2 goals for Zayde Wisdom
Wed Feb 24 @ BNG                   W 5-4 (OT)              Max Willman 2 goals including OT winner
Wed Mar 10 @ BNG                   1-1                           Game suspended after one period. Cal O'Reilly goal
Fri Mar 26 @ BNG                      W 3-2                      Tanner Laczynski Hat Trick. Game-winning SHG breakaway in 3rd
Sat Mar 27 @ LV                         W 6-3                      Ryan Fitzgerald 2 goals, Wade Allison Tanner Laczynski each 1-2-3.
Mon Apr 5 @ BNG                      L 1-2 (SO)               Linus Hogberg first pro goal. Zane McIntyre 27 saves on 28 shots
Fri Apr 23 @ BNG                       W 4-2                      Tyson Foerster 2 goals, Andy Andreoff 2 goals. Season-high 40 shots on goal.
 Upcoming – Monday, April 26, 6:00 – Phantoms at Binghamton (Newark, NJ)
Wednesday, April 28, 7:00 – Phantoms at Penguins
Saturday, May 1, 7:05 – Devils at Phantoms (PPL Center)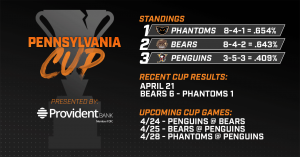 Provident Bank Pennsylvania Cup                                                         Phantoms                           8-4-1 = 17 .654
Bears                                 8-4-2 = 18 .643
Penguins                            3-5-3 = 9  .409
Apr 24: Penguins at Bears
Apr 25: Bears at Penguins
Apr 28: Phantoms at Penguins