Lehigh Valley Phantoms (10-3-2) vs. Hershey Bears (11-4-2)
Wednesday, March 31, 2021 at 7:03 p.m. – PPL Center, Allentown, PA
Tonight's Game – The first-place Lehigh Valley Phantoms host the Hershey Bears in Game 2 of a three-game homestand at PPL Center. Tonight is the 16th game of the season for the Phantoms and the eighth home game of the year. It is also Game 7 out of 14 between the two rivals. Tonight is the 16th game of the season overall and the seventh home game of the year for Lehigh Valley. The Phantoms are 4-2-0 against Hershey and 4-1-1 at home. The Phantoms have won five of their last six games. Tonight's game will be seen nationwide on NHL Network as they pick up the Service Electric telecast.
Last Time Out – The Phantoms blasted out a season-high six goals in doubling-up the Binghamton Devils 6-3. Ryan Fitzgerald scored two goals to take the team lead with eight. Wade Allison and Max Willman both had three-point nights with one goal and two assists apiece. Tanner Laczynski scored his sixth goal in a week and Chris Bigras opened the scoring with his first goal of the season. Alex Lyon completed a three-game stint with the Lehigh Valley Phantoms before returning to the Philadelphia Flyers.
Daddy-Time! – We are pleased to announce the newest addition to the Phantoms' family. Zane McIntyre is a proud new father! Mariam Sue McIntyre was born on March 28, 2021 at 4:38 a.m. and checks in at 19 inches long and 7 pounds and 6 six ounces. Fantastic news and the family is doing great!
Milestone for Gordo – Head coach Scott Gordon has 399 career wins including 178 wins with the Lehigh Valley Phantoms and 221 wins with the Providence Bruins. Only five other coaches in AHL history have reached the 400 Win milestone.
AHL Coaching Wins:
1. Roy Sommer (1998-2019) 778 (KEN, CLE, WOR, SJ)
2. Fred "Bun" Cook (1937-56) 636 (Providence, Cleveland)
3. Frank Mathers (1956-85) 610 (Hershey)
4. John Paddock (1981-2011) 589 (ME HER BNG HFD PHI)
5. John Anderson (2001-16) 424 (Chicago Wolves)
6. SCOTT GORDON (2002-21) 399 (Providence, Lehigh Valley)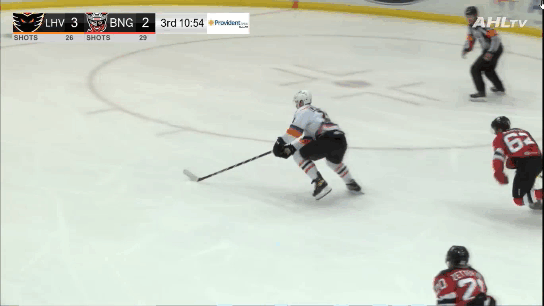 Hats Off for Tann the Man! – Laczynski has six goals in the last four games from last Sunday through Saturday. Scoring his first two pro goals, including the overtime winner, on March 21 against the Penguins was just the appetizer. Laczynski's hat trick at Newark against the Binghamton Devils on March 26 included a sensational move between the legs on the shorthanded breakaway to win the game in the third. The play was included on TSN SportsCentre's top plays.
The last Phantoms hat trick had been almost exactly two years ago, on March 27 2019 when Pascal Laberge scored the winner in overtime at Rochester in a 3-2 decision. Laczynski is the 10th player for Lehigh Valley in seven years to score a hat trick and he notched the team's 13th hattie all-time since the Phantoms arrived in Allentown in 2014.
Get Your Tickets, Here!! – The Phantoms and PPL Center are pleased to announce they are "Back to Live." Lehigh Valley Phantoms home games at PPL Center will now be held at 15% capacity. Last Sunday's overtime win against Wilkes-Barre/Scranton was the first game in which the general public was allowed to attend. For many fans, it was their first game Back to Live in over a year.
The Phantoms will be allowed to allow 25% capacity beginning with their home game on Saturday, April 10. Limited tickets for all upcoming Phantoms home games are on sale to the general public at phantomshockey.com
Transactions – Goaltender Alex Lyon was recalled by the Flyers on Sunday and goaltender Felix Sandstrom returned to Lehigh Valley. LW Matt Strome was assigned to the Greenville (SC) Swamp Rabbits of the ECHL.
Cal Closes In – Cal O'Reilly is knocking on the door to become only the 10th player in AHL history to record 500 assists. The AHL active's scoring leader currently has 491 helpers including six this season. O'Reilly's 618 career point rates 43rd all-time in AHL history. He currently stands 13th in assists and is two away from catching long-time Buffalo Bisons great Larry Wilson (1951-68) for 12th.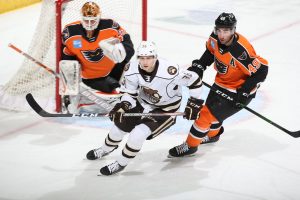 The Series – The Phantoms are 4-2-0 against Hershey this season but the Bears took the last meeting with a 6-2 decision at PPL Center last Wednesday in Lehigh Valley's first regulation-loss at home this season. The Phantoms rallied in the previous PPL Center encounter on March 3 with late tying and winning goals in the third period by Cal O'Reilly and Derrick Pouliot. The Phantoms are 3-1-0 at Giant Center this season including two overtime wins. Zayde Wisdom has scored three of his seven goals against Hershey and Ryan Fitzgerald has also scored thrice against the Bears. Derrick Pouliot has scored 2-3-5 vs. Hershey.
Scouting the Bears – 37-year-old captain Matt Moulson paces the attack with six goals. The former NHL'er had three straight seasons of 30+ goals with the Islanders a decade ago…including one season with head coach Scott Gordon. Recent arrivals from the Taxi Squad, Philippe Maillet and Brian Pinho, have done well. Maillet is a fifth-year pro who won CCM/AHL Player of the Week honors in a week that included a five-assist effort against the Phantoms last Wednesday. The 28-year-old winger has scored 1-7-8 in just three games since joining Hershey. Pinho had two goals against the Phantoms last week and has scored 3-3-6 in just three games.
Special Teams –
Phantoms PP: 16.9%, 17th in AHL. 10-for-40 for 25% last 9 games
Phantoms PK: 90.0% (allow 5-for-50), 1st in the AHL
Hershey PP: 15.5%, 21st in AHL
Hershey PK: 83.1%, 5th in AHL
Phantoms PP vs. Binghamton: 5/28, 17.9%
Hershey PP vs. Phantoms: 1/18, 5.6%
Upcoming – Lehigh Valley hosts the Wilkes-Barre/Scranton Penguins on Saturday, April 3 then travels to Newark to tangle with the Binghamton Devils on Monday, April 5.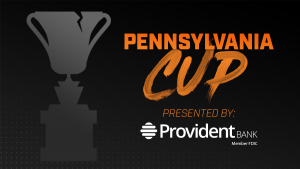 Provident Bank Pennsylvania Cup
Bears 6-3-2 = 14
Phantoms 6-3-1 = 13
Penguins 3-4-2 = 8
Mar 28: Bears 3 – Penguins 1
Mar 31: Bears at Phantoms
Apr 3: Penguins at Phantoms