Flyers have TEN picks in NHL Draft Wednesday and Thursday in Nashville
The future of the Phantoms and the Flyers is just around the corner. Much of the focus will be on the two first-round picks the Flyers currently have for the 2023 NHL Entry Draft coming up Wednesday, June 28 and Thursday, June 29. Philadelphia has selections in the #7 and #22 positions and will be able to snag a pair of quality prospects both of whom we may someday see with the Lehigh Valley Phantoms.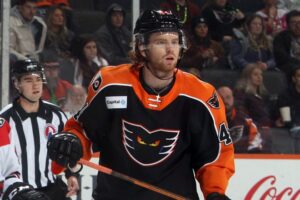 Recent Philadelphia Flyers' first-rounders who have suited up for the Lehigh Valley Phantoms have included Tyson Foerster, Cam York, Joel Farabee and Morgan Frost. A seventh-overall pick may not necessarily end up with Lehigh Valley if he is deemed ready to make the jump quickly to the NHL. That happened for #7 overall pick in 2015 Ivan Provorov for example. But a #22 overall selection is very likely to join the Phantoms at some point.
In total, eight Flyers first-rounders have played for the Lehigh Valley Phantoms also including Scott Laughton, Sam Morin, Travis Sanheim and German Rubtsov.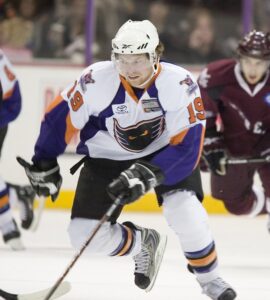 The most prominent #22 pick for the Philadelphia Flyers was a talented scorer named Claude Giroux who was picked at that spot in the 2006 Draft and then debuted for the Philadelphia Phantoms at the end of that season playing five games on an Amateur Tryout Contract. Giroux did not fully join the Phantoms and the professional ranks for another two seasons when he was 20 years old in the 2008-09 campaign. He played 33 games with the Philadelphia Phantoms and scored 17 goals with 17 assists while being named to the AHL All-Star Classic prior to his recall to the Philadelphia Flyers where he would go on to become an NHL star suiting up in 1,000 games for the big club.
Other Philadelphia acquisitions at the #22 spot? Simon Gagne in 1998 was deemed ready for the NHL two seasons later and bypassed the American Hockey League. That's something of a rarity for a late first-rounder but it does happen sometimes.
And there was also goaltender Brian Boucher in the 1995 draft was also taken by the Flyers with the 22nd overall choice prior to joining the Philadelphia Phantoms two seasons later when he began his professional career in 1997-98 and 1998-99.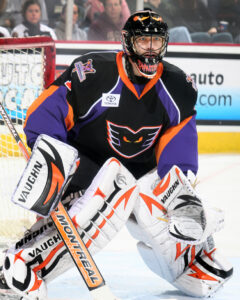 The 2023 Draft Class is considered to be especially deep, particularly at the forward position. That bodes well for upcoming seasons in Lehigh Valley where the Phantoms can expect to see a bevy of young talents to add to the always-growing rotation of young prospects who have donned the team's crest logo in orange and black sweaters.
Whoever is chosen won't make it to the AHL right away. 18-year-old draft-eligible players typically have more seasons upcoming to continue their development in juniors, college or European leagues before they would eventually make it to the Lehigh Valley Phantoms with aspirations of playing for the Philadelphia Flyers. So the names we hear in the draft are probably not going to be coming to the Lehigh Valley until 2024-25 or 2025-26 or perhaps even later. But it is still fun to project. The Future of the Flyers naturally relates hand-in-hand to The Future of the Phantoms.
And then there will be many more! Ten total picks in the NHL Draft is a lot. And there are always gems to be found past the original wave of high-profile first-round selections.
Philadelphia Flyers general manager Daniel Briere and assistant general manager Brent Flahr discussed with the media their mindset entering the 2023 NHL Entry Draft:
by Bill Meltzer @BillMeltzer / philadelphiaflyers.com
Five Takeaways: Briere and Flahr Discuss 2023 Draft
Flyers general manager Daniel Briere and assistant general manager Brent Flahr held their pre-Draft press conference on Thursday at the Flyers Training Center in Voorhees. For rookie GM Briere, it's his first time at the helm for a Draft.
"It's been exciting. There's been a lot of activity and I'm excited," Briere said.
"First draft, having a chance to have two first-round picks on top of it, I think it's good. You can kind of feel the energy too from our staff and our amateur scouts having to dig in a little deeper. You prepare going into it thinking about the seventh pick, but now all of a sudden, you're telling them all you got to know the list all the way down because there might be something different. It was good because they got a little bit of prep – they were in town, we were together in Buffalo, they were in town after that – so it forced them to dig in a little deeper for their list, so you can feel the excitement on their part."
Here are five key takeaways from the session.
1. A deep Draft for forwards
Prominent pundit Craig Button, a former NHL scouting director and general manager, has estimated that there are between 20 to 24 or 25 players in the 2003 Draft pool whom he believes have top-six forward or top-four defenseman upside. While neither Briere nor Flahr put a number to where they see the "tiers" in this year's Draft where the potential ceilings of players drop, both agreed that this is a deeper-than average Draft.
That is especially true for the forward crop. Flahr said on Thursday that while there are a handful of first-round caliber defensemen available, the talent this year skews toward a deep pool of projectable forwards and a relatively shallow pool of defensemen.
"There are some quality defensemen, I think, in the first round, but overall I don't think it's a real deep draft for defensemen," Flahr said.
2. Briere not optimistic of picking up an additional first-round
The hockey rumor mill has it that the Flyers, who hold the seventh and 22nd picks in the first round, are hot on the trail of a couple potential deals that could bring at least one additional first-rounder to Philadelphia. Briere threw cold water on the speculation, saying that such a deal does not seem realistic at present but that you have to have a willing "dance partner" to make the scenario into a reality.
However, Briere said he's had an uptick in receiving trade-related calls within the last week, as well other general managers being more inclined to immediately field such calls he initiated by Philly. The volume of discussions should pick up even further when teams arrive in Nashville next week.
At present the Flyers will not pick again after their first two-rounders until late in the third round (87th overall). Briere said that he has interest in bridging the gap by adding a pick or two in between. That will, of course, depend on what deals there are to be made between now and then.
"That's not a secret. We'd like to add. Like Brent said, there's some depth in this draft, so if we have the chance, yes, we would like to add in that gap between 22 and 87," Briere said.
3. The Russian Factor: Michkov and beyond
Much has been said and written about where Russian right winger Matvei Michkov will ultimately be selected in this year's Draft, and whether he will, in fact, come over to North America in three years when his current KHL contract expires. Is there a chance that he, like Kirill Kaprizov, winds up signing a KHL extension that would push out his NHL arrival to when he's 23 or 24? How much does the current geopolitical situation increase the risk factor?
Michkov did not attend the recent NHL Draft Combine in Buffalo (no Russian players did) but he will be at Nashville for the Draft itself. Several NHL clubs are reported to have asked Michkov's agent for permission to speak to him before the Draft. Briere confirmed during Thursday's press conference that the Flyers are one of the teams that has asked to speak to the highly touted player and he expects that the interview will happen.
While almost all mainstream media reports on Russians in the 2023 Draft focus largely or exclusively on Michkov, there are at least three other Russian players — left winger Daniil But, defenseman Dmitri Simashev and defenseman Mikhail Gulyayev — whom many scouts believe would be slam-dunk first-round talents (top 20 even) if they hailed from other countries. As it is, they are wildcards as to where they'll be taken. Could one or more be an option when the 22nd overall pick comes up?
"We've spent a lot of time [analyzing the possibilities]. We're like every other team as far as the Russian players. It's a good year in Russia. Unfortunately, we weren't allowed to be there personally, but Kenny Hoodikoff, our Russian dcout, has met with these players, spent a lot of time watching them live. We spent a lot of time watching them on video," Flahr said.
"There are some quality players from Russia that are going to go high in this draft, probably before we pick, maybe even at 22, so that's an evaluation. Obviously, we will put our list together as we see fit, but for whatever reason it is a strong year in Russia, and we'll have to make a decision."
Flahr suspects all of the top Russians will ultimately be selected right about where teams rate them on a "best player available" list as with every other player in the Draft.
4. Not a race to the NHL
Along similar lines, both Briere and Flahr said there are not many picks in this year's Draft who are likely to jump immediately to the NHL level nor is ETA by 2024-25 a big priority. Rather than putting a big priority on ETA in the NHL, the focus is on the long-term future.
"We're looking for guys who will be the best players in three or four years," Flahr said.
In terms of establishing a final rankings list, there is sometimes a "recency bias" in scouting. The IIHF Under-18 World Championships saw a handful of players jump up afterwards in publicly available rankings, for example.
Flahr said there is danger in reading too much into any small sample sizes of games. The U18s (and Under-20 World Junior Championships for those who get the chance to play in that tourney during their Draft-eligible season) are a very high-profile showcase. Noneless, it's still just a small sampling of no more than seven games. There's a danger in placing too much weight on that sample and less on a full season of viewings and consistency of progress from start to finish.
5. Good Draft for goalies
Locally, there has not been much focus on the crop of goaltenders available in the 2023 Draft, possibly even including one in the first-round (hulking USHL goalie Michal Hrabel being the most-hyped name). Overall, Flahr acknowledged that there's a good crop of promising goalies available and expects that, at some point, there will be a run of multiple goalies being selected in close proximity in the Draft order. As for the Flyers, Flahr said it would nice if Philly could add another goalie into the prospect pipeline at some point of this year's Draft. However, Philly won't pick a goalie just for the sake of picking a goalie.
Briere noted that beyond Carter Hart at the NHL level, the Flyers "are excited" about some of the goalie prospects at other levels. This would include Samuel Ersson and Belarusian goalie Alexei Kolosov. Both netminders are widely considered to have NHL potential, possibly even as starter-caliber goalies.
I"t's pretty exciting what's going on and what's coming up. Not just with the Flyers, but the farm system too. We have some good goalies coming up. Guys that could turn out to be high-end. So yeah, we'd like if possible, to find another one and keep growing that. I don't think in the past that's always been a strength of the Flyers, so it's exciting knowing that we have some prospects that could develop into really high-end goaltenders," Briere said.
Added Flahr, "In saying that, it's a pretty good goalie draft. There is depth at the goaltending position. I think you'll see as soon as the first one goes, there is going to be a string of them go. There is some depth in that position, and typically we've always tried to take a goalie. Now if they all go, then you're not just drafting a goalie to draft a goalie, but there is some depth, so I would assume at some point we would have a chance to get one."
Facebook Share
Twitter Share
LinkedIn Share