Will Focus on Player Development with Phantoms and Flyers Prospects
June 15, 2023
The Philadelphia Flyers today announced the club has named John LeClair to the position of Special Advisor to Hockey Operations, according to General Manager Daniel Briere.
LeClair, 53, will work alongside Patrick Sharp and will be involved in all aspects of the club's hockey operations department with a strong focus on player development with Flyers prospects.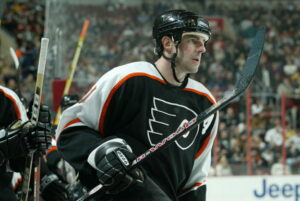 "Adding in John LeClair to work in conjunction with Patrick Sharp and the rest of our hockey operations group will be a powerful combination with their vast hockey knowledge and a 'team-first' mentality," said President of Hockey Operations Keith Jones. "John has been around the NHL and the game for a long time and knows what it takes to bring the core ethics of our foundation to the Philadelphia Flyers."
"We have another great addition to our hockey operations team in John LeClair," said Briere. "John's hockey resume speaks for itself. His passion for the city of Philadelphia along with his strong leadership skills will be a key component to building our team back into its winning ways."
"I'm extremely excited and honored to be named a Special Advisor to Hockey Operations," said LeClair. "I'm most looking forward to being a part of this group and ensuring our number one priority is to bring the Stanley Cup to Philadelphia."
LeClair was originally selected by the Montreal Canadiens in the second round (33rd overall) of the 1987 NHL Draft and was a member of the Canadiens' Stanley Cup winning team in 1993. The St. Albans, Vt., native represented the United States at the 1988 and 1989 IIHF World Junior Championships, won a gold medal at the 1996 World Cup of Hockey, played in the 1998 Winter Olympics in Nagano, Japan, and won a silver medal at the 2002 Winter Olympics in Salt Lake City.
LeClair recorded 819 points (406-413=819) in 967 career NHL games in 16 seasons (1990-2007) with Montreal, Philadelphia and Pittsburgh. The former winger tallied 89 points (42-47=89) in 154 career Stanley Cup Playoff games. The long-time Flyers alternate captain was famously part of the "Legion of Doom" line with Eric Lindros and Mikael Renberg and became the first American-born NHL player, second Flyer, to register three consecutive 50-goal seasons.
LeClair was inducted into the University of Vermont Athletic Hall of Fame in 2001, the United States Hockey Hall of Fame in 2009, the Vermont Sports Hall of Fame in 2012 and the Flyers Hall of Fame in 2014.