Martel, Vecchione and Aube-Kubel are using speed to separate themselves from the competition
By Russ Hryvnak
Speed is a measurement of how quickly an object moves from one place to another.
Speed is also something that the Lehigh Valley Phantoms line of forwards Danick Martel, Mike Vecchione and Nic Aube-Kubel have a little extra to burn.
And it's something, that's giving the trio a distinct advantage over their competition in the American Hockey League this season.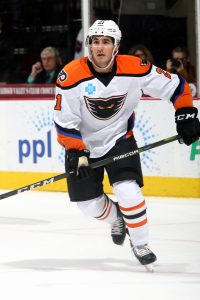 "Our speed is one of the best assets for us," Vecchione said.  "We're all pretty fast guys and we can create a lot of havoc on [defensemen] by dumping pucks in and retrieving them.  When we are making little chip plays behind the defense and retrieving those pucks, it's tough for them to make a read on it and that's just worked out for us really well."
Over the course of the first seven games that the Phantoms have played, the three have a combined 12 goals and 11 assists for 23 points.  Placing all three forwards in the top five of scoring on the team — Martel with seven goals and three assists, Vecchione with two goal and six helpers and Aube-Kubel with three goals and two assists.
As of Wednesday night, Martel was tied for the league lead in goals and Vecchione was second in the league in terms of rookie scoring, continuing his point-per-game production.
"Looking back at the goals that our line has had, they have all been because of our speed," Vecchione recalled.  "Being fast guys, we want to play at a high tempo at all times.  In the defensive zone, we want to get out as quickly as possible and move up the ice.  In the offensive zone, we are always trying to move the puck east to west and just create some space for ourselves."
22-year-old Martel has netted over 20 goals in both of his past two professional seasons, and his new line has him on pace to meet and perhaps even surpass that mark by season's end.  While speed is something that he credits for the line's successes thus far, he was also quick — that pun was intended — to point out that his experience is playing a big role in it as well.
"I think it's more the experience that's coming through [this year]," Martel said.  "It's my third year and I've learned a lot over the last two, I just keep going and play my role.
"It's way easier when I play with speedy guys too.  [Aube-Kubel] is a strong guy with really good speed and [Vecchione] is a good passer and a good skater too.  For me, this is the best I could have, and it's going really well, so, let's keep going."
Martel also mentioned that despite having a 5-foot-8-inch frame, he's not afraid to use his speed to get into the dirty areas in order to put the puck in the net.
"My speed has always been something that's been better than the other guys," he noted.  "Even if I'm small, if I've got to battle in the front of the net, I'm going to take my place.  I'm not scared of anything.  Some guys may be smaller and work less, but I think I'm working hard enough to make sure that my height is not making any difference on my [game]."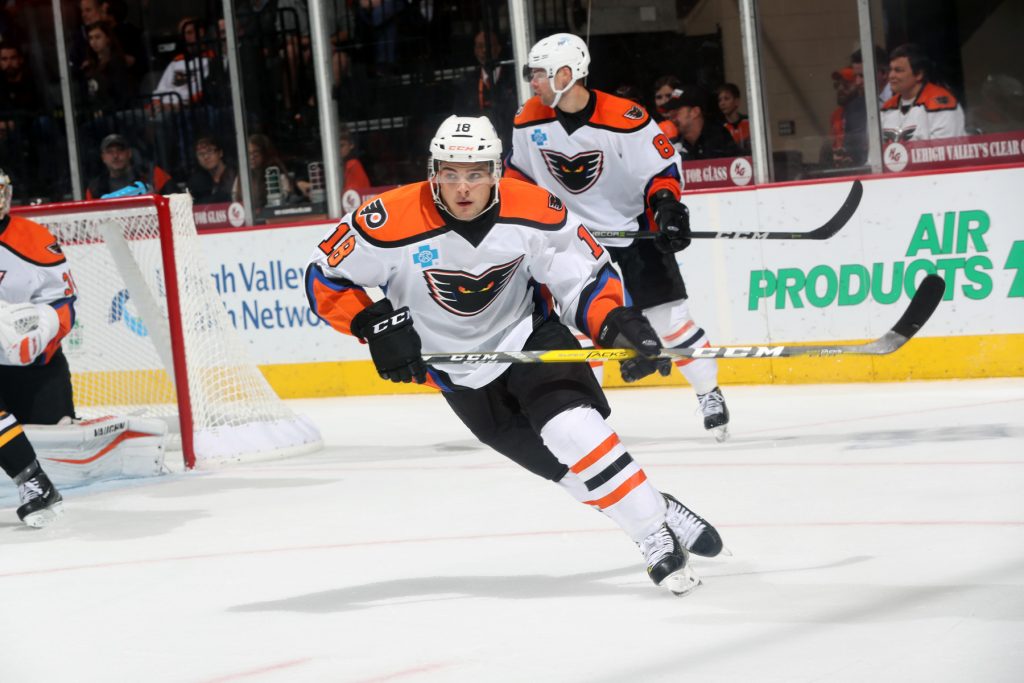 While playing with Aube-Kubel may be something that Martel is used to, as the two were mainly paired with current Philadelphia Flyer Jordan Weal last season, the two seem no worse for wear with the addition of the rookie out of Union College.
Vecchione said that the trio's off-ice relationship has also played a part in making the three so lethal on the ice.
"We really developed a good relationship through training camp," Vecchione said.  "I was roommates with Nic and that's how we got a good feel for each other.  Then Danick would come over and hang out so we just kind of got to know each other pretty well off the ice.
"We get to the rink around the same time, hang out, get out on the ice and pass pucks or whatever.  When we found out we were a line, we got together and we were excited about it because we had that relationship already."
Although the 24-year-old Vecchione agreed that he and his line mate's are off to a solid start this season, the Phantoms coaching staff has let him know that although speed is important, finishing the race is even more crucial.
"It's a marathon, not a sprint." Vecchione said with a smirk.  "That's what we've been told.  So as long as we can stay consistent, stay healthy and stay fresh, hopefully we can continue to do this throughout the year."