Hamel Led Adirondack in Goals in 2010-11 and 2011-12
October 10, 2019
Lehigh Valley, Pa.- The American Hockey League today announced the four people selected for induction into the American Hockey League Hall of Fame as the Class of 2020, including former Adirondack Phantoms forward, Denis Hamel.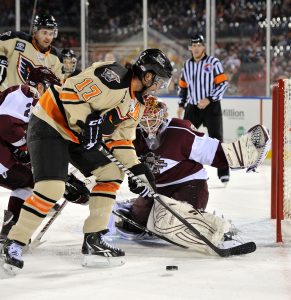 Hamel played two seasons for the Adirondack Phantoms from 2010-2012 and led the Phantoms in scoring during each season, posting 25 and 23 goals. Overall, he played 140 games for Adirondack and totaled 48 goals and 48 assists for 96 points and 64 penalty minutes. Hamel becomes the sixth member of the Phantoms franchise to be inducted to the AHL Hall of Fame, joining Rob Murray (Inducted in 2007), John Paddock (Inducted in 2010), John Stevens (Inducted in 2012), Peter White (Inducted in 2013) and John Slaney (Inducted in 2014).
"Being inducted into the AHL Hall of Fame is one of the highest accomplishments possible in all of hockey, so we congratulate Denis on this special honor," said Phantoms owner, Jim Brooks. "The time Denis spent with us in Adirondack, he was a true professional, and it is our pleasure to have him among our alumni. Denis is a true Hall of Famer!"
A native of Lachute, Quebec, Hamel played 850 career American Hockey League games, registering 651 points on 338 goals and 313 assists. Hamel played 12 seasons in the AHL, spending the first four years with the Rochester Americans, six with the Binghamton Senators, and finishing his career with two seasons in Adirondack. Hamel was a three time AHL All-Star (2000, 2006, 2008), led the AHL in goals during the 2006 season, and was named the 2008 AHL Man of the Year. He currently ranks 11th in AHL history with 338 goals, topping the 20-goal mark in each of his last 10 seasons in the AHL, including his two with the Phantoms.
Originally drafted in the sixth round (#153) of the 1995 NHL Draft by the St. Louis Blues, Hamel played 192 career NHL games, including seven with the Philadelphia Flyers during the 2006-07 season.
The 2020 AHL Hall of Fame induction ceremony will take place on January 27, 2020 as part of the 2020 AHL All-Star Classic in Ontario, California presented by Ontario International Airport. Hamel will be inducted alongside Robbie Ftorek, Darren Haydar and Fred Thurier.