May 5, 2021
(From Philadelphia Flyers)
Philadelphia, PA – The Philadelphia Flyers have signed forwards Elliot Desnoyers and Olle Lycksell to entry-level contracts that begin next season, according to President of Hockey Operations & General Manager Chuck Fletcher.
Desnoyers, 19 (1/21/2002),played his third season in the Quebec Major Junior Hockey League in 2020-21 and first with the Halifax Mooseheads, where he scored 21 goals and added 28 assists for 49 points in 37 games. That was an improvement of 14 points in 24 fewer games from 2019-20, when he had 11 goals and 24 assists for 35 points in his second season with the Moncton Wildcats.
"Elliot Desnoyers had a productive year in Halifax and played a strong, two-way game with lots of passion," said Flyers Vice President & Assistant General Manager Brent Flahr. "As he matures physically and gets stronger, his game should continue to grow."
A 5-11, 172-lb native of St-Hyacinthe, Quebec, Desnoyers was selected by the Flyers in the fifth round (135th overall) of the 2020 NHL Entry Draft.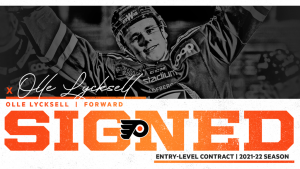 Lycksell, 21 (8/24/1999), played his third season in the Swedish Hockey League, Sweden's top professional league, in 2020-21. He showed steady improvement over his three SHL seasons, first recording 12 points (5G, 7A) over 51 games in 2018-19 with Linkoping HC and improving to 21 points (9G, 12A) in 51 games in 2019-20. He recorded that same total in 2020-21 with Farjestad BK, but did so in five fewer games.
"Olle Lycksell has continued to grow his overall game since being drafted in 2017," Flahr said. "It's taken some time for him to mature physically but he's worked hard on his body and overall game. He had a strong second half for Farjestads and we look for him to continue to grow his game."
A 5-11, 176-lb native of Oskarshamn, Sweden, Lycksell represented his country at the 2019 and 2020 World Junior Championships. He was selected by the Flyers in the sixth round (168th overall) of the 2017 NHL Entry Draft.