Learning About Some Future Phantoms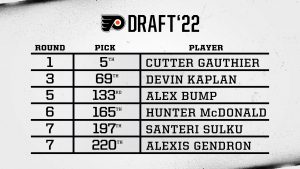 July 9, 2022
We can expect some of these newest members of the Philadelphia Flyers' family to join the Lehigh Valley Phantoms in the years to come. They likely won't make it to Allentown for a few years though as these young talents have commitments to play collegiately or in other leagues first.
Time to take a look at the players whom the Flyers selected in the 2022 NHL Entry in Montreal…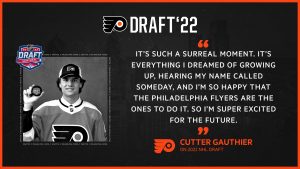 Round 1 – #5 Overall
Cutter Gauthier – F, Shoots Left –  18 years old, 6-2 189
The Arizona native played with the US National Development Team where he racked up 19-9-28 in just 22 games. He will be playing at Boston College in the fall.
Cutter Gauthier has Philly-area ties. His Mom is from Reading and his aunt lives in the Philadelphia area. His Dad, Sean Gauthier, met his Mom while playing goalie for the Reading Royals in 2001-02. The Royals were not a Flyers affiliate at that time.
Sean Gauthier was 12-8-2, 2.26, .913 with Reading in 2001-02. He also played one game in the NHL with San Jose and had several stints in the AHL with the Louisville Panthers, Kentucky Thoroughblades, Moncton Hawks and St. John's Maple Leafs. With the Louisville Panthers from 1999-2001, Sean Gauthier was in the Florida Panthers' system when Chuck Fletcher was Assistant GM of Florida and was also responsible for the players in Louisville.
It is all coming full circle in some ways for Cutter Gauthier and his family!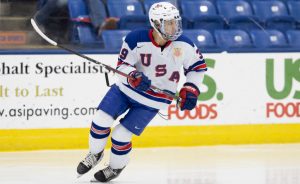 Round 3
Devin Kaplan – RW, Shoots Right – 18 years old, 6-2 199
Kaplan is from Bridgewater, NJ and played for the North Jersey Avalanche as a kid. He is also a product of the US National Development Program where he scored 8-0-18 in 22 games. The big forward will play at Boston University in the fall.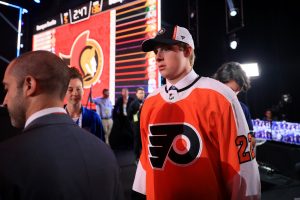 Round 5
Alex Bump – LW, Shoots Left – 18 years old, 6-0 195
The Prior Lake, Minnesota native was considered one of the best high school players in the country after he scored a whopping 48-35-83 as a senior to be named AP Minnesota Player of the Year. He even had FIVE goals in a quarterfinal state tournament upset win.
Bump will play for the Omaha Lancers of the USHL this season and after that is off to the University of Vermont for the 2023-24 season.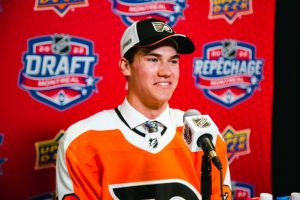 Round 6
Hunter McDonald – D, Shoots Left, 20 years old, 6-4 207
Another American draft choice for the Flyers, McDonald is from Fiarport, NY near Rochester (same hometown as popular Phantoms alum Cole Bardreau). He's a big guy and at long last heard his name called at the draft after being passed over in two previous seasons. Last year, he played for the Omaha Lancers and Chicago Steel of the USHL. Now he is off to Northeastern University in Boston where he will suit up for the Huskies.
Round 7
Santeri Sulku – F, Shoots Left, 18 years old, 6-4 194
Sulku was born in Helsinki, Finland but has also lived in Sweden. Sulku is slated to play Swedish Under-20 juniors with MoDo this season.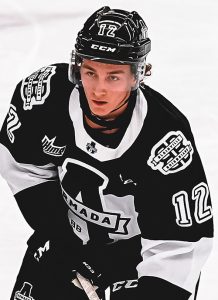 Round 7
Alexis Gendron – RW, Shoots Left, 18 years old, 5-9 175
The speedy winger from Olten, Quebec can put up the points. 30-16-46 in 66 games in the QMJHL in 2021-22 at just 18 years old with the Blainville-Boisbriand Armada. Gendron also has Flyers ties; His Dad is Martin Gendron who is a Flyers Quebec-based amateur scout. Martin said he didn't want his son to be picked by the Flyers. Just too awkward…But others in Flyers management overruled him and said they wanted to get this kid!
Martin Gendron played 30 games in the NHL with Washington and Chicago in the 1990s. He won back-to-back Gold Medals at the World Juniors in 1993 and 1994 including leading his team in scoring with 6-4-10 in the 1994 tournament. Martin's AHL career encompassed 283 games in which he scored 138 goals with 134 assists for 272 points with the Portland Pirates, Fredericton Canadiens, Syracuse Crunch and Springfield Falcons. He also once had 51 goals in a single season with the Las Vegas Thunder in the former IHL in 1996-97. Yup, looks like scoring goals runs in the Gendron family bloodlines.
PPL Center is pleased to welcome the return of hockey season on Friday, September 16 and Saturday, September 17 featuring the Philadelphia Flyers and New York Rangers in a pair of compelling Rookie Games.
Don't miss the action as the Lehigh Valley Phantoms return this October! More information on joining our new Phantoms Premier Membership program for the 2022-23 season is available HERE