Zengerle & Martel Convert 6 Seconds Apart in Front of Lyon (27 Saves) Shutout
February 8, 2017
Lehigh Valley, PA – Mark Zengerle and Danick Martel scored just six seconds apart in the first period for the fastest goals in franchise history and Robert Hagg converted on his birthday as the Lehigh Valley Phantoms blanked the Binghamton Senators 5-0 Wednesday evening in front of 6,429 fans at PPL Center. With the win, the Phantoms earned their fifth win over the last seven games and the team's seventh triumph over the club's last 10 outings.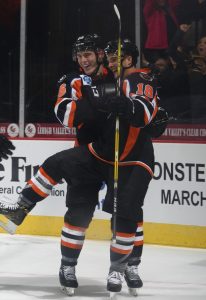 With Wednesday's victory, Lehigh Valley improved to 31-13-2 overall this season and maintained sole possession of second place both in the Atlantic Division and AHL standings. The Phantoms are now 5-0 this year against Binghamton and an impressive 16-5-1 when skating in front of their home fans at PPL Center.
Zengerle (9th), Martel (12th), Hagg (4th), Scott Laughton (11th) and Samuel Morin (3rd) provided the offense Wednesday evening in front of goaltender Alex Lyon who authored his third shutout of the season with a solid 27-save performance. With the win, Lyon improved to 20-8-2 overall this season and is now tied for the AHL lead for wins among netminders.
Five different Lehigh Valley skaters enjoyed multi-point efforts on Wednesday, including Morin (goal, assist), Hagg (goal, assist), Zengerle (goal, assist), Corban Knight (2 assists) and All-Star forward Jordan Weal (2 assists).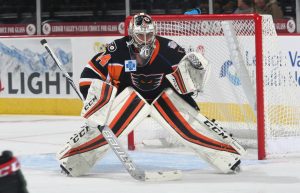 Wednesday's outing marked the team-leading 11th multi-point game this season for Weal who was honored in advance of Wednesday's puck drop for being recently named the CCM/AHL Player of the Month for January (11 games, 14 points). Meanwhile, Laughton remained red-hot offensively as he converted his eighth goal over his last 14 games.
The Phantoms opened the scoring just past the midway point of the first period when a pass from Knight from below the Binghamton goal line connected with Zengerle in the slot who quickly snapped home a perfect shot into the upper right-hand corner of the net for his ninth goal of the season. Knight and Morin assisted on the even-strength strike tallied 12:56 into the opening frame. Zengerle's conversion marked the 29th time in 46 games this year that Lehigh Valley has netted the game's opening goal as the Phantoms moved to 23-6 when scoring first this season.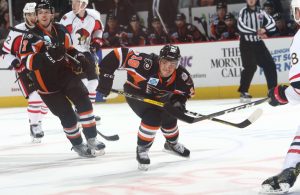 Lehigh Valley wasted little time in doubling its advantage as, just six seconds later, Martel came darting down the slot before deftly using the backhand to send home his 12th goal of the year. Nic Aube-Kubel and Weal assisted on the five-on-five conversion netted 13:02 into the first period. Zengerle and Martel's goals marked the fastest two goals scored in franchise history besting a pair of conversions just eight seconds apart by Dan Peters and Joe Sacco as members of the Philadelphia Phantoms in a game on January 10, 2003.
The Phantoms then extended their lead to a 4-0 advantage thanks to a pair of second-period tallies. First, Hagg, in the midst of celebrating his 22nd birthday, netted his fourth goal of the season when a drive from the high slot deflected off a Senators stick and high into the air before floating over the head of Binghamton goaltender Chris Driedger and into the back of the cage. T.J. Brennan and Weal assisted on the five-on-five tally generated 13:11 into the middle stanza. Then, in the final minute of the period, Laughton won a battle for a loose puck at the side of the net before jabbing in his 11th goal of year. Knight and Zengerle assisted on the even-strength strike scored 19:12 into the second period.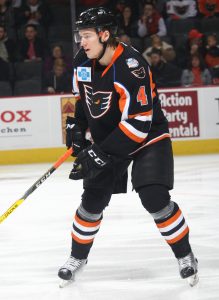 Lehigh Valley capped its impressive performance just past the midway point of the third period when Morin lifted a shot from the left point that eluded traffic in front before settling into the back of the Senators' cage. Hagg and Cole Bardreau assisted on the defenseman's third goal of the season which came 11:25 into the final frame in regulation.
The Phantoms continue this week's three-game home stand this Friday, February 10 and Saturday, February 11 when they welcome the St. John's IceCaps, AHL affiliate of the Montreal Canadiens, to town for a two-game series. Friday's game, which is presented by 69 WFMZ-TV, features a T-Shirt Giveaway free to the first 8,500 fans in attendance presented by Capital BlueCross, Lehigh Valley Health Network, Service Electric Cable TV & Communications and Carpenters Union #167. Then, on Saturday, it's one of the most highly-anticipated promotions of the season as fans are encouraged to stick around after the game for a Post-Game Autograph Session with Phantoms Players. A limited number of tickets remain for both Friday and Saturday's game and can be purchased online HERE.
Binghamton Senators 0 at Lehigh Valley Phantoms 5 – Status: Final
Wednesday, February 8, 2017 – PPL Center
Binghamton 0 0 0 – 0
Lehigh Valley 2 2 1 – 5
1st Period-1, Lehigh Valley, Zengerle 9 (Knight, Morin), 12:56. 2, Lehigh Valley, Martel 12 (Aube-Kubel, Weal), 13:02. Penalties-Miele Lv (tripping), 13:14; Harpur Bng (boarding, fighting), 14:33; Knight Lv (fighting), 14:33; Nehring Bng (slashing), 18:22.
2nd Period-3, Lehigh Valley, Hagg 4 (Brennan, Weal), 13:11. 4, Lehigh Valley, Laughton 11 (Knight, Zengerle), 19:12. Penalties-No Penalties
3rd Period-5, Lehigh Valley, Morin 3 (Hagg, Bardreau), 11:25. Penalties-Weal Lv (holding, unsportsmanlike conduct), 1:48; Kostka Bng (tripping), 8:30; Hagg Lv (hooking), 12:36.
Shots on Goal-Binghamton 9-10-8-27. Lehigh Valley 17-15-15-47.
Power Play Opportunities-Binghamton 0 / 4; Lehigh Valley 0 / 3.
Goalies-Binghamton, Driedger 9-9-2 (47 shots-42 saves). Lehigh Valley, Lyon 20-8-2 (27 shots-27 saves).
A-6,429
Referees-Cameron Voss (41).
Linesmen-Kory Nagy (97), Tim Lyons (33).