Comebacks Have Been Hallmark of Wild Rivalry Series
March 9, 2016
Wilkes-Barre, PA – The Lehigh Valley Phantoms and Wilkes-Barre/Scranton Penguins have had their fair share of wild comebacks in their season rivalry series. This time around it was the Penguins who overcame a 5-2 third-period deficit en route to a 6-5 overtime decision against the Phantoms who secured a standings point on the road on Wednesday night but just missed out on their opportunity for another.
Pictures courtesy JustSports. The Phantoms were paced by five different goal scorers as Kevin Goumas (6th), Cole Bardreau (11th), Phil DeSimone (5th), Adam Comrie (4th) and Danick Martel (21st) all rippled the twine for the visitors. Aaron Palushaj and Taylor Leier also contributed to the attack with two assists apiece.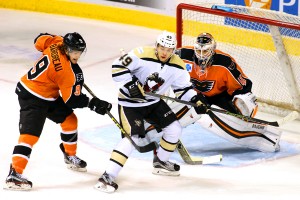 The Penguins were paced by their grey-beard captain, Tom Kostopoulos, who racked up five assists in the comeback effort. Jean-Sebastian Dea capped the frenetic Penguins rally with just 4.1 seconds remaining in the third period with the equalizer and then Carter Rowney's second strike of the night was good for the overtime winner. Kael Mouillierat (14th) and Jarret Burton (1st) scored 44 seconds apart earlier in the third period to whittle a 5-2 deficit down to just a single strike.
Lehigh Valley still looked good to escape with the victory but a late pinballing puck desperately fired into the slot in the waning seconds would eventually bound out to Dea on the left of the cage who chipped home the tying strike just before the Phantoms would have walked away with their fourth consecutive win in Wilkes-Barre. With the regulation-tie, the Phantoms have secured points in each of four straight visitations to northeast Pennsylvania.
Just over a month earlier, Lehigh Valley had rallied from a two-goal deficit in the third period against the Penguins to post a thrilling overtime victory at PPL Center on Cole Bardreau's winner. Indeed, that seems to have been a hallmark of the series. Even all the way back to the preseason games between the Phantoms and Penguins there were a pair of three-goal comebacks on each other's home ice as well as a three-goal swing in the Wilkes-Barre home opener against Lehigh Valley on October 17 in perhaps an early preview of the craziness that was to come in this relatively wacky rivalry.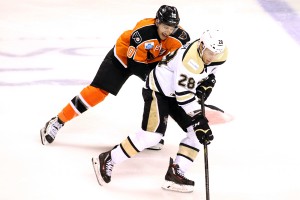 The Phantoms had the early jump on starting goalie Brian Foster with Kevin Goumas depositing his second goal in a week on a drive in the slot fed to him from the side of the goal by Danick Martel. The Phantoms were up 1-0 less than six minutes into the contest.
Veteran defenseman Steve Oleksy knotted the game at 1-1 for the Penguins with his seeing-eye shot from the right point that just eluded a screened Anthony Stolarz at 10:46 into the game.
The Phantoms were not long for a response and retook the advantage just 72 seconds later on Cole Bardreau's blast in the slot dropped his way by Petr Straka. The Phantoms led 2-1 having scored twice on just four shots against Foster at that point.
The Phantoms came out in the middle frame determined to continue their momentum. Phil DeSimone tallied from the side of the cage on a fine entry by Chris Conner who recorded his team-leading 30th assist and 41st point of the year.
Holding onto the 3-1 lead, Stolarz made perhaps his best save of the season diving across to miraculously get a glove on Derek Army's big drive on the back-door. Stolarz pulled the splits to get there in time and made an incredible stop that even drew ooh's and aah's from the mostly Penguins-partisan contingent.
The Phantoms would lead by a three-goal margin for the first of two occasions when Adam Comrie's monster slapper on the power play from inside center-point on a blocked shot that rebounded his way would scream through the glove side of Foster for a 4-1 score at 5:14 into the middle period.
Wilkes-Barre's answer came exactly one minute later on a Carter Rowney deflection down low of a Will O'Neill power-play slapper from center-point. That goal at 6:14 into the second period cut the Phantoms' lead down to 4-2.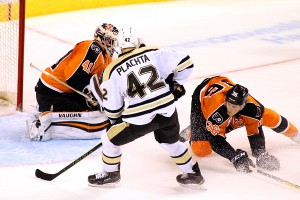 Again the visitors would move in front by three and again they would do it on the power play. Max Lamarche from center point would connect right onto the tape of Danick Martel stationed in the left-slot for a chip to the blocker side of the goalie. Martel's team-leading 21st goal of the season made the score 5-2 at 16:23 into the second period and was practically a carbon-copy of a very similar Lamarche-to-Martel power-play connection at Syracuse exactly one week prior.
The Penguins changed goalies for the third entering ECHL try-out contract call-up Frankey Palazzese in his American Hockey League debut. But the new Wilkes-Barre/Scranton netminder wouldn't have to do much as the Phantoms ended up spending their time in efforts to hold off the crazy and desperate Penguins rally.
Lehigh Valley's 5-2 lead with 15 minutes remaining evaporated to just a one-goal advantage when Kael Mouillierat scored on the power play at 5:30 and then Jarret Burton connected just 44 seconds later.
Dea's tying strike with 4.1 seconds left pushed the game onto overtime and although the Phantoms still had secured the one standings point they were on the hunt for an additional tally. But Rowney weaved into the zone in the open ice 3-on-3 overtime frame and drove the winner through the right arm of Stolarz and barely staying inside the left post as it rolled past while just missing going wide.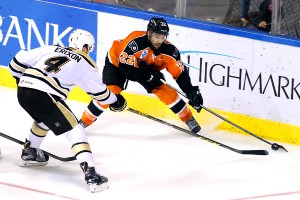 Wilkes-Barre/Scranton out shot the Phantoms by a 41-24 margin. Lehigh Valley was a perfect 2-for-2 on the power play while the host Penguins finished the night at 2-for-4.
The Phantoms and Penguins have met 10 times this season and still have two more tilts to go. The next meeting takes place in Wilkes-Barre on April 8th with the final encounter slated for Friday, April 15th at PPL Center.
The Phantoms continue their five-game road swing on Saturday afternoon at the Hartford Wolf Pack with a 3:00 start against the affiliates of the New York Rangers. Be sure to catch all the action on FOX 1470-AM, online at www.fox1470.com or via the iHeartRadio app beginning with "Countdown to Faceoff" at 2:20 p.m. The Phantoms then travel to Rochester and Toronto next Wednesday and Friday before returning home on Sunday, March 20th for a 5:05 p.m. engagement against the Portland Pirates at PPL Center on Autograph Night with all the players.
RISE UP! Reserve your season tickets and groups now for the 2015-2016 season of Lehigh Valley Phantoms hockey. For more information on how to reserve your seat at PPL Center to the hottest ticket in town, call the Phantoms front office today at 610-224-GOAL (4625)!
Lehigh Valley Phantoms 5 at Wilkes-Barre/Scranton Penguins 6 (OT) – Status: Final
Wednesday, March 9, 2016 – Mohegan Sun Arena at Casey Plaza
Lehigh Valley 2 3 0 0 – 5
W-B/Scranton 1 1 3 1 – 6
1st Period-1, Lehigh Valley, Goumas 6 (Martel, Palushaj), 5:54. 2, W-B/Scranton, Oleksy 2 (Kostopoulos, Plachta), 10:46. 3, Lehigh Valley, Bardreau 11 (Straka, Comrie), 11:58. Penalties-Goulbourne Lv (holding), 7:48.
2nd Period-4, Lehigh Valley, DeSimone 5 (Conner, Leier), 1:16. 5, Lehigh Valley, Comrie 4 (Leier, Bardreau), 5:14 (PP). 6, W-B/Scranton, Rowney 18 (O'Neill, Kostopoulos), 8:14 (PP). 7, Lehigh Valley, Martel 21 (Lamarche, Palushaj), 16:23 (PP). Penalties-Erixon Wbs (slashing), 4:28; Palushaj Lv (bench minor – too many men), 6:59; Erixon Wbs (interference), 14:58; Straka Lv (tripping), 19:42.
3rd Period-8, W-B/Scranton, Mouillierat 14 (Kostopoulos, O'Neill), 5:30 (PP). 9, W-B/Scranton, Burton 1 (Army, Erixon), 6:14. 10, W-B/Scranton, Dea 16 (Kostopoulos, Jeffrey), 19:55. Penalties-Marti Lv (tripping), 4:32.
OT Period-11, W-B/Scranton, Rowney 19 (Erixon, Kostopoulos), 3:28. Penalties-No Penalties
Shots on Goal-Lehigh Valley 11-9-3-1-24. W-B/Scranton 9-16-14-2-41.
Power Play Opportunities-Lehigh Valley 2 / 2; W-B/Scranton 2 / 4.
Goalies-Lehigh Valley, Stolarz 19-14-3 (41 shots-35 saves). W-B/Scranton, Foster 2-3-1 (20 shots-15 saves); Palazzese 1-0-0 (4 shots-4 saves).
A-0
Referees-Peter MacDougall (57), Terry Koharski (10).
Linesmen-Francois Dussureault (60), Tom DellaFranco (71).
Upcoming Home Games:
Sunday, March 20, 2016, Portland Pirates vs. Lehigh Valley Phantoms, 5:05 p.m.
(Post-Game Autographs with Phantoms Players.)
Wednesday, March 23, 2016, Hershey Bears vs. Lehigh Valley Phantoms, 7:05 p.m.
(Health Care Workers Appreciation Night. Non-Profit Awareness Night.)
Friday, March 25, 2016, Providence Bruins vs. Lehigh Valley Phantoms, 7:05 p.m.
Saturday, March 26, 2016, Hartford Wolf Pack vs. Lehigh Valley Phantoms, 7:05 p.m.
(Fan Appreciation Night.)
In the midst of their 20th season of operation, the Phantoms are coming off their Inaugural Season as the Lehigh Valley Phantoms playing at the brand-new PPL Center. Established in 1996, the Phantoms spent their first 13 seasons at the Spectrum in Philadelphia before re-locating to Glens Falls, New York in 2009 where the team spent the next five seasons as the Adirondack Phantoms. A new era of Phantoms hockey began in the fall of 2014 when the Lehigh Valley Phantoms began play at the state-of-the-art PPL Center. Through 19 incredibly successful campaigns, the Phantoms have captured two Calder Cup Championships (1998, 2005), two Conference Championships (1998, 2005), two Regular Season Titles (1996-97, 1997-98) and four Division Championships (1996-97, 1997-98, 1998-99, 2003-04).