Bunnaman Heading to Voorhees Sunday to Prepare for NHL Playoffs
By: Mike Ianniello
When the hockey season officially paused due to the COVID-19 outbreak on March 12, Connor Bunnaman was on the Philadelphia Flyers roster and in Florida getting ready to play against the Tampa Bay Lightning later that night.
The second-year forward played 21 games for the Philadelphia Flyers after initially exceeding expectations and making the team out of training camp and making his NHL debut on October 4 in Prague against the Chicago Blackhawks. Despite finishing second on the Phantoms during the 2018-19 season with 19 goals during his rookie year, the 2016 fourth round pick was expected to start the season in the American Hockey League, even by his own admission.
"No, I didn't really think I was going to make it out of camp," Bunnaman said in an interview on Friday. "Obviously through the summer I saw myself improving through my power skater and my training but going into camp I was just trying to let them see me and that I improved and maybe go to the A and get called up if a guy gets injured. Through camp I was really good and I was playing really well and once cuts started to get made and I was making it through two or three cuts, in the back of mind I thought maybe I can really do this thing. Then we went to Prague and I found out I made it and I was fired up."
After starting the year with the Flyers, and playing four games in the NHL to start the season, Bunnaman was loaned to Lehigh Valley on October 18. He missed 13 games in November with an ankle injury that really slowed down his season and even caused him to struggle at times during his time with Lehigh Valley, which opened the door for other prospects to get a chance with the Flyers. Overall, the Phantoms had 15 players take the ice for both Lehigh Valley and Philadelphia this year, including six making their NHL debuts.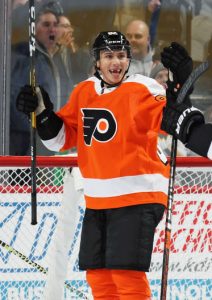 Once Bunnaman eventually got healthy and found his game again, he earned another call-up to the Flyers on January 12 after notching points in four consecutive games, including goals in three straight for the Phantoms. Bunnaman scored his first NHL goal the next night against the Boston Bruins. The Flyers were happy to keep going back to Bunnaman and knew they could trust him in the lineup every night.
"Conner seems to understand his role when he's called up to the Flyers," Philadelphia's Assistant General Manager, Brent Flahr said. "He's a big body, he's versatile, he can play center and wing, and he can be trusted on the ice in a lot of situations. He's a kid that is still learning every day, the overall pace of his play is improving, and he brings a positive attitude every time he comes to the rink."
With the season now being suspended for more than three months, Bunnaman has spent the pause trying to stay in shape the best he's could, even getting creative by lifting with 35-40 pound buckets of water his dad brought home from work. Recently he has been able to get back on the ice and knows he will likely be in the mix once again when the season resumes.
"Recently we have this mini ice in Guelph that's basically the size of a neutral zone, it's mostly for goalies but guys will go out and work on their hands and stuff. My power skater in Toronto just opened up so I've been skating with her. I've been getting on the ice probably three times, sometimes four times a week," Bunnaman said.
With the 2019-20 regular season officially finished, and the Flyers set to return to the playoffs, Bunnaman is excited for his first taste of playoff hockey and at 6-foot-1, 207 lbs., playoff hockey is typically a battle that fits Bunnaman's style of play perfectly.
"Playoff hockey is a grind," Bunnaman said. "There isn't many pretty goals, there's no 50% shifts, and everybody is going out 100% all the time. There's no 5-0 blowout games, it's all 2-1 games so my greasy play, my greasy goals fits in perfectly."
Flyers Assistant General Manager, Brent Flahr also thinks Bunnaman's size and willingness to go to the middle of the ice and use his body will be a big advantage for the style of play typically seen in the playoffs.
"As you know, playoff hockey is heavy, it's hard to get space out there, and you need to be able to get to the net. With his size and his willingness to get to the blue paint, his game should eventually translate well to playoff hockey," Flahr said.
Even if his number isn't called to be in the game lineup, the 22-year-old forward knows that just being part of the NHL playoffs at such a young age and watching the work that goes into a Stanley Cup run, will be a great learning experience and benefit him in the long run.
"It will be huge. Just learning from those guys how much you have to work hard and how much of a grind it is in the playoffs, even more than the regular season," Bunnaman said. "Just the experience of it and watching G and all those guys go through it, I'm just going to absorb as much as I can."
Bunnaman will make the drive from Guelph, Ontario down to Philadelphia on Sunday and begin skating with some of his teammates at the Flyers practice facility in Voorhees before training camps are expected to begin on July 24. The Flyers have told Bunnaman he will be one of the players on the roster when the season returns and to be ready.
"All I've got to do is be ready for whatever comes and if my name is called to be one of the guys in the lineup I've just got to be ready."
And for the latest Phantoms news, visit www.phantomshockey.com or follow the team on Facebook, Twitter (@lvphantoms) and Instagram (@lehighvalleyphantoms).