Another Phantoms Heartstopper in 4-2 Win at Belleville
December 1, 2018
Belleville, Ontario – Chris Conner broke a late 2-2 tie with a penalty-shot goal with just 13.5 seconds remaining pushing the Lehigh Valley Phantoms to another dramatic victory. Taylor Leier's empty-net strike shortly after that provided for a 4-2 final in Belleville over the Senators.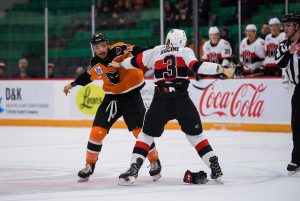 Conner took a lead pass and was in the clear on the breakaway when he was hooked from behind. And the 34-year-old delivered yet again as he frequently seems to do in the big moments. He came straight at goaltender Filip Gustavsson with speed and then slid a little backhander right between the legs of the B-Sens netminder for the crafty winning strike.
Conner's second career penalty-shot goal with the Phantoms is the fifth all-time for Lehigh Valley. It also capped a two-goal night for Conner who now has nine on the season. His initial strike, past the midway point of the game, started the team's comeback in the second period when the Phantoms found themselves down 2-0.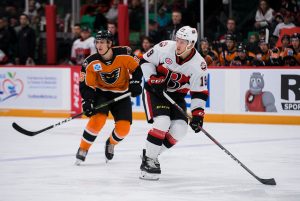 Mike Vecchione (6th) notched a goal and an assist and the Phantoms rallied from behind yet again as has been a frequent occurrence for the defending Atlantic Division champions in the first 20 games of the season.
Alex Lyon repelled 23 of 25 Senators' shots to improve to 3-2-0 while the Phantoms overall record moved to 12-6-2.
Filip Gustavsson played well between the pipes for the Senators but the 20-year-old rookie prospect's bid to hold off the Phantoms fell just short in his 33-save performance.
Both teams were 0-for-5 on the power play. Lehigh Valley's current penalty-kill streak stands at 22 in a row and the Phantoms have successfully thwarted 50 out of 51 opposing power plays in the last 12 games dating back to October 28th.
Conner's penalty-shot goal is the first in over two years for the Phantoms dating back to Nicolas Aube-Kubel who was the last to score one on November 11, 2016 at Utica. Conner's second goal on a penalty shot as a member of the Phantoms puts him in elite company along with Jon Matsumoto as the only players in franchise history to score multiple penalty-shot strikes.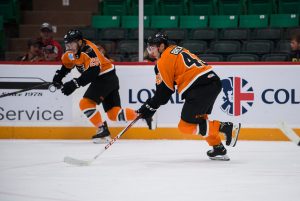 The Phantoms are 2-0 on their current Canadian road-swing and both have been heart-stoppers. The team rallied late on Friday night in Laval, Quebec to post an overtime win on Nicolas Aube-Kubel's conversion. The follow-up on Saturday in Belleville seemed destined for overtime as well before Conner broke the hearts of the Belleville faithful at the end of the game.
Thirty members of the Phan Club booster organization made the over-six-hour trek north of the border all the way from Allentown to cheer for their Phantoms in person.
Lehigh Valley concludes its Canadian road-swing on Sunday afternoon at 4:00 p.m. at the Toronto Marlies in a rematch of last year's Eastern Conference Finals. The Phantoms return to PPL Center for a three-game homestand on Wednesday, Friday and Saturday including the annual Teddy Bear Toss on Saturday night against the Cleveland Monsters.
Lehigh Valley Phantoms 4 at Belleville Senators 2 – Status: Final
Saturday, December 1, 2018 – CAA Arena
Lehigh Valley 0 2 2 – 4
Belleville 1 1 0 – 2
1st Period-1, Belleville, Gagne 2 (Carey), 3:11. Penalties-Samuelsson Lv (delay of game), 8:26; Goulbourne Lv (roughing, fighting), 13:21; Racine Bel (fighting), 13:21; LaBate Bel (tripping), 16:13; Balisy Bel (interference), 16:47; Paul Bel (hooking), 18:47.
2nd Period-2, Belleville, Carey 3 (Rodewald, Sieloff), 3:29. 3, Lehigh Valley, Conner 8 (Palmquist, Vecchione), 12:28. 4, Lehigh Valley, Vecchione 6 (McDonald, Vorobyev), 15:53. Penalties-Palmquist Lv (high-sticking), 6:42; Brennan Lv (tripping), 9:13; Sieloff Bel (kneeing), 13:51; Paul Bel (roughing), 19:38.
3rd Period-5, Lehigh Valley, Conner 9 19:46 (PS). 6, Lehigh Valley, Leier 3 19:55 (EN). Penalties-Vecchione Lv (high-sticking), 5:14.
Shots on Goal-Lehigh Valley 11-10-16-37. Belleville 6-10-9-25.
Power Play Opportunities-Lehigh Valley 0 / 5; Belleville 0 / 5.
Goalies-Lehigh Valley, Lyon 3-2-0 (25 shots-23 saves). Belleville, Gustavsson 5-8-1 (36 shots-33 saves).
A-2,716
Referees-Dave Lewis (11), Kenny Anderson (66).
Linesmen-James Tobias (61), Riley Page (55).
Ticket Information
Tickets for each and every Phantoms home game throughout the 2018-19 season are available online at pplcenter.com, by calling 610-347-TIXX [8499] or in-person at the QNB Box Office [7th & Hamilton].