Phantoms Rally Late in Another Thriller
November 30, 2018
Laval, Quebec – Nicolas Aube-Kubel returned to Quebec where he grew up and played Major Juniors and then the third-year rising star for the Phantoms drew the spotlight even more with his overtime winner in the first minute of the extra period to cap another tremendous comeback for the visiting Lehigh Valley Phantoms against the Laval Rocket.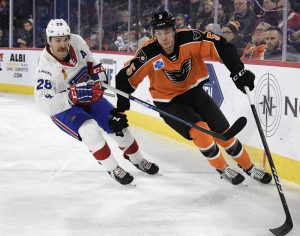 In the opening minute of overtime, Aube-Kubel breezed around former Phantom Maxim Lamarche for his own self-created breakaway and then he potted the game winner against Laval goalie Charlie Lindgren.
The Phantoms were trailing 2-1 and almost running out of time but a late 6-on-4 power-play goal for Phil Varone with 55 seconds left tied the score at 2-2. Varone's second goal of the game was his ninth of the season. And it also represented the third time the Phantoms have scored a late extra-attacker goal to equalize allowing them to go on and win.
Varone finished with a three point effort on two goals and one assist. The reigning AHL Most Valuable Player (Les Cunningham Award) moved back into a tie for the league scoring lead with Cory Conacher of Syracuse. Both players have 26 points apiece.
Philippe Myers had a pair of assists on the late tying goal and then again on the overtime winner.
Phantoms rookie goaltender Carter Hart was strong between the pipes and made 26 saves on 28 shots to improve to 6-4-2. Byron Froese (8th) and Michael Pezzetta (2nd) were the only Rocket skaters to break through past Hart.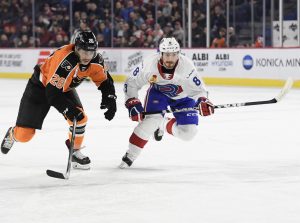 Froese scored early in the second period on a rebound into the slot following an attempt by Daniel Audette in the corner.
But the Phantoms responded less than two minutes later on Greg Carey's power-play blast from center-point that deflected in off of Phil Varone who was probably trying to get out of the way but ended up as the beneficiary of the deflection. The goal was initially credited to Carey but was changed at the second intermission to Varone.
Laval came out flying to begin the third period and finally broke through with just under 13 minutes remaining on Pezzetta's strike.
The Phantoms received a glorious opportunity in the closing minutes with the late power-play and pulled goalie and equalized on Varone's 6-on-4 conversion that he snapped to the right post from the top of the left circle.
Lehigh Valley maintained possession for the entirety of the overtime when Myers and Varone connected with an open Aube-Kubel up the left-wing who put on the after-burners to rush right past his defender and score the deciding goal.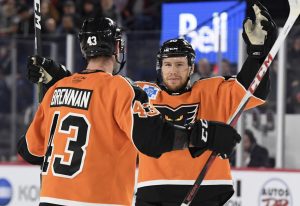 Lehigh Valley (11-6-2) never led in the game until Aube-Kubel's first career overtime goal at the very end. The Sorel, Quebec native who played Major Juniors for Val d'Or Foreurs in the Quebec Major Juniors Hockey League thrived in his return to his home area with his second goal in three games since his return to the Phantoms from his first-ever NHL call-up.
The Phantoms penalty kill was a perfect 7-for-7 to keep the game within reach. Lehigh Valley's incredibly successful penalty kill has now allowed just one goal in the last 46 chances in the last 11 games dating back to October 28.
Lehigh Valley's power play has been equally impressive with a 2-for-3 performance. The Phantoms are 12-for-40 (30.0%) in the last eight games since November 9. The Phantoms have scored two power-play goals five times in the last eight games.
Phantoms Extra-Attacker Goals to go and win:
Oct 13 at Springfield: David Kase with 2:23 left. Greg Carey with 0:23 left. German Rubtsov winner in 4th round of shootout.
Nov 3 vs. Binghamton: Colin McDonald with 6:01 left (pulled goalie for one-goal game). Phil Varone with 4.5 second left. Mike Vecchione winner in overtime.
Nov 30 at Laval: Phil Varone with 55 second left. Nicolas Aube-Kubel winner in overtime.
Lehigh Valley's Canadian road-trip continues on Saturday night in Belleville, Ontario against the Belleville Senators. And then concludes on Sunday afternoon at 4:00 p.m. at the Toronto Marlies in a rematch of last year's Eastern Conference Finals.
Lehigh Valley Phantoms 3 (OT) at Laval Rocket 2 – Status: Unofficial Final
Friday, November 30, 2018 – Place Bell
Lehigh Valley 0 1 1 1 – 3
Laval 0 1 1 0 – 2
1st Period- No Scoring.Penalties-Goulbourne Lv (boarding), 4:33; Myers Lv (closing hand on puck), 12:57; McCarron Lav (hooking), 18:28.
2nd Period-1, Laval, Froese 8 (Audette, Lernout), 2:11. 2, Lehigh Valley, Varone 8 (Carey, Conner), 3:56 (PP). Penalties-Goulbourne Lv (unsportsmanlike conduct), 2:32; Pezzetta Lav (unsportsmanlike conduct), 2:32; Belzile Lav (hooking), 3:46; Carey Lv (slashing), 6:11; de Haas Lv (slashing), 13:35; Shinkaruk Lav (hooking), 14:01; Vorobyev Lv (hooking), 15:03; Myers Lv (tripping), 16:31.
3rd Period-3, Laval, Pezzetta 2 (Alzner, Vejdemo), 7:13. 4, Lehigh Valley, Varone 9 (Myers, Leier), 19:05 (PP). Penalties-Goulbourne Lv (cross-checking), 4:43; Vejdemo Lav (holding the stick), 17:25.
OT Period-5, Lehigh Valley, Aube-Kubel 5 (Varone, Myers), 0:48. Penalties-No Penalties
Shots on Goal-Lehigh Valley 8-7-11-2-28. Laval 9-6-13-0-28.
Power Play Opportunities-Lehigh Valley 2 / 3; Laval 0 / 7.
Goalies-Lehigh Valley, Hart 6-4-2 (28 shots-26 saves). Laval, Lindgren 7-8-3 (28 shots-25 saves).
A-5,528
Referees-Mitch Dunning (43), Conor O'Donnell (41).
Linesmen-Benoit Martineau (87), Guillaume Brunelle (63).
Ticket Information
Tickets for each and every Phantoms home game throughout the 2018-19 season are available online at pplcenter.com, by calling 610-347-TIXX [8499] or in-person at the QNB Box Office [7th & Hamilton].