Vecchione Strikes for Shorthanded Goal
February 22, 2019
Charlotte, NC – The Lehigh Valley Phantoms traveled to Charlotte, North Carolina for the first time since last May's playoff series victory and epic five overtime game but this time the Charlotte Checkers exacted their revenge in the form of a 2-1 victory on Friday night at Bojangles' Coliseum.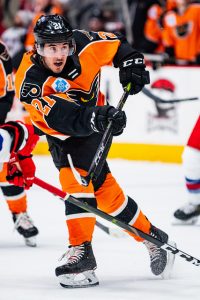 Mike Vecchione (12th) scored shorthanded for the Phantoms from Corban Knight and Mark Friedman but the Checkers rallied with goals by Nick Schilkey (12th) in the first period and Hayden Fleury (2nd) in the middle period. Alex Lyon turned in a 32-save effort that includes several dazzlers in the second frame to keep the Phantoms close. But Alex Nedeljkovic pushed aside 25 Phantoms' drives in his league-leading 25th win of the season.
Vecchione's breakaway conversion with under 5:00 remaining in the first period was good for the team's sixth shorthanded goal of the year. Knight made a sharp pass to set up the drive and the Charlotte netminder came way out for an aggressive poke-check try but missed. After Vecchione dodged to the right of Nedeljkovic he deposited the puck into the entirely empty-net. Knight's assist gives him six points in four games since arriving to the Phantom two weeks ago after sitting out four months following shoulder surgery in October.
Greg Carey had a close-call in the third period in the Phantoms efforts to even the score but Nedeljkovic just barely got a glove on the drive to deflect it away.
Hulking defenseman Samuel Morin was back in the lineup for the second game of his conditioning rehab stint. He eventually dropped the gloves with Josiah Didier with under a minute left in his first fight in a year. This was also the same arena in which Morin took his knee injury back on May 9 at the beginning of the game that would eventually go five overtimes.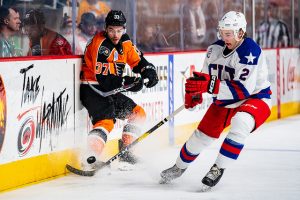 The Lehigh Valley Phantoms and Charlotte Checkers will rematch on Saturday at 6:00 with broadcast coverage on 790-WAEB and the Phantoms 365 app.
The Phantoms return to PPL Center on Saturday, March 2 against the Utica Comets on Game Show Night. Then the Phantoms will host the Bridgeport Sound Tigers on Sunday ,March 3 at 3:05 p.m. on Youth Jersey Day for the first 2,000 kids age 14 and younger. Tickets are available at PPLCenter.com
Lehigh Valley Phantoms 1 at Charlotte Checkers 2 – Status: Final
Friday, February 22, 2019 – Bojangles' Coliseum
Lehigh Valley 1 0 0 – 1
Charlotte 1 1 0 – 2
1st Period-1, Lehigh Valley, Vecchione 12 (Knight, Friedman), 15:08 (SH). 2, Charlotte, Schilkey 12 (Roy, Carrick), 19:16. Penalties-Schilkey Cha (slashing), 8:25; Aube-Kubel Lv (cross-checking), 14:57; Poturalski Cha (holding), 19:56.
2nd Period-3, Charlotte, Fleury 2 (Poturalski, Didier), 11:26. Penalties-Vorobyev Lv (roughing), 15:04.
3rd Period- No Scoring.Penalties-Morin Lv (fighting), 19:09; Didier Cha (fighting), 19:09.
Shots on Goal-Lehigh Valley 6-8-12-26. Charlotte 9-17-8-34.
Power Play Opportunities-Lehigh Valley 0 / 2; Charlotte 0 / 2.
Goalies-Lehigh Valley, Lyon 11-11-2 (34 shots-32 saves). Charlotte, Nedeljkovic 25-6-4 (26 shots-25 saves).
A-7,918
Referees-Sean Fernandez (72), Jeremy Tufts (78).
Linesmen-Scott Senger (28), Ben Shiley (21).