Lehigh Valley drops 5-2 affair to Penguins
March 19, 2023
Lehigh Valley, PA – Jackson Cates (11th) and Bobby Brink (8th) both scored for the Lehigh Valley Phantoms, but the Wilkes-Barre/Scranton Penguins came away with a 5-2 win against their in-state rival on Sunday night at PPL Center.
Lehigh Valley (31-25-6) will look to seek retribution against the Penguins on Saturday, March 25 in Wilkes-Barre/Scranton before hosting the Pens one final time in the 2022-23 regular season on Friday, March 31.
Drake Caggiula kicked off the Wilkes-Barre/Scranton scoring only 60 seconds into the contest, before tallying a second time at 1:04 of the second period while shorthanded.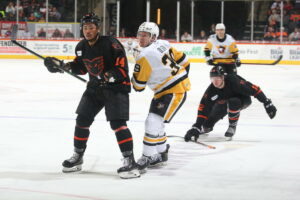 Down 2-0 in the middle frame, Garrett Wilson appeared to score a power-play goal for the Phantoms, but the goal was washed out due to incidental contact with Pens' netminder Dustin Tokarski.
Lehigh Valley did successfully solve Tokarski before the period expired. At the 17:58 mark, Jackson Cates tossed a backhander on net from a sharp angle and banked the puck off Tokarski to bring his club within 2-1. Max Willman and Ronnie Attard recorded the helpers on Cates' 11th goal of the campaign.
But back came the Penguins, and Jonathan Gruden converted at 19:23 to restore Wilkes-Barre/Scranton's two-goal advantage before intermission.
In the final period, Tyler Sikura extended the Pens' lead to 4-1 at 15:06.
Only 18 seconds later, Bobby Brink responded to pull the Phantoms within 4-2. On a breakaway chance, Brink avoided a Tokarski poke check and went forehand-backhand for the nifty goal.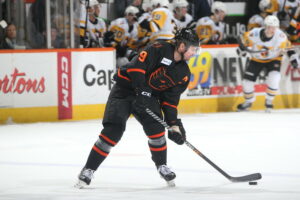 The Phantoms sported various chances to close the gap further while on a 6-on-5 advantage down the stretch, but Tyler Sikura launched the puck down ice for Filip Hallander's empty net tally at 19:14.
Lehigh Valley will visit the Wilkes-Barre/Scranton Penguins on Saturday, March 25 at Mohegan Sun Arena for the 11th head-to-head meeting between both clubs this season.
Also during the third period on Sunday night, ESPN released the matchups for next weekend's NCAA Men's Ice Hockey Regional at PPL Center. Officially, host Penn State University will kickoff the regionals with a 5 p.m. puck drop against Michigan Tech on Friday, March 24. Later on Friday, Michigan will play Colgate with a tentative puck drop scheduled for 8:30 p.m.
Winners of both games will faceoff on Sunday, March 26 at 6:30 p.m. for a chance to advance to the 2023 Frozen Four. Tickets for all three games in Allentown are available now at PPLCenter.com.
SCORING SUMMARY
1st 1:00 – WBS D. Caggiula (16) (V. Puustinen, J. Gruden) 0-1
2nd 1:04 – WBS D. Caggiula (17) (J. St. Ivany, J. Gruden) (SH) 0-2
2nd 17:58 – LV J. Cates (11) (M. Willman, R. Attard) 1-2
2nd 19:23 – WBS J. Gruden (14) (D. Caggiula) 1-3
3rd 15:06 – WBS T. Sikura (9) (J. St. Ivany, C. Swoyer) 1-4
3rd 15:24 – LV B. Brink (8) (K. Connauton, A. Anisimov) 2-4
3rd 19:14 – WBS F. Hallander (11) (T. Sikura) (EN) 2-5
Shots:
LV 38 – WBS 30
PP:
LV 0/4, WBS 0/3
Goalies:
LV – S. Ersson (L) (19-14-1) (25/29)
WBS – D. Tokarski (W) (12-11-5) (36/38)
Records:
Lehigh Valley (31-25-6)
Wilkes-Barre/Scranton (25-26-10)
Phantoms Tickets are available HERE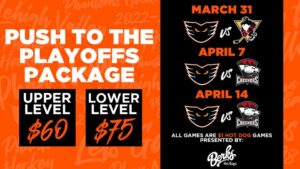 UPCOMING SCHEDULE
Saturday, March 25 (6:05) at Wilkes-Barre/Scranton Penguins
Sunday, March 26 (5:00) at Hershey Bears
Friday, March 31 (7:05) vs. WILKES-BARRE/SCRANTON PENGUINS
Saturday, April 1 (7:05) vs. HERSHEY BEARS
UPCOMING AT PPL CENTER
Friday, March 24 – NCAA Tournament Hockey Allentown Regional Doubleheader Hosted by Penn State
Sunday, March 26 – NCAA Tournament  Hockey Allentown Regional Final playing for Berth in the Frozen Four
Friday, March 31 (7:05) vs. Wilkes-Barre/Scranton Penguins – Berks $1 Hot Dogs
Saturday, April 1 (7:05) vs. Hershey Bears – Saturday Night Hockey Live