Capital BlueCross AHL All-Star Classic Weekend to Take Place Jan. 28-30 at PPL Center
June 15, 2016
Lehigh Valley, PA – A founding partner of both PPL Center and the Lehigh Valley Phantoms, Capital BlueCross has been named the title sponsor of the 2017 AHL All-Star Classic.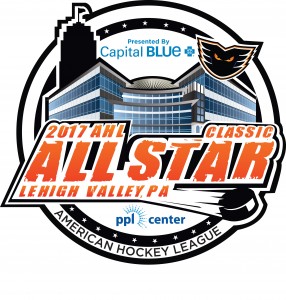 The Capital BlueCross AHL All-Star Classic weekend consists of four events, each taking place at PPL Center. The event includes a Phan Fest during the day on Saturday, January 28 and a Tailgate Party that evening, followed by the AHL All-Star Skills Competition on Sunday, January 29, and the 2017 AHL All-Star Game on Monday, January 30. The AHL will also host its annual Hall of Fame Induction and Awards Ceremony Monday afternoon.
Starting at just $67, tickets for the 2017 Capital BlueCross AHL All-Star Classic weekend are on sale now and include admission to Saturday's Phan Fest & Tailgate Party, Sunday's AHL All-Star Skills Competition and Monday's All-Star Game. To purchase tickets, please visit www.phantomshockey.com or
www.pplcenter.com
"Being chosen to host this internationally viewed event is such a big win for the Lehigh Valley," said Phantoms co-owner/governor Rob Brooks. "And having great supporters such as Capital BlueCross provides us with the courage and confidence to place bids on such events."
"Capital BlueCross is proud to be a part of this high-profile event in the Lehigh Valley," said Anne Baum, Vice President Lehigh Valley, Capital BlueCross. "We see ourselves as more than an insurance company and supporting events such as the AHL All-Star Classic weekend at PPL Center is one example of our commitment to the community. The AHL All-Star Classic is an exciting opportunity for Lehigh Valley sports fans to watch top hockey talent from throughout North America – PLAY FEARLESS!"
The 2017 Capital BlueCross AHL All-Star Classic will feature the top young talent in the American Hockey League: since 1995, more than 93 percent of All-Star Classic participants have gone on to compete in the National Hockey League, including Patrice Bergeron, Ben Bishop, Troy Brouwer, Ryan Callahan, Zdeno Chara, Logan Couture, Dustin Byfuglien, Jiri Hudler, Tyler Johnson, Chris Kunitz, Ryan Miller, Gustav Nyquist, Zach Parise, Tuukka Rask, Pekka Rinne, Bobby Ryan, Cory Schneider, Patrick Sharp, Jason Spezza, Eric Staal, P.K. Subban and Mats Zuccarello, as well as Phantoms alumni and current Philadelphia Flyers Nick Cousins and Brandon Manning.
In operation since 1936, the AHL continues to serve as the top development league for all 30 National Hockey League teams. More than 88 percent of today's NHL players are American Hockey League graduates, and an all-time record 7.1 million fans attended AHL games across North American in 2015-16.
Capital BlueCross, headquartered in Harrisburg, Pa., is the leading health solutions and insurance company in central Pennsylvania and the Lehigh Valley. A partner in the community's health for nearly 80 years, Capital BlueCross offers health insurance products, services and technology solutions that provide peace of mind to consumers and promote health and wellness for our customers.
More than a health insurer, the company delivers innovative solutions through a family of diversified businesses that is creating a healthier future and lowering health care costs. Among these solutions are patient-focused care models, leading-edge data analytics, and digital health technologies. Additionally, Capital BlueCross is growing a network of Capital Blue stores that provide in-person service and inspiration to help people reach their health goals. Capital BlueCross is an independent licensee of the BlueCross BlueShield Association. For more information, visit www.capbluecross.com.
RISE UP! Another thrilling season of Lehigh Valley Phantoms hockey at PPL Center is right around the corner. Reserve your season tickets for the 2016-2017 season of Phantoms hockey. For more information on how to reserve your seat at PPL Center to the hottest ticket in town, call the Phantoms front office today at 610-224-GOAL [4625]!
And for the latest Phantoms news, visit www.phantomshockey.com or follow the team on Facebook (www.facebook.com/lehighvalleyphantoms), Twitter (@lvphantoms) and Instagram (@lehighvalleyphantoms).
The Phantoms are coming off their 20th Anniversary Season and second campaign in the Lehigh Valley playing at the state-of-the-art PPL Center. Established in 1996, the Phantoms spent their first 13 seasons at the Spectrum in Philadelphia before re-locating to Glens Falls, New York in 2009 where the team spent the next five seasons as the Adirondack Phantoms. A new era of Phantoms hockey began in the fall of 2014 when the Lehigh Valley Phantoms began play at the state-of-the-art PPL Center. Through 19 incredibly successful campaigns, the Phantoms have captured two Calder Cup Championships (1998, 2005), two Conference Championships (1998, 2005), two Regular Season Titles (1996-97, 1997-98) and four Division Championships (1996-97, 1997-98, 1998-99, 2003-04).