Andreoff Looks Back on 2014 Stanley Cup Playoffs with Los Angeles
By: Mike Ianniello
The Philadelphia Flyers currently have 34 players on their roster for the Phase 3 training camp. While not every player will get to suit up and take the ice for playoff games, just being a part of a Stanley Cup Playoff run, or a "black ace", is a huge benefit for a lot of the young Phantoms players.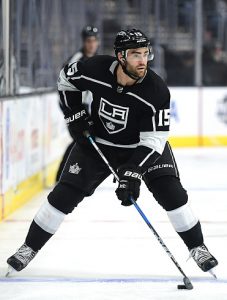 No player knows that better than Phantoms Co-Captain Andy Andreoff, who was a black ace for the Los Angeles Kings when they won the Stanley Cup in 2014. Now 29-years-old, Andreoff was just 23 and in his second professional season during the Kings' Stanley Cup run and calls getting that opportunity the highlight of his career.
"Honestly one of the best experiences for sure in my career," Andreoff said. "I thought it was really cool just watching those guys. Just watching how they focus for every game and how they prepare for every game and even if they're down a couple games in the playoffs, they have a short memory and just get focused for the next game"
Andreoff had yet to play an NHL game when the Kings won the 2013-14 Stanley Cup. He made his NHL debut the next fall on October 14, 2014 and has gone on to play 173 NHL games, 159 for Los Angeles and 14 with the Flyers. There are currently 11 players on Philadelphia's roster who spent a majority of the 2019-20 season in the American Hockey League with Lehigh Valley. For young prospects like Morgan Frost (21), German Rubtsov (22), Connor Bunnaman (22), Carsen Twarynski (22) and Mark Friedman (24), just getting to be part of an NHL playoff run this early in their career and the opportunity to learn from NHL veterans and watch them every day will be an invaluable experience for them just like it was for Andreoff.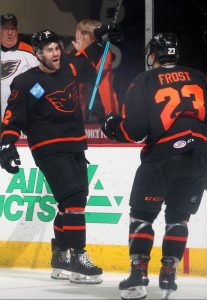 "I honestly think they're going to learn a lot," Andreoff said. "They haven't played too many games of pro hockey so they'll just learn a lot watching guys in the gym and at practices. You get to see how hard they work and how skilled they are and for those young guys, they all look up to them and want to be like them, so they can really take advantage of this time to kind of get prepared because they're going to be in the same spot one day."
During Andreoff's time with Los Angeles he got to learn a lot from veteran players on the Kings, including Jeff Carter and Mike Richards. Carter and Richards each won two Stanley Cups with the Kings in 2012 and 2014. They also led the Philadelphia Phantoms to their 2005 Calder Cup Finals victory, with Carter leading the Phantoms with 23 points in 21 playoff games.
"I played with Jeff Carter a decent amount so it was really fun to watch him," Andreoff said. "He's such a smooth skater, just an effortless skater. He's a smart hockey player and a good center who can also play wing so he was a good guy to look up to. There was a lot of role models on that team when I played in LA so Jeff Carter was one of them for sure."
Andreoff and other players who spent most of the season in Lehigh Valley, might not start the playoffs in the lineup for Philadelphia. But they will still need to make sure they take advantage of the time they will spend with the Flyers and learn as much as they can and make sure they are ready if they get the call to be in the lineup.
"I think anybody that's going to be with our group, that's going to go through what we're going through right now as far as on ice stuff, preparation, video preparation is going to benefit from this," Flyers Head Coach Alain Vigneault said. "All our strength and conditioning guys are coming with us, if you are not one of the regulars, you are going to have a very strict program that we expect all our guys to follow. Just like if they were in the summer going through their program, getting themselves ready for training camp. They're going to keep themselves ready just in case we need them."
"I think everyone has to be ready to get in a game." Andreoff said. "I think anything can happen. There might be a ton of injuries with guys not skating too much with the shutdown or with COVID going on, people can get sick pretty quick so for me I have to be ready to play and get back into game shape just in case I do get that call."
And for the latest Phantoms news, visit www.phantomshockey.com or follow the team on Facebook, Twitter (@lvphantoms) and Instagram (@lehighvalleyphantoms).