Cousins, Gordon Score as Phantoms Enjoy 8th Sellout at PPL Center
January 16, 2015
Lehigh Valley, PA – Nick Cousins and Andrew Gordon became the first two double-digit goal scorers this season for the Lehigh Valley Phantoms Friday evening as both snipers found the back of the net in a back-and-forth battle at PPL Center that saw the Albany Devils claim a 3-2 win in front of a standing room-only sellout crowd of 8,701 fans. The sellout was the third straight capacity crowd for the Phantoms who have now enjoyed eight sellouts overall this season.
Despite the setback, the Phantoms have won four of their last five games and have earned at least one standings point in 10 of the team's last 13 tilts overall. What's more, Lehigh Valley has won four of its last five games at PPL Center and has claimed at least one standings point in 10 of its last 12 home contests.
Gordon, who now leads all Phantoms with 11 total goals this season, has produced goals in three straight outings while Cousins, who picked up his 10th conversion of the year Friday, moved into a tie with All-Star blueliner Brandon Manning for the team lead in overall scoring with 23 total points. Both Gordon and Cousins registered a goal and an assist Friday evening for their fifth and seventh multi-point games this season.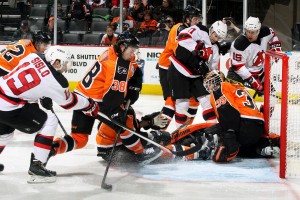 The rivalry showdown began with a blistering pace as the two sides kicked off the evening with nearly eight minutes (7:54) of seamless hockey following the game's opening faceoff. Lehigh Valley's trio of Blair Jones, Taylor Leier and Jason Akeson were buzzing early generating scoring opportunities in each of their first three shifts but neither side was able to find the back of the net in the opening period despite a combined 15 shots on goal. The Phantoms did a tremendous job of limiting Albany's scoring opportunities in the first frame as the Devils were held to just five shots on goal in the opening period. Lehigh Valley's Anthony Stolarz turned aside each of those five scoring bids while his Albany counterpart, Devils' netminder Scott Clemmensen, registered 10 saves on 10 Phantoms shots on goal in the opening stanza.
The Devils generated some sustained pressure at the start of the second period but Stolarz remained razor sharp particularly against a point-blank opportunity by Albany's Cam Janssen from the slot, which was promptly kicked out by the right pad of the 6'6″, 220-pound goaltender. The Phantoms answered the Devils' pressure with some of their own and netted the game's first marker just under six and a half minutes into the middle frame when Cousins unleashed a rocket of a slap shot from the left wing that sizzled into the back of the Albany cage. Gordon and Oliver Lauridsen assisted on Cousins' 10th conversion of the season. The goal marked the 19th time in 36 games this season that the Phantoms have grabbed the game's opening goal. Lehigh Valley is now 11-5-2-1 when scoring first this year.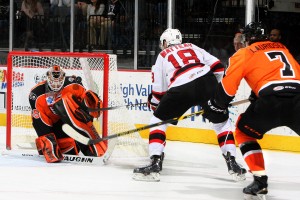 Albany found a way to level the contest just over five minutes into the third period when Stefan Matteau lifted a bouncing puck to the front of the Phantoms net that was eventually swatted in by Rod Pelley. Dan Kelly earned the secondary assist on Pelley's fourth tally of the year which evened the game at a goal apiece exactly 5:05 into the final frame.
The Devils then claimed their first lead of the night a little over five minutes later when, while on the power play, Reece Scarlett sent a stretch through the neutral zone that sprung Paul Thompson on a breakaway resulting in his league-leading 19th goal of the season. Clemmensen grabbed the secondary assist on the man-advantage marker, which snapped a string of 18 consecutive successful penalty kills by the Phantoms.
Lehigh Valley quickly regrouped though and evened the game once again just over a minute later when Gordon launched a slapper from the left wing half boards that eluded Clemmensen thanks in large part to a towering net-front screen provided by 6'4″, 232-pound Zack Stortini. Adam Comrie and Cousins assisted on the even strength strike netted 11:30 into the final period of regulation.
The Devils would have the final say though as Matteau connected on his third marker of the season 13:17 into the third period. David Wohlberg and Seth Helgeson assisted on the man-advantage marker, which capped a 2-for-10 performance on the power play for Albany. Meanwhile, the Phantoms went 0-for-7 with the man-advantage.
Clemmensen earned the victory in goal for Albany thanks to 32 saves on 34 shots. Meanwhile, Stolarz suffered the setback despite an impressive 33 saves on 36 Devils shots.
The Phantoms return to action on Saturday, January 17 when Lehigh Valley welcomes the Binghamton Senators to PPL Center for a 7:05 PM showdown. It's another Legends Night as Bob Clarke, one of hockey's greatest legends and the architect of the Phantoms' 1998 and 2005 Calder Cup championship teams, will be at the game. All fans in attendance will receive a FREE Collector's Edition Poster spotlighting Clarke and the hockey legend will be signing autographs from 6:00 to 6:45 PM in advance of tomorrow's game.
Check it out! Group outings are a fun and affordable way to enjoy all the excitement of Phantoms hockey. For more information on group rates and fan experiences at PPL Center call the Phantoms front office today at 610-224-GOAL (4625)!
Albany Devils 3 at Lehigh Valley Phantoms 2 – Status: Final
Friday, January 16, 2015 – PPL Center
Albany 0 0 3 – 3
Lehigh Valley 0 1 1 – 2
1st Period- No Scoring.Penalties-served by Alderson Lv (bench minor – too many men), 7:54; Faust Alb (tripping), 10:23; Thompson Alb (tripping), 13:05; Helgeson Alb (delay of game), 16:18; Delisle Lv (hooking), 19:17.
2nd Period-1, Lehigh Valley, Cousins 10 (Lauridsen, Gordon), 6:29. Penalties-Thompson Alb (roughing), 5:20; Leier Lv (roughing), 5:20; K. Zajac Alb (high-sticking), 7:36; served by Leier Lv (bench minor – too many men), 8:54; Rosehill Lv (slashing), 11:40; Matteau Alb (high-sticking), 13:34; Cousins Lv (hooking), 14:30; Hagg Lv (boarding), 19:53; D. Zajac Alb (fighting), 20:00; White Lv (fighting), 20:00.
3rd Period-2, Albany, Pelley 4 (Matteau, Kelly), 5:05. 3, Albany, Thompson 19 (Scarlett, Clemmensen), 10:12 (PP). 4, Lehigh Valley, Gordon 11 (Comrie, Cousins), 11:30. 5, Albany, Matteau 3 (Wohlberg, Helgeson), 13:17 (PP). Penalties-Pelley Alb (tripping), 2:44; Akeson Lv (elbowing), 3:01; Faust Alb (hooking), 7:11; Thomson Alb (fighting), 9:49; Delisle Lv (fighting), 9:49; White Lv (roughing), 9:49; Fyten Lv (holding), 12:06; Hagg Lv (holding), 14:16.
Shots on Goal-Albany 5-19-12-36. Lehigh Valley 10-12-12-34.
Power Play Opportunities-Albany 2 / 10; Lehigh Valley 0 / 7.
Goalies-Albany, Clemmensen 3-4-1 (34 shots-32 saves). Lehigh Valley, Stolarz 6-7-0 (36 shots-33 saves).
A-8,701
Referees-Michael Mullen (18), Tim Mayer (19).
Linesmen-Scott Pomento (25), Jud Ritter (34).
Upcoming Home Games:
Saturday, January 17, 2015, Binghamton Senators Tigers vs. Lehigh Valley Phantoms, 7:05 PM
(Legends Night! Bob Clarke, one of hockey's greatest legends and the architect of the Phantoms 1998 and 2005 Calder Cup championship teams, will be at the game! FREE Collector's Edition Poster for all fans!)
Wednesday, January 21, 2015 Hershey Bears vs. Lehigh Valley Phantoms, 7:05 PM
($2 Beer Night! $2 Beer from the time doors open until the start of the 2nd period. Available behind Section 108. Please drink responsibly.)
Saturday, January 24, 2015 St. John's IceCaps vs. Lehigh Valley Phantoms, 7:05 PM
(Free Shirt Giveaway for all fans in attendance! Specialty Jersey Night! Post-Game Jersey Auction! Inaugural Season Night!)
Thursday, January 29, 2015 Albany Devils vs. Lehigh Valley Phantoms, 7:05 PM
In their 19th season of operation, the Phantoms are currently in the midst of their Inaugural Season as the Lehigh Valley Phantoms playing at the brand-new PPL Center. Established in 1996, the Phantoms spent their first 13 seasons at the Spectrum before re-locating to Glens Falls, New York in 2009 where the team spent the next five seasons as the Adirondack Phantoms. A new era of Phantoms hockey began in the fall of 2014 when the Lehigh Valley Phantoms began play at the state-of-the-art PPL Center. Through 18 incredibly successful campaigns, the Phantoms have captured two Calder Cup Championships (1998, 2005), two Conference Championships (1998, 2005), two Regular Season Titles (1996-97, 1997-98) and four Division Championships (1996-97, 1997-98, 1998-99, 2003-04).