Phantoms Prevail 2-1, Will Return to Hershey Saturday Night
April 26, 2017
Hershey, PA – Just as they had done all season, the Phantoms saved their best for last. Chris Conner scored on a breakaway in the opening minutes of overtime in Game 3 of the Calder Cup Playoffs to cap a come-from-behind rally at the Hershey Bears on Wednesday night. The 2-1 victory means the Phantoms will return to Chocolate Town for Game 4 of the Best-of-Five series on Saturday night. One more Lehigh Valley victory would bring the teams back to PPL Center in Allentown for a Winner-Take-All finale in Game 5 on Sunday evening at 5:05.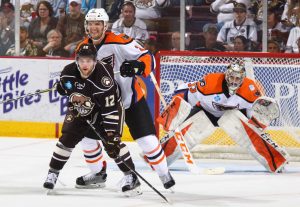 The team was boosted by several hundred Phantoms and Flyers fans who were primarily clad in orange and were thus easy to spot around the spacious Giant Center. In the meantime, a packed house at Chickie's and Pete's in Allentown gathered for an official Phantoms Watch Party and there wasn't a seat to be had for the Phans cheering on the team from the PPL Center restaurant location.
The Phantoms trailed 1-0 after 40 minutes but forged yet another third-period comeback which proved to be their specialty during the regular season. Lehigh Valley had rallied from a second-intermission deficit on eight separate occasions which was the most for any team in the American Hockey League.
Conner's winning goal came against his former teammate and roommate of a couple seasons ago, goalie Pheonix Copley. Conner had also scored a hat trick against his former team on April 2nd which was also the last time the Bears had lost a game.
"Make sure I don't get caught was my first instinct," Conner said of his breakaway opportunity when he split the Bears defenders and was off to the races. "Miels (Andy Miele) made a great block there and I was able to get the break and put it in."
It was a big goal in a big moment for the 33-year-old veteran who established a career high with 22 goals this season. Conner scored six of those goals against the Hershey Bears. But this overtime winner would not have been possible without the key block by Andy Miele of a Stan Galiev attempt from the left circle. Head coach Scott Gordon wasn't surprised by the crucial defensive play that led to the winning breakaway.
"He plays with a lot of personal pride," Gordon said of Miele. "He wants to be the best and that's why he won the Hobey Baker (at Miami-Ohio) in college and that's why he's been a top offensive guy in the American League for a few years."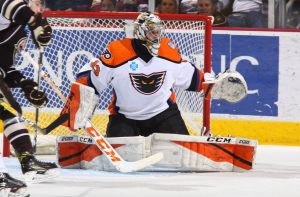 Hershey opened the scoring just past the midway point of the contest when the Bears were able to break out in a 3-on-1 resulting in Galiev's 2nd goal of the playoffs. The transition rush came after intense Lehigh Valley pressure at the other end and only was made possible when a prime scoring opportunity by the Phantoms just missed up and over the Hershey net. The unassisted even-strength strike came 11:35 into the second period.
The resilient Phantoms weren't about to back down though as Lehigh Valley leveled the contest less than a minute into the third period when a drive from center ice by McDonald knuckled its way past Copley and into the back of the Hershey cage. The timely conversion came just 37 seconds into the final frame in regulation and marked McDonald's first goal of these playoffs and his eighth career AHL postseason tally. Brennan earned the only assist on the five-on-five conversion.
Lehigh Valley then secured its come-from-behind triumph and first win in the series just 1:49 into overtime when a blocked shot by Andy Miele produced a breakaway for Conner who made no mistake in converting his first goal of the postseason. In so doing, Conner and the Phantoms forced Game 4 back at Giant Center in Hershey on Saturday. Miele collected the only assist on Conner's eighth career postseason tally, which sent the Phantoms bench into a victorious uproar.
"We're kind of taking it a period at a time," Conner said. "We were able to battle it out and get to overtime and give ourselves a chance. And now we're going to move on to the next game."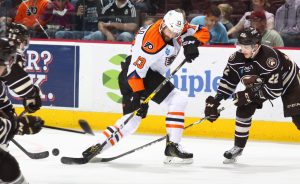 Martin Ouellette was stellar in net in his first-ever Calder Cup Playoffs start. The 25-year-old turned in several gems among his 29 saves in total to backstop the victory on Lehigh Valley's do-or-die night. Essentially the Phantoms third-string goalie, Ouellette went 3-0 in the regular season and has appeared in 21 regular-season games lifetime for Lehigh Valley. Ouellette has received the starting role for Lehigh Valley following injuries to Anthony Stolarz on April 12 and Alex Lyon in third period of Game 2 on April 22.
Early in the first period he made a sparkling pad save on Hampus Gustafsson in the slot. He also turned in key denials on Zack Sill with the blocker on a point-blank opportunity in the first period and on Riley Barber in the second frame from the side of the net on an odd-man rush with Samuel Morin also helping to clear the free puck from the crease.
Lehigh Valley now trails the series 2 games to 1. 2017 marks the fifth time in 21 years for the Phantoms and Bears to do battle in the Calder Cup Playoffs.
The Phantoms played their second overtime game of the series and their 23rd extra-period playoff session in their history. The Phantoms are 12-11 all-time in playoff overtime engagements.
The night also marked the 118th playoff game for the Phantoms who improved to 67-51 all-time in postseason play. Lehigh Valley stands at 15-8 in their previous 23 playoff series.
The Phantoms continue their best-of-five division semifinals series with the Bears this Saturday with Game 4 set for a 7:00 p.m. start time at Giant Center in Hershey. Fans are encouraged to head to Chickie's & Pete's at PPL Center for an Official Phantoms Watch Party.
Lehigh Valley Phantoms 2 (OT) at Hershey Bears 1 – Status: Final OT
Wednesday, April 26, 2017 – Giant Center
Lehigh Valley 0 0 1 1 – 2
Hershey 0 1 0 0 – 1
1st Period- No Scoring.Penalties-Miele Lv (hooking), 19:35.
2nd Period-1, Hershey, Galiev 2 11:35. Penalties-No Penalties
3rd Period-2, Lehigh Valley, McDonald 1 (Brennan), 0:37. Penalties-No Penalties
OT Period-3, Lehigh Valley, Conner 1 (Miele), 1:49. Penalties-No Penalties
Shots on Goal-Lehigh Valley 9-12-8-1-30. Hershey 9-12-8-1-30.
Power Play Opportunities-Lehigh Valley 0 / 0; Hershey 0 / 1.
Goalies-Lehigh Valley, Ouellette 1-1 (30 shots-29 saves). Hershey, Copley 2-1 (30 shots-28 saves).
A-8,842
Referees-Olivier Gouin (54), Evgenii Romasko (39).
Linesmen-Ryan Daisy (81), Tom George (61).