By: Dylan Callaghan-Croley
When asked about Lehigh Valley Phantoms 2019-20 All-Star Morgan Frost, Phantoms Head Coach Scott Gordon wasn't shy about his thoughts on the 20-year old Aurora, Canada native. "There's very few players who have the skill set he has," Gordon praised. "There's no disputing he's one of the more talented players in the American Hockey League. You won't find too many players who play down here who have his skill, him being an All-Star, when you watch him play, you can see why."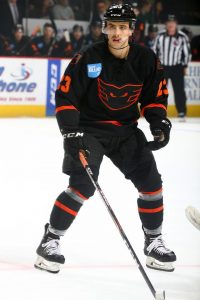 Frost, the Philadelphia Flyers first-round pick (27th overall) in 2017, has shown he's just that during his time with the Phantoms. The first-year pro has nearly been a point-per-game player for the Phantoms this season, totaling 19 points in 28 games with 8 goals and 11 assists. As Gordon also added when discussing Frost, with a player of his caliber and his stats, an All-Star selection seemed "inevitable."
In his first year of professional hockey, Frost has had his shares of ups and downs but still finds himself in the AHL All-Star Classic. He was selected as the Phantoms representative on January 3, just a few days after the Flyers loaned him back to the Phantoms after an 18-game stint in the NHL. Frost is just one of four rookies on the Atlantic squad for the All-Star Classic, joining Hartford's Joey Keane, Springfield's Owen Tippett, as well as Providence's Jack Studnicka.
Despite the All-Star selection, Frost remains candid and humble about his rookie season. The highly-touted prospect has made two tough transitions in a short time this season, making the jump from junior hockey to the AHL and then from the AHL to the NHL. "It's been a lot of surprises, a lot of ups and downs," Frost said. "A little bit of inconsistency, kind of a mental battle almost more than on the ice. It's definitely hard coming in as a rookie from juniors, being up and down. It's a tough league, obviously it's tougher up there. It's a pretty big jump but I think as I gone on, I've gotten more used to it, but it's definitely tough."
Despite overcoming a slow start to put together a seven-game point streak with the Phantoms at the end of October and being the team's second leading scorer at the time of his NHL call up, Frost did not expect to be honored with an All-Star selection. "It was actually kind of a surprise," said Frost, who had spent just 14 games with the Phantoms before his selection. "At that point, I think I was 50-50 in games played up there and down here but it's an honor to represent the team. It was a great feeling. Being named an All-Star for the first time is cool and I'm excited to get out there."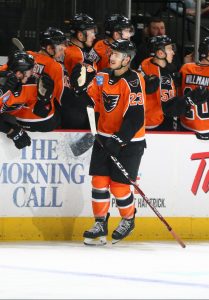 Frost and other young Phantoms have been able to make the tough transition from professional hockey thanks to an experienced roster that is full of both AHL and NHL experience. So far in the 2019-20 season, the Phantoms have dressed 34 different players who combined have nearly 1,800 games of NHL experience. Having that amount of NHL experience on the roster certainly has an impact and can make a tough transition easier for younger players. "Those guys have been really good to not just me but all the young guys," Frost said. "I think it's created a really good environment and it's made it fun to come to the rink every day. They're inclusive and it's really helped with making the jump."
Ultimately, there's no hiding the fact that while Frost will happily take his All-Star selection and enjoy his time in Ontario during the All-Star festivities, he would rather be in Philadelphia, helping the Flyers in what is going to be a heated playoff race over the last few months of the season. Once Frost and the Phantoms return from the All-Star break, his plans are quite simple, "Keep grinding, keep getting better, keep learning the pro game and hopefully next time I get the call up, I can stay up for the long run."
Season tickets offering a wide range of benefits as well as 21-Game and 13-Game plans are available now and more information can be found by Clicking Here.
And for the latest Phantoms news, visit www.phantomshockey.com or follow the team on Facebook, Twitter (@lvphantoms) and Instagram (@lehighvalleyphantoms).