Friday, October 28 at 7:05 p.m.
Lehigh Valley Phantoms (2-1-1) vs. Wilkes-Barre/Scranton Penguins (4-0-1)
PPL Center – Allentown, PA
TONIGHT – The Lehigh Valley Phantoms open "Haunted on Hamilton" Weekend at PPL Center with a Rivalry Night showdown against the Wilkes-Barre/Scranton Penguins.
Lehigh Valley has points in three of four games to begin the season while the Penguins carry a four-game win streak and remain undefeated in regulation. Wilkes-Barre/Scranton's lone stumble was against the Phantoms in the season opener on October 15 when Louie Belpedio scored the overtime winner for the Phantoms with just 1.4 seconds left to stun the Penguins' Opening Night crowd.
LAST TIME – Ronnie Attard scored twice as part of a three-point performance as the Phantoms pushed through for a 5-4 win over the Cleveland Monsters on Sunday afternoon at PPL Center. Garrett Wilson, Tyson Foerster and Max Willman shorthanded also scored for the Phantoms. Troy Grosenick racked up 37 saves on 41 shots and the Phantoms worked through a nailbiting 6-on-4 in the last minute-and-a-half to hang on. The fans had a great time capping our incredible Opening Weekend with a Postgame Photo Session with the players!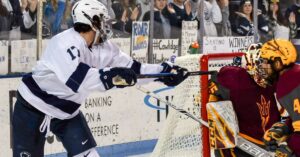 TRADE – The Phantoms have received center Evan Barratt in a trade with the Chicago Blackhawks organization in exchange for defenseman Cooper Zech who goes to the Rockford IceHogs. Barratt is a Bucks County native from Bristol, PA who played for Team Comcast as a kid and starred for Penn State before turning pro. His 11-game point streak is still a Nittany Lions record and he was All-Big Ten First Team and Second Team in back-to-back years.
Zech tallied 1-10-11 in 53 games with Lehigh Valley in the 2021-22 season.
WELCOME BACK – Defenseman Louie Belpedio has returned to the Phantoms from the Philadelphia Flyers. The experienced blueliner did not appear in any games with Philadelphia. He has played in 236 career AHL games with Iowa, Laval and now Lehigh Valley. His debut with the Phantoms could not have been more spectacular as he scored with just 1.4 seconds left in overtime at Wilkes-Barre/Scranton on October 15.
MILESTONE MAN – Tonight is the 700th pro game for alternate captain Garrett Wilson. That includes 515 games in the AHL as well as 84 games in the NHL with Pittsburgh and Florida.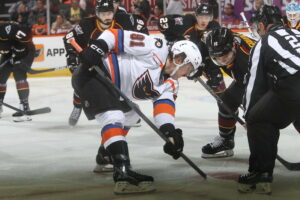 THE DESTROYER – Elliot Desnoyers had a three-game goal streak and currently carries a four-game point streak to begin his pro career. The 20-year-old rookie was a Round 5 selection of the Philadelphia Flyers in 2020 and is coming off a huge breakout season with the Halifax Mooseheads in the QMJHL where he scored 42 goals.
Elliot's father was longtime teammates with Phantoms head coach Ian Laperriere when they were kids growing up in the Montreal area!
CAPTAIN CAL – 36-year-old Cal O'Reilly continues to produce. Now at eighth all-time in career assists in the AHL with 536, O'Reilly has found a greater scoring touch late in his career. Last Saturday, O'Reilly scored his first goal of the season on Opening Night to tie the game with just 62 seconds left. Last year, Cal's 21 goals was a new career high for him eclipsing the 18 goals he had scored 15 years earlier as a 20-year-old rookie with the Milwaukee Admirals. Cal is the active scoring leader in the AHL with 688 points in a Hall-of-Fame caliber career that has spanned over 1,000 pro games.
ABOUT THE PENGUINS – Wilkes-Barre/Scranton (4-0-1) is on a four-game win streak following Wednesday's 5-1 win over Cleveland in which the team felt they were outplayed but received strong goaltending from Phantoms' alum Dustin Tokarski (2017-18). Drew O'Connor scored his first two goals of the season and Alex Nylander notched his team-leading fourth goal. Former Phantom Mark Friedman patrols the blue line for the Penguins.
Lehigh Valley had an incredible overtime win against the Penguins on October 15 to spoil Wilkes-Barre/Scranton's Opening Night. Louie Belpedio raced away and eventually scored the game-winner with just 1.4 seconds left in the OT. This is Game 2 out of 12 in the season series.
UP NEXT – The four-game homestand and "Haunted on Hamilton Weekend" concludes on Saturday, October 29 against the Bridgeport Islanders at PPL Center. Kids in costume get to join meLVin on the ice for a costume parade at the first intermission. DJ Angel B will be the featured guest at Saturday Night Hockey Live.
The Phantoms conclude the busy weekend with a road game to the Hershey Bears on Sunday, October 30 at 5:00 p.m. and then travel north of the border next weekend for Friday and Saturday clashes at the Belleville Senators and Laval Rocket.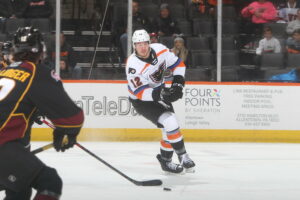 Lehigh Valley Phantoms Scoring Leaders
Elliot Desnoyers 3-1-4
Ronnie Attard 2-2-4
Garrett Wilson 1-3-4
Tyson Foerster 1-2-3
Max Willman 1-2-3
Cam York 0-3-3
Wilkes-Barre/Scranton Penguins Scoring Leaders
Alex Nylander 4-2-6
Drew O'Connor 2-3-5
Ty Smith 2-3-5
Filip Hallander 1-3-4
By The Numbers
Lehigh Valley Offense: Goals/Game – 3.0, 18th
Lehigh Valley Defense: Goals Allowed/Game – 3.0, 12th
WBS Offense: Goals/Game – 3.2, 16th
WBS Defense: Goals Allowed/Game: 2.2, 3rd (1st in Conference)
Special Teams
Lehigh Valley Power Play – 4/15, 16.7% (10th)
Lehigh Valley Penalty Kill – 6/19, 68.4% (30th)
WBS Power Play – 4/23, 17.4% (23rd)
WBS Penalty Kill – 6/23, 73.9% (26th)
Haunted on Hamilton with a special Halloween-style Orange and Black theme takes place with a pair of games on Friday, October 28 and Saturday, October 29 against the Wilkes-Barre/Scranton Penguins and Bridgeport Islanders.
Kids in costume get to participate in a Halloween Parade with meLVin on the ice during the first intermission of the October 29 game.
Phantoms individual game tickets are on sale now. Secure your seats for your favorite promotional nights and big rivalry matchups! PHANTOMS GAME TICKETS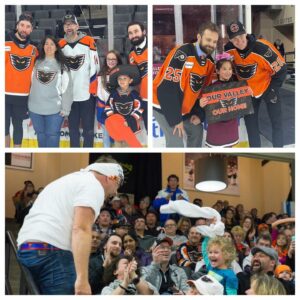 Upcoming Schedule
Friday, October 28 (7:05) vs. Wilkes-Barre/Scranton Penguins – HAUNTED ON HAMILTON!
Saturday, October 29 (7:05) vs. Bridgeport Islanders – HAUNTED ON HAMILTON! SNHL Returns with DJ Angel B
Sunday, October 30 (5:00) at Hershey Bears
Friday, November 4 (7:05) at Belleville Senators
Saturday, November 5 (3:00) at Laval Rocket
Friday, November 11 (7:05) vs. Springfield Thunderbirds – Berks $1 Hot Dogs Night
Saturday, November 12 (7:05) vs. Laval Rocket – 90's Night! Saturday Night Hockey Live