By: John Williams
It was a cold morning in Toronto, on January 4, when veteran goaltender Mike McKenna got a phone call that would change the course of his season.  Again.
McKenna, who had just been traded from the Ottawa Senators to the Vancouver Canucks two days prior, was having coffee with his new team's goalie coach Ian Clark.  After being placed on waivers the day before by his new team, the 35-year-old was getting ready to fly to Cleveland for the Utica Comets' game against the Cleveland Monsters when he received another life-changing phone call; his two-day tenure with the organization was over and he was now a member of the Philadelphia Flyers.
Once again, McKenna was on the move to yet another hockey destination.
In his 14-year professional hockey career, the St. Louis, Missouri, native has been a member of 14 NHL franchises and has played in 13 different cities in the American Hockey League.
"Somehow, I became the layover guy and I have always been trying to shake that, but it just seems to be [the identity] that has been attached to me," McKenna said.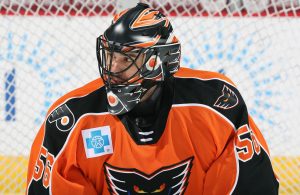 McKenna made his Flyers debut on January 9 against the Washington Capitals and the veteran stayed up with the Flyers until January 30, when the team loaned him to the Lehigh Valley Phantoms on a conditioning stint.  He was then recalled for a week in mid-February before being loaned to the Phantoms from that point on.
Around that time, McKenna secured a place in the Lehigh Valley area so his wife Rachel and two daughters could be together for the rest of the season. It was a relief for the McKenna family to finally be under the same roof once again.
"Personally, it was a really, really difficult few months for our family," the former sixth-round pick of the Nashville Predators said.  "[The trade and then waiver claim] was not what we expected to happen at all in any way.  There were a lot of things that were outside of our control that we thought we had a control on."
The process of moving itself was not something that was easily controllable either for the McKennas.  The trade from the Senators to the Canucks was the first variable that threw the family off-guard.
"Being traded is difficult when you have kids to worry about that are in a different country, on visas and in kindergarten," McKenna said.  "There is just a whole bunch of logistics to take care of, like when am I going to get them out?  When am I going to get them back here?"
Although McKenna knew there was always a possibility that he could be on the move again, he was hoping he did everything possible to prevent that from happening.  With his two young daughters on his mind, the thought of making them pack their bags once again weighed on him.
"There is also a certain level of guilt knowing that my daughters made friends at school and now you have to rip her out of there and put her in a new one," McKenna noted.  "You hope that they are resilient — and she seems to be — but deep down inside, you are just hoping that it goes well for them, even more so than myself."
The transition on the ice, at least initially, wasn't easy for McKenna, either.  The Phantoms run a 1-3-1 defense, which is something that he has never played behind in his career.  McKenna knew that he just had to get some reps to find his comfort zone with the team.
"A lot of people think goaltending is just plug-and-play," McKenna said.  "And for me, it really helps and I start to excel once I know how my team plays and how we function as a unit."
Through his first eight games as a Phantom, McKenna has posted a 4-4-0 record and is feeling like he belongs in the locker room.  Of course his number one goal for the remainder of the season is for the Orange and Black to make the playoffs, but from a personal standpoint, the veteran just wants to take time to enjoy the game again.
"For a while there, this year had so much uncertainty that it was hard to just drown all that out and have fun out there," McKenna said.  "It is nice to have a sense of purpose and a sense of where your season is headed and where you are hoping it will head, so that is all I am trying to do; have fun."
So far, early returns on his career with the Flyers' organization are positive.
"[The organization is] first class," McKenna said.  "They do everything they can to support the players, trying to make sure that all the little things that you don't think about that often are buttoned up.  As you get older, you really appreciate it.  It has been a great experience."