Maier Loaned to Reading
November 14, 2023
Lehigh Valley, PA – The Philadelphia Flyers have announced that they have loaned defenseman Victor Mete and goaltender Cal Petersen to the Lehigh Valley Phantoms, according to General Manager Daniel Briere.
Additionally, the Lehigh Valley Phantoms have loaned goaltender Nolan Maier to the Reading Royals of the ECHL.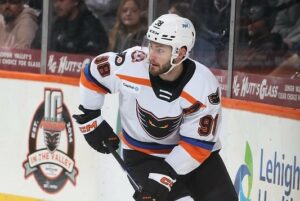 Mete, 25, played in one game with the Flyers on Saturday at the Los Angeles Kings in his season debut for Philadelphia. He has also played in five games with the Phantoms recording one assist. The former fourth-round selection of Montreal in 2016 has played in 18 career AHL games scoring 1-4-5 and also 248 NHL games with Montreal, Ottawa, Toronto and Philadelphia scoring a combined 5-40-45. Mete was limited to just 17 total games last year with the Toronto Maple Leafs and Toronto Marlies.
Petersen, 28, is in his first season with the Philadelphia Flyers organization after six years with the Los Angeles Kings and AHL Ontario (Cal.) Reign. He played in two games with Philadelphia in his recent stint with the big club going 1-1-0, 3.50, .896. He picked up an exciting win against his former team when he accumulated 37 saves at the Los Angeles Kings on Saturday in a 4-2 decision.
In four games with Lehigh Valley, Petersen has gone 1-3-0, 3.76, .884. The Waterloo, IA product out of Notre Dame has played in 103 career NHL games with Los Angeles and Philadelphia going 45-43-10, 2.93, .904. He also has 160 games in the AHL with Ontario and Lehigh Valley registering career stats of 70-71-17, 3.21, .903.
Maier, 22, was recalled from Reading on November 4 and started the Phantoms game on November 12 in an exciting 4-1 win at Hershey in which he racked up 20 saves on 30 shots for his first win of the season. Maier has also gone 0-3-1, 4.20, .868 this year with Reading. Last year with the Phantoms, he was 5-2-2, 2.85, .886 while also playing in 24 games with Reading going 12-8-3, 2.89, .892.
The Phantoms head north of the border for three games in Canada on a road-swing that begins Friday night at the Laval Rocket.
Lehigh Valley's next home games are over Thanksgiving Weekend on Friday, November 24 and Saturday, November 25 with exciting promotions including Phantoms SECTV Ballcaps, Flyers Night with GRITTY, and postgame photographs with the Phantoms players.
UPCOMING
Friday, November 17 (7:00 p.m.) – Lehigh Valley Phantoms at Laval Rocket
Saturday, November 18 (7:00 p.m.) – Lehigh Valley Phantoms at Belleville Senators
Tuesday, November 21 (7:00 p.m.) – Lehigh Valley Phantoms at Toronto Marlies
Friday, November 24 (7:05 p.m.) – Providence Bruins at Lehigh Valley Phantoms – SECTV Phantoms Ballcaps
Saturday, November 25 (7:05 p.m.) – Rochester Americans at Lehigh Valley Phantoms – Flyers Night with GRITTY! Plus postgame photos with Phantoms players