Belpedio and Mete Recalled to Flyers
October 26, 2023
Lehigh Valley, PA – The Philadelphia Flyers have loaned defenseman Emil Andrae to the Lehigh Valley Phantoms, according to General Manager Daniel Briere. Additionally, defensemen Louie Belpedio and Victor Mete have been recalled to the Philadelphia Flyers. Also, defenseman Mason Millman has been reassigned by the Flyers from the Reading Royals of the ECHL to the Lehigh Valley Phantoms
Andrae, 21, has played in four games with the Flyers this season beginning with his NHL debut on October 14 at Ottawa. He became the 42nd Lehigh Valley Phantoms player to receive a recall for his NHL debut with the Flyers.
Last season, Andrae joined the Phantoms in March and played in 10 games scoring two goals with four assists for six points. The Flyers Round 2 selection (#54 overall) in the 2020 NHL Entry Draft made his North American pro debut on March 25, 2023 and later scored his first career pro goal in North America on April 1, 2023 vs. Hartford. Andrae signed his Entry Level Contract with the Flyers on March 27, 2023.
The slick, puck-moving 5'9″ blueliner with a lefty shot was captain of Sweden's bronze medal-winning team at the 2022 World Juniors and was named to the World Junior All-Star Team scoring 4-4-8 in seven games. In 2021-22 with HV-71 Jonkoping, he was an Allsvenskan League champion and had the most assists (24) and most points (53) by a junior. He played in the Swedish Hockey League in 2022-23 scoring 6-20-26 in 51 games.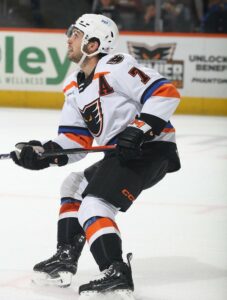 Belpedio, 27, has played in five games with the Phantoms this year and also 70 games with the Phantoms in 2022-23 scoring 8-19-27. Belpedio has been an alternate captain in both seasons with Lehigh Valley and this year was named the full-time alternate after he had been a rotating alternate captain last year.
The Skokie, IL native is a 6'0″ defenseman with a lefty shot who was selected by Minnesota in the third round of the 2014 NHL Entry Draft. Belpedio re-signed with the Philadelphia Flyers for two additional seasons on June 24, 2023. He has played in 309 career AHL games with the Iowa Wild and Lehigh Valley Phantoms scoring 33-75-108 with 348 PIM.
He also has played in four NHL games with Minnesota recording two assists. His NHL debut was April 7, 2018 for Minnesota at San Jose. His most recent NHL game was February 26, 2021 for Minnesota at Los Angeles. The Miami (Ohio) University product was recalled to the Flyers at the beginning of the 2022-23 season for one week but did not see any game action.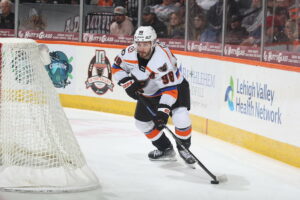 Mete, 25, is a 5'9″ defenseman from Woodbridge, ON with a left-handed shot who has played in five games with the Phantoms recording one assist. Mete was also named as an alternate captain with the Phantoms this season. The former fourth-round selection of Montreal in 2016 has played in 18 career AHL games scoring 1-4-5 and also 247 NHL games with Montreal, Ottawa and Toronto scoring a combined 5-40-45. Mete was limited to just 17 total games last year with the Toronto Maple Leafs and Toronto Marlies. The 2016 Memorial Cup Champion with the London Knights had been with Montreal for two seasons before he made his AHL debut with the Laval Rocket against the Lehigh Valley Phantoms on November 30, 2018.
Millman, 22, is a 6'1″ left-handed shot defenseman from London, ON  was a fourth-round pick of the Flyers in 2019. This season, he has played in three games with the Reading Royals. Last year with Reading, Millman had 8-37-45 in 63 games to lead Reading blueliners in scoring. In his career, Millman has played in 26 games with the Phantoms scoring 0-4-4 as well as 103 games with Reading scoring 16-54-70.
The Lehigh Valley Phantoms return to action on Saturday at the Hershey Bears. The Phantoms are back at PPL Center on Sunday at 5:05 p.m. against the first-place Hartford Wolf Pack, AHL affiliate of the New York Rangers. Sunday's game features Trick-or-Treat on the concourse as well as pumpkin painting. Fans can bring their skates to the game to participate in a postgame skate with the Phantoms players.
UPCOMING –
Saturday, October 28 (7:00) – Lehigh Valley PHantoms at Hershey Bears
Sunday, October 29 (5:05) – Hartford Wolf Pack at Lehigh Valley Phantoms – Postgame Skate with Players
Wednesday, November 1 (7:00) – Lehigh Valley Phantoms at Hershey Bears
Friday, November 3 (7:05) – Hartford Wolf Pack at Lehigh Valley Phantoms – SWIFTIE Takeover Night!
Saturday, November 4 (7:05) – Lehigh Valley Phantoms at Springfield Thunderbirds